GLENSWILLY AND THE ELEMENTS RAIN ON KILCAR'S PARADE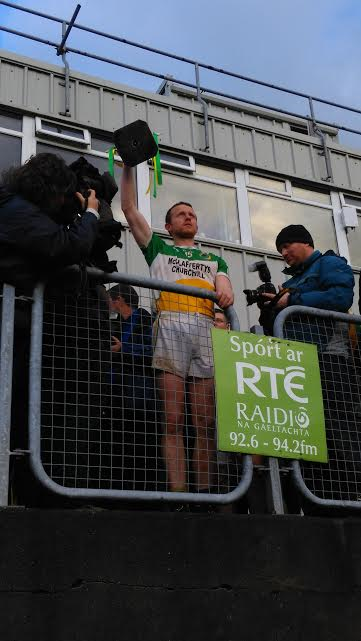 Glenswilly kept their Kilcar opponents waiting in the downpour that drenched MacCumhaill Park at half-time on Sunday before finally emerging from the dressing-rooms and proceeding to keep them waiting much longer for another county title.
Only the very few had predicted this – of five club players interviewed by Frank Craig in the match programme only Malin's Damian Harkin had forecast a Glenswilly triumph. And this after his team had gone so close to scuttling the Glen ambitions in the semi-finals.
by Paddy Walsh, Donegal's leading sportswriter
On that occasion, Michael Canning's team were made to look like a shadow of previous Glenswilly teams but right from the throw-in on Sunday – retaining possession of the ball for close to a minute without a Kilcar man getting a touch – they looked up for it and were full value for their third capture of the Dr. Maguire Cup in half a dozen years.
Michael Murphy – suspected of carrying an injury in recent months – deservedly secured the man of the match award but the entire Glenswilly line-up could have qualified as candidates.
The captain later insisted his team may have rode their luck with Martin McHugh's men registering some wayward wides throughout (not least Patrick McBrearty who sent a late free the wrong side of the uprights that would have tied things up). But they were far from lucky on an afternoon when they took the game to their much admired opponents.
"It's like military precision", one woman observed as Glenswilly announced their intentions with a tight marking display that knocked the McHughs & Co. completely out of their stride.
True, the consistent heavy rain that battered the occasion at regular intervals didn't help the footballing cause but even in the Costa del Kilcar they must be used to that. What they undoubtedly couldn't cope with was the spirit and commitment of the men from the Glen.
The only goal of the game owed everything to the power and precision of the two giants of Glenswilly – Donegal indeed – football, Neil Gallagher lofting in a ball from the middle of the park where Murphy outmanoeuvred his marker to fire home. A thing of beauty.
Not the only outstanding score – Ciaran Gibbons, ever industrious, sending over a screamer (it certainly had the Glenswilly fans around my vantage stance screaming) of a point from distance.
For Kilcar the long wait goes on – twenty-three years since they last hoisted the premium domestic trophy – but they'll take heart from their performances on route to the Final.
What they couldn't take was the heart and soul from a Glenswilly side who showed their pedigree and proved that there's no such thing as an underdog – only a team that believes in themselves and sets out to show up those pundits of little faith.
WASN'T THIS WHERE OLLIE SAID THEY WOULD BE?
It was always going to be like this. Even when Harps had pushed that nine points clear with that home draw against Pat's last week, there was a sense of the inevitable, something that Ollie Horgan has been preaching from the start of the campaign.
Even the most optimistic Harps supporter had refused to talk of certain survival until that certain survival was mathematically confirmed.
It was only last week that Wexford Youths boss, Shane Keegan, had conceded that his side had given up on catching Harps and would now be concentrating their efforts on the play-offs to avoid the drop.
But on Monday night's edition of 'Soccer Republic', a completely different story. His team were back in with a chance of overhauling the Donegal side. An astonishing 5-4 win over Galway United after allowing the Westerners to claw back from being 5-0 down – how those of us of the blue and white persuasion were praying for an equalizer that would have changed everything – has put the Youths within six points of Harps and with a game in hand.
Far from the concession of the previous week, Keegan was now anticipating a scenario where his side would beat Harps this weekend and then take advantage of that additional match.
Those of us arguing the toss up in the North-West would have been deriving some comfort from the fact that Wexford have to travel to Turner's Cross to meet title chasing Cork City in that run-in. But that was before Monday night saw Dundalk open up a six point lead on the southerners and City manager, John Caulfield, concede with some certainty that the race was now over. There is still a chance that his Cork side can catch the reigning champions but he would appear to have thrown the proverbial towel in – almost in the manner that Shane Keegan did last week.
Already guaranteed, at least, the runners-up spot and with an F.A.I. Cup Final on the horizon – their sole hope it would appear of silverware this season – City may field a largely experimental line-up against Wexford which could swing it in favour of their south-eastern neighbours.
But those fringe players will be eyeing up a Cup Final place and that would hopefully inspire them to impress Caulfield and provide him with some food for thought.
All of this, of course, will not matter a jot to Harps followers if their side can achieve the necessary result in Wexford on Friday evening. A win or even a draw would ensure another season in the top flight – for the home team, victory is the only option and we can only hope that in pushing forward for that victory the gaps, as so evident against Galway, will open up at the back and allow the visitors the opportunities to push all relegation concerns into the back burner.
Time for those bums to get squeaky….
A LARK AT THE PAIRC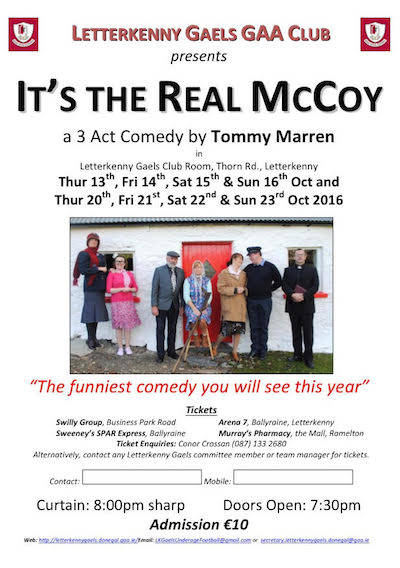 Letterkenny Gaels were laughed off Pairc na nGael following a comedy of a performance at the weekend.
Slapstick it was from beginning to end, I can only describe it. An absolute farce would be another apt description. Pure bedlam.
Some of the locals were recalling the last time they had seen a performance like this – around this time last year. I didn't get to that one but this one more than made up for it.
Right from the start there were scenes of mayhem. The Gaels responded to early laughs from Bradley and Frain with a stream of more laughs from Coll, Carr, and the three Sweeneys.
In front of a packed attendance they pressed forward looking for more and as the first half wore on were hugely successful, splitting sides everywhere.
Football? No, this was the Real McCoy and what a show.
"I don't want to be here," one of the characters, Martin Daly (played in richly comical form by Carry Coll) repeats more than once during the three-act comedy.
Well, boy, we were glad he was along with the rest of the cast (Celine Bradley, Bernie Frain, Brighdin Carr, Sheila Sweeney, Brian Sweeney, and Noel Sweeney).
All of us indeed glad to be there to watch the second staging of a comedy at the Gaels club rooms – last year's 'Widow's Paradise' drawing equal measures of praise and laughter.
The opening night last Thursday helped raise money for Letterkenny Rugby Club who share the grounds with the Gaels in a unique cross sporting venture.
The remaining performances have, and are, providing proceeds for Letterkenny Gaels and the local population has responded by turning out in huge numbers for each of the stagings to date.
And the good news is – there are four more to come! Last time I checked next Saturday night's show was fully booked out but there are tickets available for Thursday, Friday and Sunday (or so Nora O'Hora, who knows everything there is to know, tells me).
'It's the Real McCoy', written by Tubbercurry man, Tommy Marren, back in the sixties, is directed by Paddy O'Connor with executive producer, James Frain, introducing proceedings at the start. There are tasty refreshments at the interval to keep the hunger at bay – far removed from the bun fight on the stage!
And, as if the belly laughs won't have told them enough, you get to meet the cast on the way out at the end to tell them what you think.
Throw-in: 8.p.m.
ONE MAN'S WATERLOGGED PITCH IS….
You'd have to question how last weekend's match at Turner's Cross where Finn Harps were the visitors got the go-ahead given the condition of the pitch.
And further query how Harps match with St. Patrick's Athletic in Ballybofey was called off last month when the referee deemed the Finn Park pitch unplayable because of water on the surface and consequently dangerous underfoot conditions.
Judging by the highlights of the Cork/Harps game, it appeared the pitch was, perhaps even more unplayable and dangerous than was the case at Finn Park.
A flood of enquiries to the usual suspects.
ANOTHER FARCE BUT THIS IS TRULY THE REAL McCOY
How can the G.A.A. authorities get it so wrong at times? For surely the travesty to beat them all was inflicted on the footballers, management staff and fans of Burt last weekend.
On Sunday they had meekly surrendered to the Down team, Bredagh, in the first round of the Ulster Intermediate Club Championship. They only managed three points in the game – losing by a total of thirteen. Fair play to them for even restricting it to that.
For just twenty-four hours before they had been in action in the County Intermediate Final – disposing of Milford in a replay and that after extra-time.
Not alone had the main celebrations to be put on hold but what level of tired limbs and equally jaded minds would have turned up the following day at O'Donnell Park, to face up to the test that was Bredagh?
The Burt players were asked to enjoy themselves on the night before the game but they would have done so with one eye on what was fast approaching – too fast – in the shape of the Down champions.
They had been left, the Burt team chief, Damian Dowds insisted afterwards – and probably before the game too – with an impossible task. Dowds spoke about the pride he had in his players but claimed he could not share those sentiments in respect of the Donegal and Ulster officials who had accommodated what was, in all honesty, an absolute mockery.
Even officialdom involved in full-time professional sport wouldn't have permitted this to happen – forced to play two vital matches in the space of a day in testing conditions.
If the Donegal team had been asked to turn out twice in twenty-four hours, the Donegal County Board would have been leading the charge in opposing it in strongly worded terms.
They were, however, conspicuous by their silence when it came to appealing to the sense – if such a thing exists – of the Ulster Council.
LOSS OF A RUGBY COLOSSUS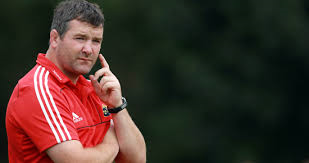 It has been something that I, as a sports fanatic, had always yearned to see but never quite managed – a Munster team in their prime in the days of Paul O'Connell, Ronan O'Gara and Peter Stringer. And the rumbling colossus that was Anthony Foley.
Plenty of opportunity on the T.V. but never live and I can only imagine what a match must have sounded like at Thomond Park when the red machine went into overdrive and Heineken Cups were pursued and ultimately secured.
The Limerick venue was chosen only last week by former England international, Ben Kay – along with the Connacht Showgrounds – as one of the top five for atmosphere in European rugby.
Much of that to do with the crowd but invariably generated by the performances of the likes of the big number eight (there's probably, on reflection, no such thing as a small number eight).
The world of rugby – of sport generally – was shocked by the news of his sudden passing in Paris ahead of Munster's subsequently postponed match against Racing Metro on Sunday. And even those of us who never had the opportunity to met up with the former Shannon RFC legend can only have breathed a sigh of sadness that his family and the rugby fraternity as a whole have lost one of the good ones. One of the great ones indeed.
May he rest in peace.
Tags: