Can't Pay Won't Pay have condemned the guilty verdict of false imprisonment of a 17 year old child for his part in a protest against water charges in Jobstown in November of 2014.
The boy, who was only fifteen at the time, cannot be named because of his age.
The boy plead not guilty to two counts of false imprisonment.
The prosecutor's argument was that the boy played an active role in blocking two garda cars, containing the then Tanáiste Joan Burton, for up to three hours in the Jobstown water charge protests.
The maximum penalty for a false imprisonment charge at district level is 12 months, so the boy will receive 2 years of detention.
Campaign spokesman for the Donegal branch of Can't Pay Won't Pay Liam Whyte said "This verdict is a political decision. It is a vengeful decision by an establishment which was rocked to the core by the massive revolt against the water charges. It is an attempt to punish and scare people from taking park in protests in the future."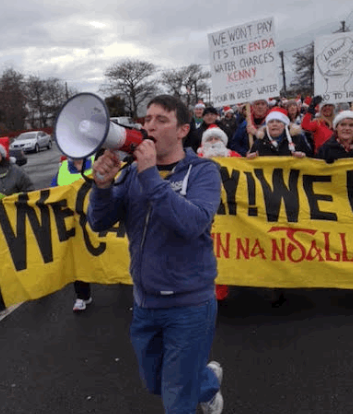 Whyte continues; "Anyone with common sense knows that this was not a case of false imprisonment. It sets a very dangerous precedent. The question needs to be asked why this was even brought to court as it was an act of civic disobedience and not a criminal act"
"There are more in court in the coming months on the same charge including Paul Murphy TD. The anti-water charges movement must mobilise to stop this attack on our right to protest. This should include further acts of mass civil disobedience to give the message that we will not be cowed when they next try to bring back water charges."
A protest is taking place outside Central Bank in Dublin today at 1pm in defense of the teenager.
Tags: