Sinn Féin President Gerry Adams TD yesterday gave the main address at the naming of a street in the Queens Borough of New York 'Easter Rising Way. In his speech, he stressed that "we need to stand up for the undocumented [50,000 Irish in America]. We need to put that on agenda of new administration."
The event was held as part of the centenary celebrations marking the 1916 Easter Rising.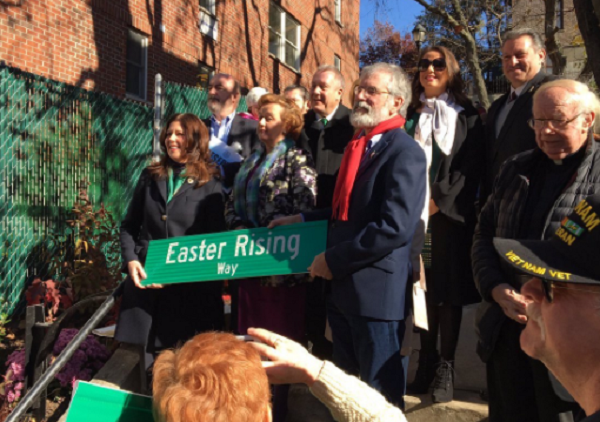 The Sinn Féin leader thanked Council member Elizabeth Crowley for her initiative and New York City Council for agreeing to name the street.
Teachta Adams praised the role of Irish Americans in New York over the last two hundred years.
"They have remained strong and faithful to the cause of Irish freedom. Now that there is a peaceful way to achieve Irish unity all of us, including the Irish government, must actively promote that objective."
Gerry Adams also called on the Irish government to "make a renewed and determined effort to find a resolution to the plight of the 50,000 undocumented Irish estimated to be living in the USA at this time."
He said: "While the key challenge for the Irish government will be to ensure that support for the peace process continues under the new administration, one of the massive issues that requires urgent attention is the plight of the estimated 50,000 undocumented Irish. These men and women travelled to the USA primarily because of the austerity policies of successive governments. They were following the same path millions of others have taken in the past.
"Many of them now have families in the US, pay tax and contribute positively to US society. However, when it comes to a bereavement, christening or wedding, they cannot return home. While they contribute significantly to the US economy and are generally recognised as model citizens, they are the Skype and Facebook generation.
"The Irish government needs to engage quickly with the new administration to discuss what possibilities might exist for finding a resolution and relieving the huge anxiety that the undocumented live with.
"Alongside the challenge of resolving the predicament of the undocumented there is a need to sustain the engagement of the United States with the peace process. The Irish government needs to develop a strategic approach which seeks to use its diplomatic and political services to achieve this."
Furthermore, Adams congratulated Trump, saying; "Donald Trump had been elected as the 45th President of the USA. I congratulate him. The onus is on the President-elect to represent all the people of the USA and to play a positive and progressive role in world affairs."
Tags: