A group representing people with mortgage difficulties in Co Donegal has pleaded with the homeowners to seek help.
The group, simply calling themselves Anonymous, held a protest outside Letterkenny Courthouse today.
The group's protest coincided with more than 70 cases of repossession due before the Registrars Court today.
All protestors wore masks with one claiming they did not want to be identified for fear of being singled out over their protests.
A spokesman for the group appealed to people in distressed mortgages not to bury their head in the sand over their financial situation and inability to pay their mortgages.
They have also appealed to people to seek a meeting with Hub Ireland, a group set up to help distressed mortgage holders.
A spokesman for the group said "We would appeal to people not to just ignore their situation but to seek help in getting a deal to keep their homes.
"People need to know that it is illegal to be evicted from their home. They need to engage.
"We are advising people in mortgage difficulty to go and see Hub Ireland and to explain their case and then to engage with the courts," he said.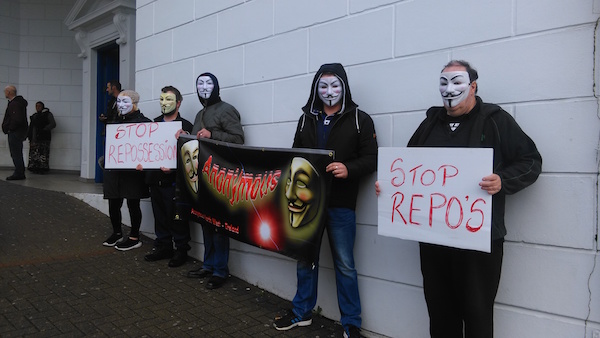 Tags: