Is he coming or is he not? And could we – as Myles Gallagher asked on Highland Road at the weekend –  see him playing for Finn Harps one day?'Him' is the global sports personality, Usain Bolt, though the interview conducted by Myles on Sunday wasn't quite with the legend himself but with his Donegal born agent, Ricky Simms.
I'd heard Simms a few days before that interviewed on the Ray D'Arcy radio show on R.T.E. where he seemed less convinced that the sprinting superstar night fulfil a long-standing invitation to come to Donegal, at least in the immediate future. Indeed D'Arcy did refer to an interview on Highland back in 2012 when all indications were that Bolt would make the trip.
His Milford agent referred to an "unbelievably tight" schedule and left it that.
On Sunday, however, while still insisting that the Jamaican would require a hundred weeks in a year to catch up with his schedules, he indicated that the sprint dynamo did hope to make it here.
At some stage. We'll wait and see.
Just as we'll also probably have to wait to see if the lightning Bolt – subject of a new film – will, in fact, line out with the Harps.
Apparently, he's keen to play football when he retires from athletics after next year's World Championships and while Borussia Dortmund look to be in the ront line to capture his services, Ricky Simms didn't quite rule out Harps when it was put to him! Or indeed Bonagee United or Milford United who were also mentioned….!
THREE WHEELS ON MY WAGON…
So here's the Finn Harps line-up for next season – and remember they won't be securing the services of the world's fastest man until after 2017 at least – as it stands: Defence: Coll; Midfield; Harkin; Forward: Morrissey.
Frankly, even Mr Shankly (as that other Morrissey went close to putting it) couldn't manage a team with just that level of playing panel signed up but there's no doubt Ollie Horgan's persuasive powers will compel others, both from last year's squad and potential new arrivals, to sign on the dotted line.
Danny Morrissey's arrival from Cork City is certainly a boost in this respect – the striker seemingly not in contention for a place in John Caulfield's starting line-ups having been left sidelined for much of last season.
But he has proved himself in front of the target including netting a hat-trick against Derry City at Turner's Cross three years ago (any repeats of such achievements against the Candystripes more than appreciated, Danny!).
A number of trials in England followed but an injury hampered that progress and his return didn't see him feature in Caulfield's plans. A change of scene – and that's some change from deepest south – may help him regain his scoring abilities and he's surely a welcome addition to what is currently a very thin squad.
Expect to see more signatures in the coming days and weeks with hopefully a fair bulk of last season's panel rejoining.
GAELIC FOOTBALL, FORMULA ONE AND GULF
Nice work if you can get it. A trip to the Persian Gulf – all expenses paid I presume – and a bit of desert heat thrown in for good measure.
Oh, and a match to play in that heat.
And what a game. The 2016 All-Stars up against the 2015 equivalent and a final scoreline that featured an astonishing 24 goals and 22 points.
Temperatures in the last few days in Abu Dhabi have ranged from 28 degrees to over the thirty mark so it was definitely no picnic for the two Irish squads.
Didn't stop our very own ace marksman, Michael Murphy, from ending up as top scorer for the 2015 All-Stars (3-2) or his Glenswilly team-mate, Neil Gallagher, from registering 1-01 in the game.
But they lost out to 2016 All-Stars (14-11 to 10-11) who featured Kilcar's Ryan McHugh in their line-up.
The weekend coincided with the final round of the Formula One Grand Prix – I wonder did any of our Stars get along to it? – also in Abu Dhabi where some measure of controversy raged after Lewis Hamilton attempted to aid rival drivers to pass his Mercedes team-mate, Nico Rosberg, and consequently damage the German's hopes of securing the 2016 Championship title.
Apparently, not illegal, and I suppose you have to consider that Hamilton himself was still in with a decent hope of retaining that title.
Still, if I had a choice, I definitely would have opted for the All-Stars game – a bit more excitement and a lot less noise.
Or as former Irish Formula One driver, Tommy Byrne  – a film adaptation of his career in the sport, 'Crash and Burn' is being released in cinemas from this Friday –  described it in an interview in last weekend's 'Irish Mail on Sunday' when he was asked if he still followed the motor racing game: "Yeah, I still watch it. Well, I watch the first lap and then I may fall asleep because it is still boring."
AVIVA THUNDERS TO THE SOUND OF ANOTHER SCALP CLAIMED
The Aviva Stadium on Saturday night. The only place to be if you had a ticket. And for a change – a lot of change – I did. And what a night.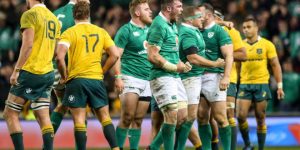 The Aussies put to the sword after a match that leaped around like a kangaroo with Ireland dominating the opening half, the Wallabies controlling for periods of the second before Joe Schmidt's men somehow rallied reserves in every sense of the term to claim their third Southern Hemisphere scalp of the year.
Great to watch on television but even better to be there and a few Letterkenny connections for company to enjoy it including my sports mad sister and two other passionate supporters by the names of Sheridan and Bouchier-Hayes.
Not, I should add, the Letterkenny based Niall and Michael respectively but their own siblings, Brian and Timothy, who shared adjacent seats to us on Row A of the Upper West Stand.
And there we had a bird's eye view of Messrs O'Gara, Pope and Horgan being put through their verbal paces pitchside on R.T.E. before the kick-off. Which of them predicted an Irish victory, I don't know, but I'm quite sure they believed the previous week's strength sapping performance against the All Blacks might have tipped the game in favour of the Aussies.
Not so as that blistering opening half underlined and Ireland raced into a 17-0. lead Only we'd been here before, an Ireland team enjoying a similar advantage over Australia at the same venue two years before only to let it slip before the green tops edged it with three points to spare.
Somehow, history repeated itself and while the visitors ran in three tries to go in front, Ireland, inspired not for the first time by their captain and hooker, Rory Best, winning his 100th cap and earning thunderous applause on his way on, and off, the pitch, picked themselves off the ground and saw Keith Earls ghost in for a try in the corner, magnificently converted by Paddy Jackson.
You could almost see Anthony Foley punching the air in the heavens.
It has been a November series where injuries to key players – Sexton, Stander, Henshaw, Kearney and Trimble to name but five – have robbed Ireland at critical junctures but not deprived them of the passion and persistence that is the hallmark of this squad.
They even had another lethal weapon in the stand watching on, one Mel Gibson, who is currently in Dublin filming and was probably supporting Australia seeing as they lived there in his youth but still looked happy enough with an Irish win.
Roll on the Six Nations indeed though I'd still be mighty afraid of the auld enemy, England.
DUNDALK HANGING IN – JUST
A disappointing performance by Dundalk – and it's not been too often when we could say that this year – in their Europa League clash with AZ Alkmaar has left Stephen Kenny's side depending on results to go their way in the final round of matches if they are to reach the knock-out stages of the competition.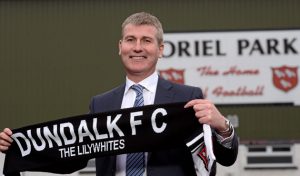 "Our worst display of the campaign," Kenny conceded as they went down by the only goal to the Dutch side at Tallaght Stadium last Thursday evening.
And by every account it was a sloppy performance that was far from good enough on the night.
Ironically, after coming through a season that saw them play three times in a week over the final few months, it was the lack of game time since the F.A.I. Cup Final defeat to Cork City that did for them this time out.
Now they have to travel to meet Maccabi Tel-Aviv on Thursday week needing to win or draw and hope that AZ Alkmaar lose out to the already qualified FC Zenit.
A tough ask but wait a bit – here's a League of Ireland club not just playing in the Europa League group stages in December but still in with a shout of making it through.
Little wonder that thousands turned out in the town's Market Square last Saturday evening to honour the champions in a civic reception for this has been a season of some celebration for the Lilywhites.
I can't, in all honesty, see them getting the result in Israel – and we also have to take into account just what kind of a team will Zenit put out against the Dutch side in the accompanying group fixture – but then they've surprised on several occasions in Europe this campaign so nothing can be ruled out when it comes to Stephen Kenny and his squad.
GLOVES OFF AT THE AVIVA (OR ONE AT ANY RATE)
Back to the rugby and mid-way through the game at the Aviva I noticed the aforementioned Bouchier-Hayes and Sheridan leaning over the barrier in Row A and searching frantically for someone/something down below in the West Stand Lower Tier.
Later I discovered it was Tim's glove they were attempting to espy – it having fallen victim to gravity and heading south which tends to happen when you lose your grip on it (my only fear was that they might follow suit).
They were still searching after the final whistle while the rest of us were listening to, and watching Rory Best on the big screen, reviewing the proceedings on the pitch.
Not sure if they managed to locate it but hopefully it's back with its owner and didn't disappear for good.
It could even have been that a supporter in the Lower Tier had a hand in it….
Tags: