It was a simple idea which captured the imagination of the people of Glenties and their loved ones around the world.
And at the weekend, those not lucky enough to share Christmas with their loves one will now be remembered as they were named on lightbulbs which lit up the skyline of the proud town.
The names of 1,640 people were each written on bulbs bought to provide a new set of lights for the town.
Locals paid €3 for the privilege of putting each name on a bulb to help reduce the cost of a new set of lights.
Even the late and great Leonard Cohen had his name put on a bulb although we're not exactly sure if he ever visited the town made famous by playwright Brian Friel.
The lights were switched on by Annie Brennan and children even got a chance to play on Santa's sleigh.
Chairman of the local Glenties Community Group, Brian Carr, said there was a terrific Christmas feeling in the town as the lights were turned on.
"There was a massive turn-out for the switching on of the lights and there were many tears shed in memory of those loved ones who cannot be with us this Christmas.
"But thankfully they will be with us in spirit when people look up and see the new Christmas lights and their names written on them," he said.
Community in Donegal, which was struggling to fund a festive display, dedicates Christmas lights to loved ones who have passed away pic.twitter.com/oox9RQqSYf

— RTÉ News (@rtenews) December 4, 2016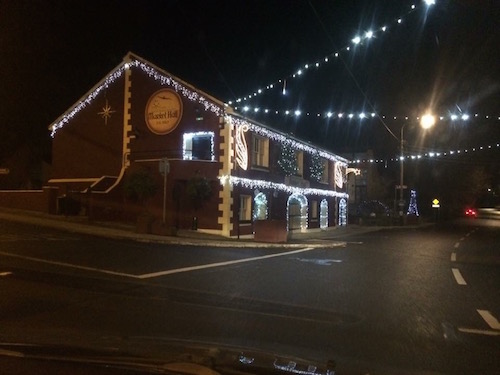 Tags: