As Christmas beckons and the social scene starts to ramp up, for the Sheephaven divers there is a mixture of the familiar and seasonal club activities, along with something quite new.
Starting with the weekly Sunday snorkel that was conducted in near perfect sea conditions, benefiting from bright sunshine and no wind or rain.
In addition to the snorkel party some club members took the opportunity to dive and in particular to practice with the Search and Recovery Full Face Masks.
These are typically used in water conditions that might be considered to pose a risk of contamination to divers, as the masks provide a complete barrier between the diver and the water.
However the masks need a little getting used to and for Sundays' divers PortnaBlagh was the ideal location to conduct one of the mandatory Search and Recovery training days required to remain on the national list of active S&R divers.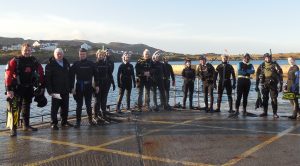 Additionally with 2016 having been a particularly busy year for Search and Recovery call outs it is important that divers remain water fit and appropriately trained.
In-water conditions were much better than could be expect in early December, with horizontal visibility of around 5 metres and no wave motion at all.
However the water temperature has plummeted down to a quite bracing 9 degrees Celsius, which seems quite low for the time of year, sadly it will be a long time until we see it back up into double figures again.
Nonetheless the divers conducted a 30 minute dive to a maximum of 10 metres, while the snorkelers crossed the bay to their favourite haunts along the golf course and nearby caves.
At this time of the year Sheephaven divers participate in various seasonal activities including the Polar Plunge and the Marble Hill New Year's Day swim amongst others.
However the highlight of the clubs social activities is the Christmas Party and with that nearly upon us the club Entertainments Officer, Caroline McGee has it all planned, along with the divers quiz that is always a key part of the evening.
But Caroline has introduced the club to a new social activity, the Divers Mannequin Challenge, which was videoed on Sunday morning in sun-soaked Portnablagh, the results of which are below:
Finally Sheephaven SAC has heard the sad news of the passing of John Fox, father of club member Doug Fox and grandfather of Kieran Fox. John had been bravely fighting a series of illness over the recent years and the club sends its sincere condolences to the extended Fox family and their friends. Ar dheis Dé go raibh a anam.
Tags: