Monday evening and herself and myself are enjoying a coffee in the Xpress stop shop and café on Letterkenny's Upper Main Street when in saunters a beaming Pauric Ryan, in search of a newspaper.
Specifically a newspaper that carries any reports or pictures from last Saturday's little matter of the Final of the Paul McGirr tournament when St. Eunan's under-16's not alone claimed the trophy but did so in devastating style.
You can't argue with a scoreline of 6-10 to 1-6 – the team at the wrong end of the licking, St. Peter's of Warrenpoint (Down and very definitely out) feeling the sore in Dromore as Pauric's charges engineered a stunning display to capture the Ulster title.
I didn't get to the game but listening to my old colleague, Tom Comack, on Highland Radio, and reading the on-line and print reports afterwards, suggested a performance high on quality and accuracy in front of the target.
And reading those reports, I couldn't help but think of another former newspaper colleague of mine, Ciaran O'Donnell, and the pride he would have felt at seeing son, Conor, play such a pivotal role in not just the final but in previous outings.
For someone so locked into sport, Ciaran has himself enjoyed some glory moments on the local and national stage but I daresay he would have found it hard to surpass that feeling of elation when watching his own flesh and blood help bring home an Ulster title to his home town and club.
And many another parent besides sharing in those emotions on a day when true class donned the black and amber and became only the second team from the county to claim this particular trophy.
A bow to them all including man of the match, Michael Gallagher, who helped himself to three goals and a brace of points in a display that bodes well for the future as far as St. Eunan's is  concerned.
And not just St. Eunan's as manager Ryan agreed on Monday evening as he continued his paper search. For some of these boys will surely be trotting out in the green and gold senior jersey at some stage in their footballing careers.
A mighty well done to them all.
REID AND HIS CONFESSIONS…
Donal Reid hopes to get his hands on Sam Maguire again. As soon as tomorrow night, in fact or so he tells me.
If the 1992 All-Ireland winner thought writing a book was going to be the hard part, he forgot about the promotional paper trail that follows – the latest being a signing in Eason's store in the Letterkenny Shopping Centre last Saturday.
'Confessions of a Gaelic Footballer' has been leaping off the shelves with a second print already pushing up the sales. But the Killygordon man is continuing to plod the course that all authors undertake – the hand-wrenching book signings that keep a publication in the public eye.
He'll be in Cassidy's in Dublin's Camden Street tomorrow evening for another official launch joined by Dublin team manager, Jim Gavin, and some of his players. And the trophy the Dubs have on loan for another year.
The back cover of his book features a photograph of the boy Reid holding aloft the very same Sam – he'll no doubt be keen to give it another lift.
Part-owned by Jamsie O'Donnell – he has a brother who sings apparently! – this pub had the honour of hosting one Bill Clinton back in the eighties where he sunk a pint of the Black Stuff.
But he never wrote a book called (or like) 'Confessions of a Gaelic Footballer' and he never won an All-Ireland title either.
At the Shopping Centre in Letterkenny on Saturday, Tommy Francis, a native of the town but long resident in Falcarragh, ambles up to Donal's table stacked with copies of his book.
"Confessions of a…." he reads. "Okay, two Hail Marys and an Our Father", Tommy puts the order in. Appropriate enough given Reid's strong faith which he deals with in his book and does so without any semblance of a preaching style.
Earlier, he was joined by big Neil Gallagher who spent the best part of an hour with him talking football and life in general and subsequently by another county player who has put pen to paper, Rory Kavanagh (his book 'Winning' is still available incidentally and represents another worthy read and stocking filler for Christmas).
While I'm having a chat with Donal, former T.D. Mary Coughlan strolls past the Eason's branch but fails to spot him.
"I'll get her on the way back," he laughs.
Reid and his good friend, Marty Carlin, will be flying to London to further promote the book – this time in the Sheephaven Bay Hotel in Camden Town (another city, another Camden, another signing).
There'll also be a book promotion in Luton (home town of the Hatters and two mad ones making their way there!) and closer to home in Buncrana on Friday December 16th (Mac's Bookshop, 11.a.m.-1.p.m.); Supervalu, Ballybofey Thursday 22nd, 10.a.m.-2.p.m.); and Bradley's Shop, The Cross, 23rd, from 10.a.m. to 1.p.m.).
This, it should be stressed, isn't Donal Reid looking to capitalise financially on his publication – proceeds are going to that worthiest of charities, Pieta House.
"It's close to my heart and people who read the book will see why," he maintains.
I haven't read the whole book as yet but already I can see that it offers a completely different perspective on both football and the life of the man who penned it.
If you can't get to one of the signings – at least buy the book and also pencil it on your Christmas present list. Truly a Reid of our times.
ROVERS 1 (McNAMEE) HARPS 0
Good news and bad from Finn Park this week. Always start with the bad so the good looks even better, they say, and the news that that most polished of midfielders, Tony McNamee, has opted to join Swilly Rovers in the Ulster Senior League is hardly something that Harps fans will be describing as anything positive.
A class act is being allowed to leave and lend his range of skills and passing movements to the Ramelton club – a boost for Rovers, a serious blow to Harps. And, you'd have to say, to the League of Ireland where such talents aren't in plentiful supply.
From the start of the 2016 campaign, the lively wingman was a creative force in the blue and white and that sound beginning to the season owed much to his ability on the ball and sense of awareness off it.
But for some reason, he was, too often, deployed from the bench – and sometimes not at all – during the critical second period of the season and it was surely no coincidence that Harps laboured worryingly as the goals and the points dried up.
McNamee was obviously disappointed at his lack of game time and decided to bring his boots to a club where he'll be guaranteed a starting place every week.
Could he have been persuaded to stay and fight for what many of us would believe is his rightful place in a Harps starting line-up. None of us outside the club knows the ins and outs of these things but the fact that he is an out is hardly
encouraging for the season ahead.
What is, of course, is the decision of goalkeeper, Ciaran Gallagher, to sign a two year contract at Finn Park. He, too, was an in and out in the team, with Richard Brush often getting the nod in front of him and would have been a certain starter in most other clubs in the league.
But credit to him – and indeed to manager Horgan – for agreeing to remain and this time retain the gloves for what is surely going to prove an even more difficult season than the last.
It's been a slow process this squad building and to date most of the news has been good but where, I ask, will Harps find someone of the quality of Tony McNamee to bolster the team?
Answers on a transfer form….

SHAY SHARES SOME HOME TOWN MEMORIES ON THE B.B.C.
A mention for Lifford on 'The Premier League Show' last week! Or at any rate a reference to a certain back garden in the vicinity of the border town.
The guest on last Wednesday night's show – presented by Gabby Logan –
was our own Shay Given, and, not surprisingly, his footballing history in his home locality was given an airing.
Getting the goalkeeping bug from his dad…..playing with his four brothers in the garden….the obligatory jumpers for goalposts….and plenty of digs at his siblings. And from there a career that took him to a number of high profile clubs including Manchester City and Newcastle United and earning 134 international caps in the process.
And the top five Premiership goalkeepers he was asked to identify on the show? Three of them from Manchester United, Peter Schmeichel, Edwin van der Sar, and David de Gea; along with Joe Hart (then Manchester City), and Petr Cech (Chelsea and Arsenal).
Hard to disagree with that lot though anybody out there with another goalkeeping great on your mind feel free to do so….


BONDED FOR LIFE
If there was one tribute that deserves special mention – and indeed they all do – to the courage of Davitt Walsh in saving the life of the then four month old baby girl, Rioghnach-Ann in the Buncrana pier tragedy last March, it was the one delivered by former Donegal senior team manager, Jim McGuinness, at the R.T.E. People of the Year awards ceremony in Dublin on Sunday.
"I think the most important thing is there's a person on the planet that wouldn't be on the planet other than for this person here, and I think that's a very special thing, and those two people will be bonded for the rest of their life,", the Glenties man declared.
Davitt was also hailed as a "real hero" by former rugby international, Ronan O'Gara, in a recorded message at the awards ceremony where the Kerrykeel native was one of the recipients of the prestigious 'People of the Year' accolades.
Sport, and its status in life, was put into perspective by the tragic events earlier this year which claimed the lives of five people but it's good to know that the personalities who contribute to our games can recognise those real heroes in our midst.
SHAUNA CYCLES AHEAD…
She only turned seventeen last week but already Letterkenny cyclist, Shauna McFadden, has been earning the plaudits in a sport where she hopes to join the professional ranks.
And not just earning admiring tributes. This week it was confirmed that the Loreto secondary school student has joined up with the prestigious Team Jadan-Weldtite based in Yorkshire – a leap of faith by the team and one well earned by the teenager.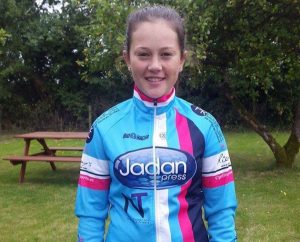 Determined, driven, passionate and committed, Shauna described herself cas she looks forward to an even more eventful 2017.
Saddle up – this girl is on her way to much greater things in her chosen sport.
And while Team Jadan-Weldtite will believe that they have given her a golden opportunity for the road ahead, many of us would suggest that her very presence on the team is lending them one of the best cycling talents on these islands and one with the greatest potential and the will to fulfil it.
….AS MARTY WINS ANOTHER
Justice rode a clear winner this week with the news that Marty Harley has been told he is no longer required to attend a British Horseracing Authority disciplinary panel hearing into an alleged breach of the rules of the sport.
It has surely been a worrying week or so for the Letterkenny jockey and his family and friends – not to mention his stable – after the claims that he had breached the regulation which governs whether all "reasonable and permissible" measures had been taken to ensure his horse ran on its merits – namely Rebel Lightning who had finished fifth in a seven furlong handicap at Chelmsford last month.
The potential breach had been detected and subsequently reviewed before the Donegal man was called to attend the disciplinary hearing.
However, a spokesman for the Horseracing Authority, in an apology to the jockey, said that had certain information been known they would
not have pressed charges against him.
So now the Trentagh man can get back in doing what he does best – as
evidenced by his hugely impressive four winners in one sitting at
Wolverhampton in November.
AND ANOTHER LETTERKENNY UNDER-AGE TEAM FLYING HIGH (Just don't tell Connacht)
If the Letterkenny Rugby under-18's were impressive last season – and two finals, at least one of which they lost in controversial
circumstances suggested  very much that they were –  then they are flying even higher in the current campaign.
Last Saturday morning saw them take to the field at Dave Gallaher Park against their Ballymena counterparts and after a reasonably even opening half they swept the visitors aside with a sparkling display of rugby the way it should be played.
The way indeed Pat Lam has got Connacht playing the game – good handling, strong in the tackle, and exciting to watch.
Despite losing some key personnel from last year's panel, Gordon Curley has assembled another team that has the class to go all the way – a 49-6 win over Ballymena confirming a blistering start to the season, full-back, Fionn McGarvey's outstanding try after setting off from deep inside his own half, the pick of a worthy bunch of scores.
Scores? This young Letterkenny squad know all about them – an astonishing 187 points garnered in their last three outings including a 78-0 win in Coleraine and a 60-14 hammering of City of Derry after trailing by two converted tries inside the opening twenty minutes.
Hands off Connacht, Curley and his right hand man, Denis Faulkner, are going nowhere…

RORY TEES HIMSELF UP FOR A BOGEY
Might need a legal brain here on this one. Surprise guest on the 'Late Late Toy Show' last Friday night, Rory McIlroy, presented a starry-eyed youngster with a family ticket for next year's Irish Open.
All good so far particularly for the young fellow and his family. But here's where Rory may have dug himself into an obligation.
The young lad returned thanks to the golfing superstar who responded: "Anytime."
The question, of course, is does that tie McIlroy into a lifetime of handing out family tickets to the boy? I mean he said it out on 'live' television and "anytime' is surely as specific as you can get. Or, perhaps, he did mean it.
Tags: