This was something that many of us were looking forward to for a long time.
It was a long time coming as the old food pyramid was largely outdated and didn't suit the way that our nutrition has evolved over the last few years.
There have been some changes in the new version of the food pyramid, but I would say that it isn't enough.
The emphasis on fruit and vegetables is great and this is something that I would largely agree with.
Carbohydrates such as bread, pasta, cereals etc, have been reduced from 6-10 portions per day down to 3-7 servings per day depending on gender.
Dairy sits at 3 servings per day with meat being reduced to 2 servings per day, (around 150g).
Once again, fat is down as to be used in 'very small amounts', which is strange considering the current research would tell us that fat isn't an issue when it comes to health and we actually need it in our diets.
Is there anything wrong with the recommendations outlined above?
Yes and no.
No, because when you break down their recommendations, (which I have and will show you how below), and if you stick to them, they are coming in at around 2000 calories per day, which is the recommended calorie allowance for a female per day.
They are working within their own recommendations with this.
Yes, because you are relying on everyone to stick to these exact guidelines, and from experience, this never goes to plan.
In a perfect world, if everyone could stick to these guidelines, we would probably be much better off.
But we don't live in a perfect world when it comes to nutrition, and we need more than another food pyramid to teach people how to plan their daily nutrition for health and weight loss.
When it comes to the type of food that we currently eat as an Irish society and the portion sizes that we consume, the new Food Pyramid, as seen, could have very different consequences.
What crops up time and time again when I am doing nutrition consultations, is that people perception of what is 'healthy' and the reality of when it comes to choosing 'healthy' options, are very different things.
An example of this would be the orange juice in the fruit and vegetable section. Read the guidelines and you can have 100ml of unsweetened juice per serving.
If you don't read the guidelines, and go by the picture, you can have a tall glass of orange juice 5-7 times per day. This takes you from 55 calories per serving up to 110 calories per serving.
The same goes for the carbohydrate section.
Read the guidelines and you have serving sizes for each type of food on it.
If you don't read the guidelines and go by the picture, you can have 5-7 servings of bread, rice, potatoes, pasta, per day.
This could take you from a possible 700 calories to over 1000 calories, if you didn't read further to check each individual serving size.
This can happen for reach individual step in the pyramid, and it is the pyramid's biggest flaw.
Yes, it is good that things are changing in regards to recommendations to our nutrition, but it isn't more recommendations that we need.
The 'My Plate' or 'Healthy Eating Plate', could be a better option for giving a visual on putting a meal together.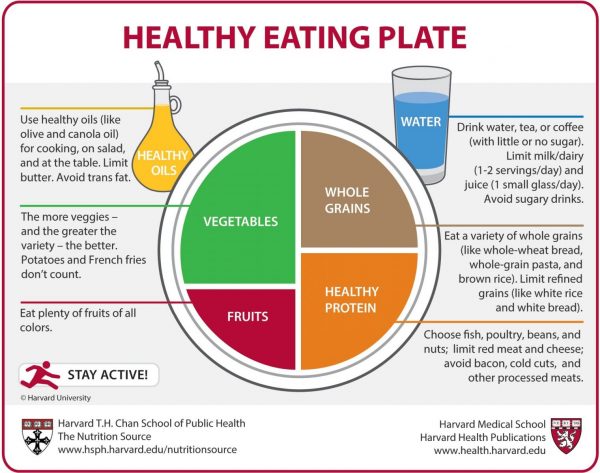 It's largely working off the same guidelines as the Food Pyramid, but it gives a visual of how you would portion out each individual macronutrient at a meal.
Precision Nutrition have their own version of the 'My Plate' and they also have their portion control guide, which I have found to be extremely easy for clients to follow, and have had great success using it.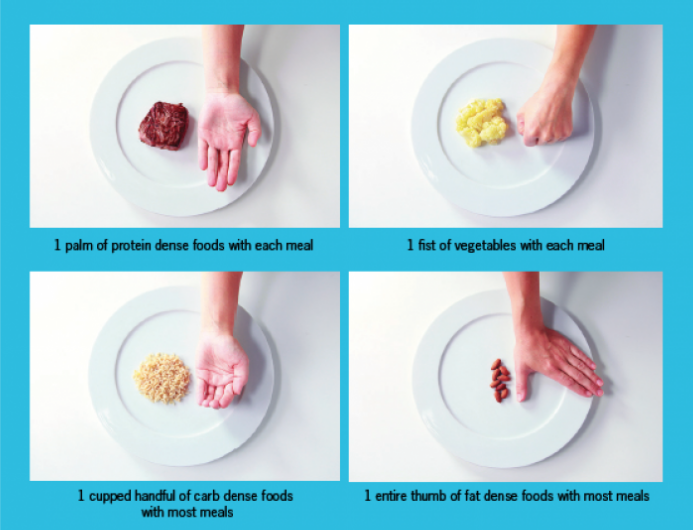 When it comes to the general population and nutrition, the easier it is for them to follow, the better chance of success they can have.
Unfortunately, the New Food Pyramid falls short on this and I honestly can't see any great changes in the public's current nutritional habits.
#TrainSmart
Let me know what you think, by contacting me on Facebook or on my website.
* Emmet is the owner and operator of Rushe Fitness LTD
Calorie breakdown of the pyramid: 
Carbs 727-
bread x 4 slices – 352
baked potato – 209
rice – 86
cereal – 80
Most men need about eight servings a day and most women need about six servings. – 1 slice of brown sliced bread or wholegrain soda bread
Dairy – 334
Choose any three servings each day.
1 large glass (200ml) low fat or low fat fortified milk – 184
1 yogurt drink 200ml – 150cals
Fat – 174
Choose any two servings each day.
Low fat and reduced-fat spread – 1 heaped teaspoon or the size of 1 mini-pack. This is enough for 2 slices of bread
In addition to the 2 servings above, you can add up to 1 teaspoon per person of the oils mentioned across in cooking.
Meat
Choose any two servings each day.
212cals
Fruit and veg
Choose any five or more servings each day – more is better
1 medium apple, orange, banana, pear or similar size fruit
a bowl of homemade vegetable soup
2 apples 72
med banana 110
bowl homemade veg soup – 200
fruit juice – 55
cooked broccoli – 55
1939 calories.
Tags: