'Ó Pheann an Phiarsaigh', the one-man show on the life and works of Pádraig Pearse written and performed by Noel Ó Gallchóir, will be staged for the final time in Halla Paróiste Ghort a' Choirce on 28 December.
Ó Gallchóir, who won the 2014 BBC Stewart Parker Award for his drama on the life and works of Rann na Feirste writer Seosamh Mac Grianna, has received very high acclaim among audiences throughout the country in this, the centenary year of the Easter Rising.
'Ó Pheann an Phiarsaigh' has been performed 57 times throughout Ireland in 2016 as well as one show in Glasgow. Noel has performed the show throughout his native Donegal on 21 occasions as well as 11 performances in Dublin, 12 across Northern Ireland and 13 shows at various other theatres throughout the country, including Galway, Meath, Waterford, Cork, Kerry and Monaghan.
In addition to these performances, Noel was invited by Éamonn Ó Cuív, TD, to perform in the Mansion House, Dublin, for 700 people at the Fianna Fáil Commemoration on 1916. The drama was also performed in UCD and in the Freemasons Hall as part the 1916 Easter Commemoration in Dublin. Overall, the show has been seen by over 8,000 people so far this year.
The play is a personal and stirring representation of the life and works of Pádraig Pearse in which the best of his creative writings are brought back to life and illustrated masterfully.
Ó Gallchóir thinks that that creative aspect of Pearse's legacy is too often forgotten and has been very pleased to audiences' responses to poems such as 'Mise Éire', 'Fornocht do Chonac Thú', 'Bean tSléibhe ag caoineadh a mic' and as well as his dramatic portrayal of 'Eoghainín na nÉan'.
At a showing in Gaoth Dobhair in March, a member of the audience had this to say: 'If I didn't celebrate 1916-2016 in any other way other than to see this drama, Ó Pheann an Phiarsaigh, I would die a happy man.'
2016 was undoubtedly an important year in Irish history with many centenary celebrations and commemorations taking place all over the country.
The legacy of the Easter Rising was celebrated in many different ways at these events and Ó Gallchóir felt it was important to contribute to these commemorations, and to do so in his native tongue: 'Over the years, there was an element of distrust and some people were reluctant or even ashamed to talk about the legacy of 1916 or the language, as it had become tied up with the violence in the North'.
He continued, 'The public really took ownership of the commemoration. Especially in the Donegal Gaeltacht, we had many events that really helped to deepen an understanding of the sacrifice made in 1916, of what they were trying to achieve and how the Irish language was a part of that.'
'Ó Pheann an Phiarsaigh' has surely been a successful and fitting tribute to Pearse and the commemoration of the Easter Rising itself.
It has also offered audiences a much fuller and multifaceted depiction of Pearse than that which is usually portrayed. The play features elements of Pearse's life in Dublin and in Ros Muc, for example, his time as a teacher and a scholar as well as other important events in his life, including his oration at the graveside of O'Donovan Rossa and the foundation of Scoil Éanna (St Enda's) in Dublin.
The final performance of 'Ó Pheann an Phiarsaigh' will take place on Wednesday, 28 December @ 8pm in Halla Paróiste Ghort a' Choirce. The drama will be followed by music and song by Mairéad Ní Mhaonaigh (TG4 Traditional Musician of the Year), Connie Mhary Mhicí, Diane Cannon, Conor Ó Gallchóir and Clíodhna Ní Ghallchóir.
Admission is €10 and all proceeds will go to the Donegal Hospice. Everyone is welcome to attend.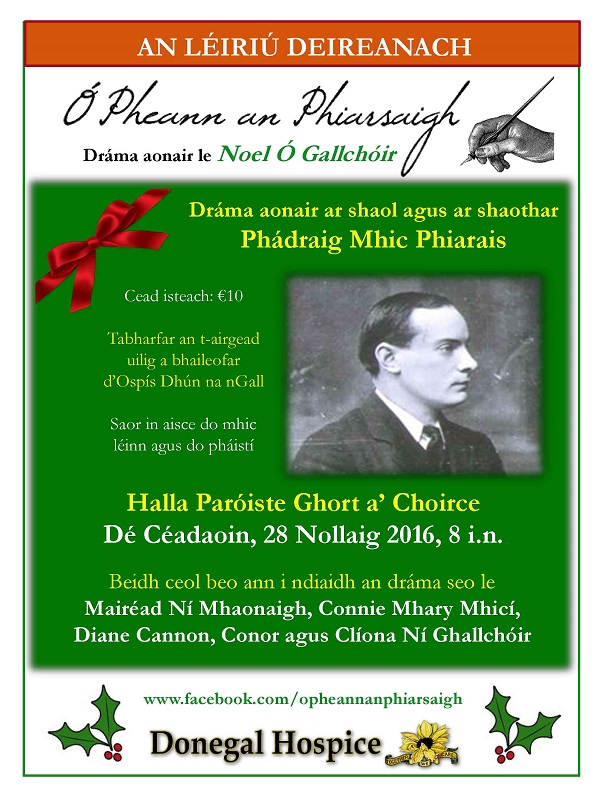 Tags: