The 41st annual Donegal Sports Star Awards are to be officially launched by Buncrana tragedy hero Davitt Walsh tomorrow evening at the Mount Errigal Hotel at 6pm.
Davitt Walsh heroically saved baby Rioghnach-Ann from the Buncrana Pier tragedy; an accident that claimed the lives of Sean McGrotty, 49, his young songs Mark, 12, and Evan, 8, his 59-year-old mother-in-law Ruth Daniels and sister-in-law Jodi Lee Daniels, aged 14.
Davitt is heavily involved in sports, having played senior soccer with Finn Harps, Bohemians and Institute. He is currently a member of the Fanad United Ulster Senior League.
The Ryan family who finished third in RTÉ's 'Ireland's Fittest Family' will also be guests at the launch.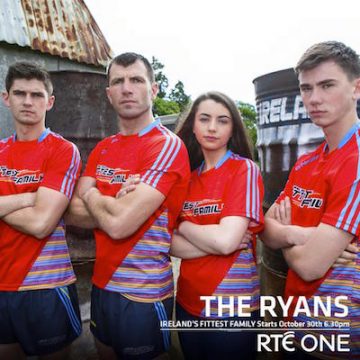 The name of the special guest for the Donegal Sports Star Awards function will be revealed at the launch along with other details about the event including ticket sales.
The awards function itself takes place on Friday the 27th of January in the Mount Errigal Hotel.
To view the list of nominees you can click here.
A number of past winners will be honoured at the launch including:
Veronica McAteer (Camogie 1976)
Ed Moore (Hockey 1976)
David Patterson (Badminton 1977)
Sean Boyle (Master of Ceremonies 1978)
Danny McDaid (Athletics 1976, 1977 and 1979 (Overall), Hall of Fame 2011)
Colm McGonagle (Soccer 1979)
Anne McGrath (Tennis 1980)
James Cullen (Motorsport 1981, 1986, 1988, 1991, 1993, 1999)
Stephen Friel (Boxing 1982)
Fr. Michael Sweeney (Appreciation 1984)
Bryan Harkin (Squash 1985)
Richard Eaton (Hockey 1985)
Donal Reid (GAA 1986, 1993)
Danny Ryan (Boxing 1990 to 1994)
Paul Giles (Cycling 1990 to 1993)
Eamonn Giles (Appreciation 1997 and 2002)
Charlie McAteer (Appreciation 1998)
Michael McGarvey (Rugby 2001)
Jack McLaughlin (Boxing Hall of Fame 2005)
Anne-Marie Meehan (Primary School Teacher 2012)
Nicola Harris (Secondary School Sports Teacher 2012)
Seosamh MacCeallabhuí (Secondary School Sports Teacher 2013)
Christine Russell (Triathlon 2014)
Tags: