MAVERICKS BARBERS: This week the male grooming experts at Mavericks Barbershop Letterkenny provide a look at the benefits of beard oil. 
Beard oil is one of the most essential products that any beardsman can own. Using beard oil can take you from looking like the cat dragged you in the door backwards to the ultimate Maverick.  From beardruff to beard itch, and the general texture of how your beard feels, the benefits are far and wide.
How beard oil is made up
Any high-quality beard oil is typically made up of two distinct ingredients, a carrier oil and an essential oil.
Carrier oils themselves will typically deliver many of the core benefits of any given beard oil as they make up about 90% of the actual oil. Typically used are jojoba, argan, sweet almond, grapeseed, and several others. The reason why these oils are so vastly used in beauty products is due to them being completely all natural and having terrific hydrating/moisturizing abilities for your skin and hair follicles.
Many of the more expensive beard oils will typically include several essential oils in addition to a carrier oil, such as sandalwood or tea tree are which are natural anti-septic's. Therefore, when applied to your skin, these essential oils will do a good job in clearing out your pores to reduce the occurrence of acne.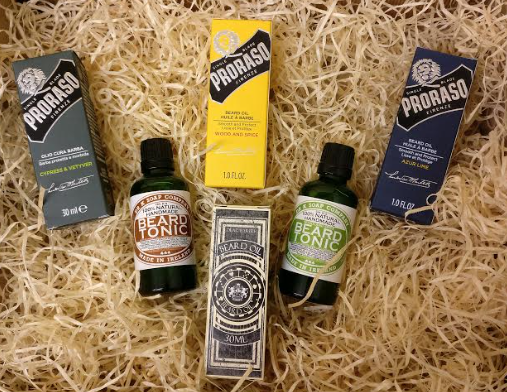 Getting Rid Of That Dreaded Beard Itch
Just about every man that grows a beard will start to notice that it gets a bit itchy.  While some Mavericks like to just "push through" this phase, this discomfort is completely unnecessary with the added use of beard oil.
At the root of every one of your beard follicles, you have a pair of glands called sebaceous glands. The sebaceous glands create this oil called sebum oil. As your beard follicle gets longer, it simply requires more and more sebum oil to coat the follicle while also keep your skin well-nourished and moisturized.
However, no matter the length of your beard, your sebaceous glands stay the same size.  Given that they are finite in size, their sebum oil production can't effectively keep up with the demand of your beard follicle.
As you can see, no matter the length of your beard, sebum oil remains constant.  Therefore, when your beard gets to a certain length (every man is different but typically after a few weeks of growth), their sebum oil just simply isn't enough. This is when your beard and more importantly, your skin becomes dried out and itchy.
So, the introduction of beard oil will act as a supplement to your sebum oil making the dreaded beard itch go away while also giving it the proper nourishment that it is seeking.
But Beard Itch is Only Half the Story…. Beardruff?
When you don't use any sort of beard oil on your skin for an extended period of time and are constantly itching it due to irritation, beardruff will be born. Beardruff is essentially dandruff for your beard.  Your skin is so dry that when you start to itch it, the skin begins to flake causing white specs of beardruff to show up on your shirt. This is where the oil intervenes, keeping it conditioned, moisturized and the itch away.
How It Looks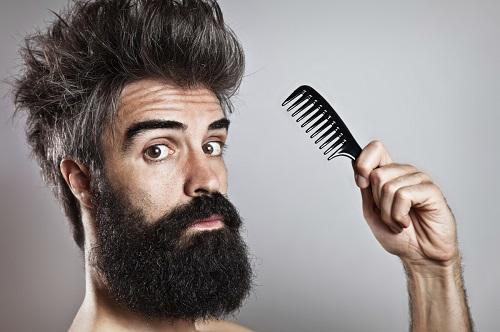 While we have been concentrating a lot about your skin care with beard oil, it does help make your beard feel a lot softer, but also look great as well. Therefore, if your beard is feeling a bit scraggly or straw-like, regular application of beard oil will help in making it feel much better.
This regular use of beard oil will also help with the reduction of split ends occurring.  If you are taking your beard growing seriously, the reduction of split ends will be good news as you won't have to trim your beard nearly as often.
In addition to the feel of your beard, the general appearance of your beard will also improve with the introduction of beard oil.
The follicles of your beard will look a little bit shinier and healthier.
When a man walks into Mavericks, we can tell whether he has been using beard oil or not regularly. It is simple, even untrimmed, his beard will still look in good shape!
Tip
When applying ensure you comb or brush through thoroughly to ensure oil reaches the root of the hair!!
Call into Mavericks on Lower Main Street Letterkenny to see our range of beard oils and we have a whole lot more… beard balms, beard shampoos, beard brushes mustache waxes and more, not to mention bespoke beard trimming!!!
Also follow us on Facebook on https://www.facebook.com/Maverick-Traditional-Barbershop-1544230652533677/?fref=ts
Tags: