This week I am going to give you three different recipes that you can use straight away.
They add a bit of taste to healthy eating, which is so important for the success of any diet. After all, who wants to eat bland and boring foods?
I know I don't, and my Rushe Fitness members certainly don't either.
This is something I stress in my Fit in 42 classes. Don't limit yourself to unappealing foods, thinking that it will make you lose more weight.
Studies have shown that highly restrictive diets tend to fail more often than those that have foods that the client actually enjoys.
The trick is to make healthy foods as appealing as possible. If you are unsure where to start, I am accepting new members into my Fit in 42 program.
I'll walk you through how to make recipes like the ones below and how to make them fit your goals. We start on April 3 rd .
Let's get cooking.
Fully Loaded-Lettuce Wrapped Turkey Bacon Burgers
Makes 6 servings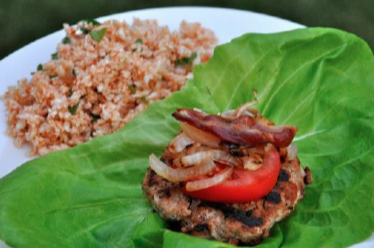 Ingredients
>8 strips bacon
> ½ onion, sliced
> 1/8 cup almond flour
> 1LB ground turkey
> 2 tsp balsamic glaze
> 1 tsp tomato paste
> ¼ tsp smoked paprika
> ½ tsp garlic powder
> ½ tsp onion powder
> 1/8 red bell pepper minced
> 1 tbsp fresh chives chopped
> Large lettuce leaves
> Sliced tomato
Directions
1. Set the oven to 400 degrees F. Line a baking sheet with foil and place a metal cooling rack in the centre. Arrange the bacon pieces on the rack and bake for 20 minutes, or until crispy. Remove from oven and set aside to cool.
2. Grill the sliced onion in a grill pan over medium high heat with a few drops of olive oil. Grill until tender and caramelized. Remove from heat and set aside to cool.
3. Chop 6 of the bacon strips and place in a medium bowl. Chop 1/4 cup of the grilled onions and add to the bowl. Add the almond flour, turkey, balsamic glaze, tomato paste, paprika, garlic powder, onion powder, bell peppers and chives to the bowl.
Mix well with your hands — it's okay to get messy here! Form into 6 patties.
4. Place the patties on your grill pan over medium high heat for about 4 minutes per side, until cooked through.
5. Serve your Fully Loaded-Lettuce Wrapped-Turkey Bacon Burgers on large lettuce leaves and topped with sliced tomato and the extra grilled onions and bacon pieces.
Balsamic Asparagus and Steak Salad
Makes 4 Servings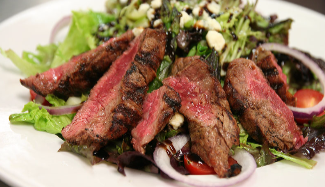 Ingredients:
>1 lb flank steak
> 1 lb asparagus, ends trimmed
> 1 tbsp red onion, minced
> 1 tbsp extra virgin olive oil
> 4 tsp balsamic vinegar
> 1 clove garlic, minced
> sea salt, to taste (optional)
> freshly ground black pepper, to taste
Directions:
1. Bring a medium pot of water to boil.
2. Add asparagus and boil 3 min. Drain and rinse under cold water immediately. Dry thoroughly.
3. Heat a grill until hot. Trim away excess fat if desired. Cut into 4 steaks. Season with salt and pepper. Place on grill.
4. Grill for 4 to 5 minutes per side. Leave medium rare to rare.
5. Once its cooked, set aside and let rest about 10 minute. Then cut each piece into strips.
6. Mix all other ingredients together. Toss asparagus with balsamic mixture. Stop with steak slices.
7. Serve chilled or at room temperature.
Courgette Hash Browns
Makes 5-5 inch or 10-2 inch hash browns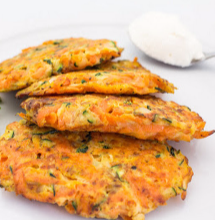 Ingredients:
> 2 cups shredded courgette (about 2 medium courgettes)
> 3 eggs
> 1 tbsp coconut flour
> ½ tsp sea salt
> ¼ tsp freshly ground black pepper
> 1 – 3 tsp coconut oil
Directions:
1. Shred courgettes with a box grater or in a food processor and set aside. Blot dry with a paper towel.
2. In a large bowl, beat eggs together.
3. Sift coconut flour into eggs and beat together. Note: coconut flour often has clumps, which is why sifting is important.
4. Mix shredded courgette, sea salt and freshly ground black pepper together, and combine with egg mixture.
5. Meanwhile, set a large sautee pan over medium-low heat. When hot, add coconut oil to coat the bottom of the pan.
6. Spoon the mixture into the pan in desired sized hash browns. Sautee until light brown and then flip.
7. Serve warm or at room temperature.
There you have it.
3 recipes that are simple to make, are healthy and a great addition to any diet plan.
Give them a try and be sure to click the link below and let me know what you think of them.
#TrainSmart
Or contact me on Facebook
https://www.facebook.com/pages/Rushe-Fitness/120518884715118
* Emmet is the owner and operator of Rushe Fitness LTD
Tags: