MAVERICKS BARBERS: This week the male grooming experts at Mavericks Barbershop Letterkenny provide a guide to getting the best skin – and it all starts from within!
It's all about diet, calorie counting, protein etc. etc. in today's world, particularly of the fit and healthy. And it's fantastic, it is great to see society become more aware of their body, how they fuel it and how they abuse it.
There is no doubt in my mind that the greatest benefit of all the healthy food and exercise whatever form you practice and how frequent that it is, the mind benefits the most. One begins to feel a sense of peace coming into their daily lives, some serenity and more energy.
It may be small measures or it may be life changing but when a person fuels themselves with a better-quality diet, gets some fresh air in their face and their heart beating a bit quicker, one cannot deny they feel they are in a better place.
However, if you're like a few of the Mavericks you're also seeking a second result. To look better. sharper, trimmer, younger and that is great too, you'll feel more confident on the dance floor for one! To look your best, you need your skin in its optimal shape, it cannot be forgotten about. So, we decided to give you a run don on skin maintenance where diet is concerned.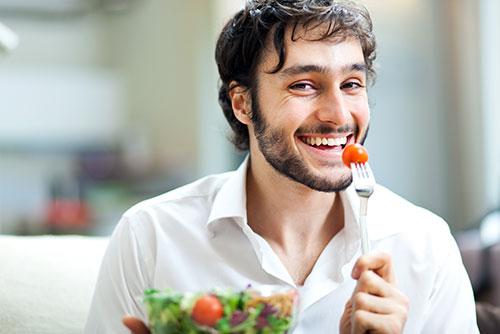 The diet optimal for overall health is close to optimal for skin health as well. The main reason is that the diet optimal for overall health slows down physiological mechanisms of aging in all tissues, including the skin.
While we believe that it's in everyone's best interest to adopt the diet optimal for overall health, we should point out that some aspects of a healthy diet are more important for the skin than others.
So, the basics are as follows:
Balance and variety
A balanced diet is a range usually selected in such a way as to prevent protein malnutrition and vitamin / mineral deficiencies. And, for many people, especially junk-food lovers, adopting a standard balanced diet would already be a great improvement. Keep in mind, however, that in order to "beat nature" and derive significant anti-ageing benefits, one may have to consume some nutrients in greater amounts than those found in a basic balanced diet.
According to the US Department of Agriculture. An adults' balanced diet would consist of the following, daily:
6 to 11 servings of breads and cereals
3 to 5 servings of vegetables
2 to 4 servings of fruits
2 to three servings of meat and meat alternatives (fish, poultry, eggs, dry beans, nuts)
2 servings of milk and milk products
To ensure that all essential nutrients are consumed in adequate amounts, it is desirable to consume a wide variety of foods.
Fruits and vegetables
Fruits and vegetables are particularly important for preventing premature skin aging because they contain a wide variety of antioxidants. These antioxidants help protect skin cells from damage by free radicals which are especially rampant in the skin due to environmental exposure.
To ensure that your fruits and veggies have all their antioxidants intact, make sure they are fresh and not over cooked.
Fluids
A well-moisturised skin is somewhat less prone to developing of wrinkles. Drinking plenty of fluids throughout the day ensures proper hydration of the body and helps reduce skin dryness.
Experts usually recommend drinking 6-8 glasses of water a day. Also, do not drink too much fluid 2-3 hours before going to bed. This may cause morning puffiness and excessively stretch your skin.
Calories
Except for frying oneself in direct sunlight at noon, the quickest way to get wrinkles is to put on a lot of weight and then lose it. The reason is obvious: when you gain weight, extra fat stretches the skin, then, when you lose weight and body fat goes away, the skin sags and crumples up.
The degree of skin sagging after weight loss varies with the person's age (it tends to be worse the older you are), genetics and other factors. Let the desire to retain youthful skin be another incentive for you to watch your calories and avoid weight gain – even if you plan to lose weight later on.
There is no hiding the facts. Have a look at the lad who is training for his local GAA club 4 nights a week and staying out of the pub and the chippy and then have a look at your mate who is dining out on fast food and hot deli counters every day and washing it down with a few pints of stout. It will show you clearly what diet means to your skin and looking good.
For more help or advice on your beard call in to us in Mavericks at Lower Main Street, Letterkenny. Also check out our Facebook page on www.facebook.com/Maverickstraditionalbarbershop
Tags: