Life can sometimes get in the way of your training plans. A hectic schedule, kids, family life, a busy job, all these things can, quite often take precedence over the time you may have to get to the gym.
What then can you do to fill in the gap that is left?
There are loads of free training programs on the internet.
There are thousands of home workout DVD's that you can chose from.
The problem with some of these, is there is no structure to them.
Some of them are 10 or 15 min workouts, and while this may seem good, it won't be enough in the long term to give you any visible results, no matter what the advertisements may tell you.
I have laid out 2 separate workouts for you to try.
If you are new to exercise you will do session A only.
You can do this 2-3 times per week.
Once you get the hang of the exercises and feel that you have a good grasp of them, you can then move onto session B.
Again, you will do these 2-3 times per week until you feel that you have a good grasp of all of the exercises.
(If you are unsure on how to do any you can find them at my YouTube Channel here https://www.youtube.com/channel/UC8WNi_V_h9uhElnjTr7DjRw)
Once you have the 2 workouts to a point where you know each exercise and the techniques, you can start to mix them up.
If you are stuck for time you can do just twice per week.
So, workout A and then workout B a few days later.
If you want to train 3 times per week you can rotate your training sessions each week.
Week 1:
Workout A- Workout B – Workout A
Week 2:
Workout B – Workout A – Workout B
Week 3:
Workout A- Workout B – Workout A
Week 4:
Workout B – Workout A – Workout B
This gives you a full month of training 3 times per week, and you are working your full body each session.
The best part is, you can do it from home with minimal equipment.
These are just 2 of the workouts from my Drop a Dress size Challenge.
Over the 6 weeks, you get 18 individual workouts and they progress so you get real results and also get fitter along the way.
You can find out more through the link below.
http://www.rushefitness.ie/drop-a- dress-size/
#TrainSmart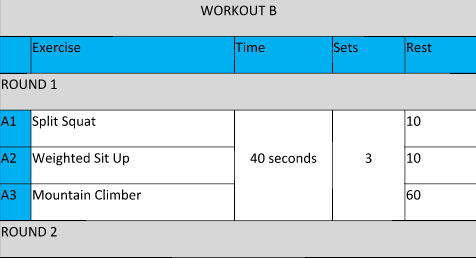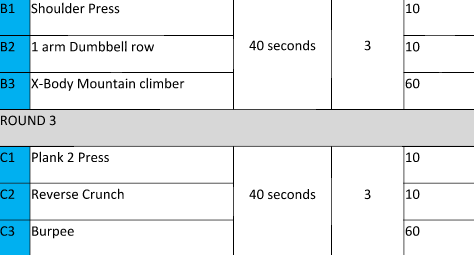 Tags: