The sun is shining and we offer you a warm welcome to this week's Castle Grove blog on Donegal Daily.
Spring is well and truly here, and we are in the midst of a busy week of preparation for Easter at Castle Grove with lawns manicured and all the flowers and plants bright and welcoming, and that's just outside!
Inside we are preparing the house for a busy weekend of guests coming and going with special events such as our Annual Easter Egg Hunt and our popular Afternoon Teas.
If you have guests coming this Easter Week or want to invite family and friends over to enjoy the sunshine, why not plan an Afternoon Tea party. This can be planned outside, weather permitting, on the lawn or inside in your sitting room.
Here are our suggestions to make your Afternoon Tea Party the highlight of the Easter Holidays.
1. Prepare the seating area:
If outside, in an area with shelter from the sun and away from any bugs that might want to gate-crash the party
If inside, we suggest creating some space in either the dining room or sitting room, giving each person lots of space to relax and enjoy their tea
2. Prepare the table:
A white tablecloth is the perfect base from which to plan your table. A crisp white tablecloth adds a touch of luxury and old world charm to your day.
3. Crockery or Delph:
Set the table with a cup, saucer and teaspoon and a side plate per person, preferably using matching set, but if not, try to ensure each person gets a matching cup, saucer and side plate.
4. Flowers:
A small bouquet of flowers add the perfect touch of freshness and if weather does not permit an outside tea party, it brings a blast of spring and colour to the table. This doesn't have to cost you a lot, simply a vase of daffodils from the garden will do bring the table to life.
5. Preparing the food:
Afternoon Tea consists of 3 courses and they are usually served together so guests can pick and mix as they choose.
Savouries: Traditional finger sandwiches include egg and onion, cucumber and cream cheese and Ham with chutney. Add and modern touch with a finger portion of a smoked chicken and salad wrap.
Scones with Jam and Clotted (or whipped) cream: This is quintessential for Afternoon Tea and is usually served as the middle course.
Selection of desserts: Feel free to pick from your personal favourite desserts and sweet treats. The only thing to keep in mind is the size …. Miniature is best… My personal favourite is a combination of a moist chocolate square with a tangy lemon finger and super sweet meringue with fresh cream and fruit.
All served with piping hot tea or coffee, cream and sugar optional!
Here is a simple recipe to re-create one of my favourite desserts: Tangy lemon tart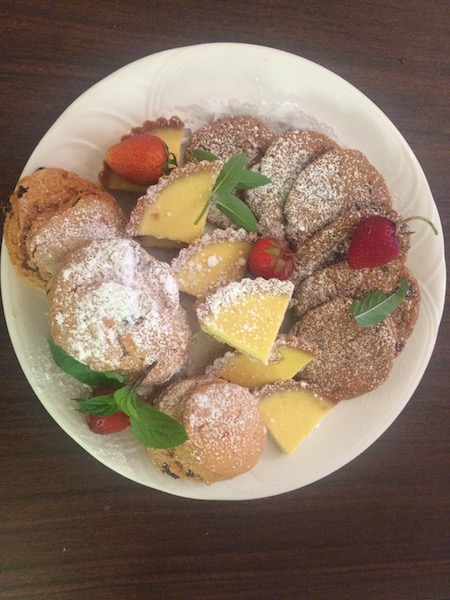 Ingredients:
250ml of cream
50g castor sugar
Juice and rind of 2 lemons
4 eggs
Splash of vanilla essence
Method:
Lightly whisk all the ingredients together and strain through a sieve to remove the lemon rind.
Tip: We make the cases for the tarts but our top tip would be to buy the cases pre-made from the grocery store.
Pour the mixture into the cases and bake in the oven at 110 degrees for 40 mins.
Take out and let cool
Serving suggestion: Tangy lemon tart for dessert is delicious served with a raspberry ice cream or sorbet. For Afternoon tea, serve with a little drizzle of fruit coulis or with fresh raspberries.
Enjoy!
If the thought of all this preparation is too much and you want to relax and enjoy your party, why not join us at Castle Grove for Easter Afternoon Tea on both Easter Saturday 15th or Easter Monday 17th April, and we will take care of the preparation and we will even do the dishes!

All the team at Castle Grove wish you, your family and friends a very Happy Easter!