Lifford Credit Union Ltd is a community-based credit union with nearly ten thousand members and over €40 million in assets which continue to grow from strength to strength.
And now there's even more reason to join the credit union as they offer a chance to win a brand new car with Lifford's Credit Union's first ever Member's Car Draw.
Established and newer members will be given the chance to enter the draw with €30 per annum taken from savings.
Once members have filled in a form, as well as the chance to win the car, there will be other chances to win great cash prizes!
As well as their head office in Lifford, the credit union also operates from their two full-time sub-offices in Raphoe and Newtowncunningham.
We have a number of great loan rates to suit everyone. Our rates are:
Standard Loan Rate @ 12% (APR 12.68%)
Secured Loan Rate @ 5.99% (APR 6.16%)
Education/Student Loan Rate @ 6.99% (APR 7.2%)
Last year Lifford Credit Union gave back to our members a 1% Dividend on savings, and a 22.5% Interest Rebate to all our borrowers.
Each year we give away €5,000 in Student Bursaries, to help students with further education.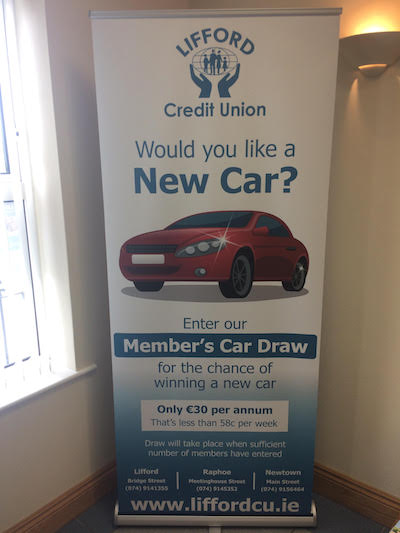 This year we are also giving away, one week each to six people (worth €3,000), to go to a Gaeltacht of their choice.
We offer Death Benefit Insurance (DBI), which is a life assurance benefit to help towards the funeral costs of a deceased member. The member must have joined before their 70th birthday and retain €100 in shares at all times. Our DBI benefit has been increased to €2,600 and is free to qualifying members.
We offer a foreign exchange service at very competitive rates. We offer standing order facilities, direct debit facilities and we accept debit card payments. We also offer new Flexi Accounts, through which members can avail of electronic payments in and out of their accounts.
Just this week we have launched our brand new website, which includes a loan calculator. So log onto www.liffordcu.ie and have a look.
For more information on any of the above call into any of our three offices, email liffordcu@eircom.net or check out www.facebookLiffordcu.ie
Lifford – 9141355
Raphoe – 9145352
Newtown – 9156464
Tags: