Charlie Collins has been at the heart of local sport in Donegal for the past 30 years. Be it soccer, GAA, golf or cricket, the Letterkenny native has an opinion. Today he begins what promises to be a controversial and always entertaining weekly column. Charlie welcomes your views – just don't expect him to bite his lip!
Are some people ever Happy?
I was dismayed to hear and see some of the reaction and comments following our Under 21 team's defeat by Dublin last Saturday.
There is no doubt that the lads didn't produce the type of performance that we know they are capable of but the reality is they were beaten by a better side on the day. And that surely is the key issue here, a better team on the day.
The tactics and style of play employed against Dublin had worked perfectly in our previous games and we didn't hear too many people complaining, of course when your team wins you don't really care how they play.
For whatever reason Donegal were not at their best last Saturday and in championship football you seldom get a second chance if you leave your best form at home.
Let's not judge this group of young men or indeed the management team on the defeat by Dublin, rather let's give all of them the credit they deserve for winning our 8th Ulster Under 21 Championship.
That's right, only our 8th ever and three of those were back in the 60s, two in the 80s, one in 1995, and the most recent before this one was in 2010. Of those only two 1982 and 1987 went on to win All-Ireland titles. So we haven't exactly enjoyed huge success at this level in the past.
Winning a Ulster title at any level is still a big deal, and Donegal hasn't won enough at any level for us not to acknowledge our teams that achieve it. So well done to all involved for their efforts and thanks for bringing home a Ulster Championship.
This coming weekend our Ladies play Galway in a League semi-final, the Minor lads meet Armagh in a Shield Final, the Under 17's play Tyrone in the Jim Mc Guigan Cup Final and following their very successful League campaign our Hurlers begin their quest for the Nicky Rackard Cup against Armagh. Times are good at all levels and codes in the county it would seem!!
It's Ups and Downs time in soccer
It's always enjoyable to watch the battles to win titles, gain promotion and attempt to avoid relegation that unfold in the local soccer leagues at this time of the year.
While a number of issues have already been decided there is still much to be resolved in the next couple of weeks.
In the Inishowen Premier League Glengad United need one win from their remaining two fixtures to make it three titles in a row, while credit must go to Illies Celtic who clinched the Division One title with victory in their final league game to ensure an immediate return to the Top Division.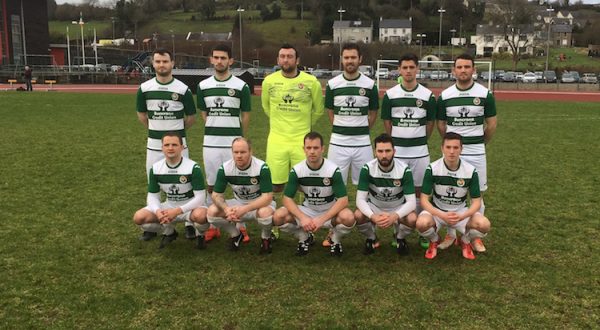 In the Donegal League, Division One is complete, Cappry Rovers are champions, Donegal Town promoted with them and Gweedore Celtic in the play-off spot. At the bottom of Division One, Glenree and Gweedore United are Relegated with Deele Harps in the play-off spot. Ballybofey United are impressive unbeaten Champions of Division Two with 18 wins and 2 draws in their 20 game campaign, Lifford Celtic currently sit in second spot but Dunkineely Celtic can pip them for promotion if they win in Drumkeen on Sunday.
Whichever of them miss out on the automatic spot will meet Deele Harps in the Promotion/Relegation play-off. The Premier Division is a minefield of " ifs and buts " at both ends with just a handful of games to play. Glenea United will win it if the beat Rathmullan on Sunday in Glasserchoo. If they don't Drumoghill Celtic can retain the title by beating neighbours Lagan Harps at The Moss. However if Glenea and Drumoghill are both beaten on Sunday, Lagan Harps could win the title by beating St. Catherines in Killybegs on Sunday week. At the bottom of the table Convoy Arsenal have already been relegated but who will join them remains a mystery !. St. Catherines are favourites to go down given that they are currently six points adrift but wins in their two remaining home games against Kildrum Tigers and Lagan Harps could see them survive.
There remains the possibility, depending on results going a certain way that four teams could finish on 21 points, and it would then be decided on goal difference who is relegated and who is in the Play-Off.
It could, of course, be all decided this weekend but I wouldn't gamble too much on that being the case. The competitive nature of the Premier League this season can best summed up by the fact that Glenea United could win it by winning only 11 of their 18 League games and Milford United could be Relegated despite losing only 5 of their 18 games.
Despite that recent defeat by title rivals Letterkenny Rovers reigning champions Cockhill Celtic remain favourites to retain their title in the Ulster Senior League.
Once the campaign is complete it will again be time to ask that now perennial question 'is there a future for the League in its current form?'.
Letterkenny's late surge coupled with a dip in form by Cockhill has a least made the last few weeks interesting but it still can't hide the fact that the League is in danger of becoming a non-event Cockhill are 14 points and Letterkenny 11 points clear of third place Derry City Reserves.
Finn Harps Reserves have won only three and Swilly Rovers only two of their 15 league games to date.
A seven-team League is just not enough and unfortunately, it would seem neither of the two Junior Leagues or the teams in them have any interest in some kind of a Partnership/Merger/Arrangement , call it what you like, with the Senior League.
Having attended many games in both Junior Leagues in the last few seasons on both Saturdays and Sunday's I have no doubt that there are many players capable of playing at a higher level than the one they are currently at but choose not to because of the extra commitment that would require/demand. However many players and clubs are happy with where they are and while that situation remains the future of the Ulster Senior League will remain in serious doubt.
The reality is that it cant successfully continue in it's present form or lack of numbers while on the other hand you cant force players, clubs or leagues into something they dont want to be a part off. It's a pity but it's called reality.
And finally…..
A huge shout-out for Chris Houghton on getting Brighton & Hove Albion Promoted to the Premier Division and two fingers up to Newcastle and Norwich both of whom treated him so badly in the past. Just heard that Harry Rednapp has taken charge at struggling Birmingham City. One thing is for sure, if talking a good game keeps you up then Birmingham are safe! Until next week.
Tags: