There will be seven never-before-seen dishes on the menus of select Donegal hotels and restaurants this summer following an innovative pilot project.
TASTY 2017 is a new Irish Food & Tourism Project, which could be described as a mix of Master Chef meets The Apprentice.
Local chefs from seven of Donegal Town's leading hotels and restaurants teamed up with TY Students from the local Abbey Vocational School (AVS) and together they competed and created new TASTY 2017 food products that feature locally sourced ingredients.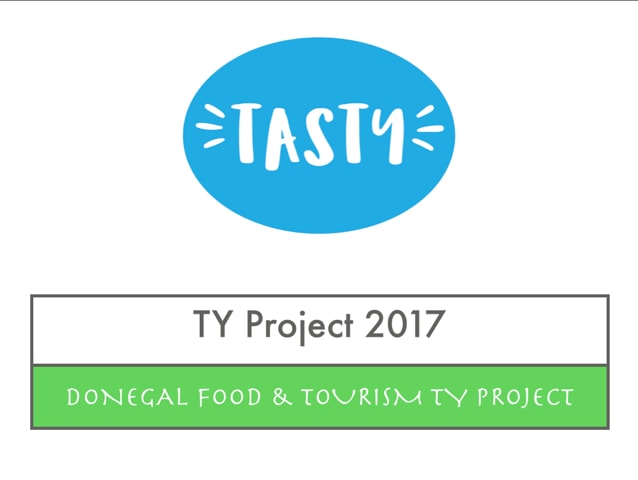 From Donegal Silkie Whiskey soaked Chicken Wings, Seaweed Bread, to Donegal Chicken with Donegal honey, there will now be a delectable mix of new dishes on offer across the county. 
Following eight weeks of mentoring,  developing cooking and marketing, the teams presented their finished food products at a Gala Awards on Tuesday, May 16th. 
The seven teams presented their food story to a panel of judges and over 300 members of the public at a Gala Awards and Presentation Evening hosted by Solis Lough Eske Castle, Donegal Town. The public also had the chance to taste each of the products.
The winners were: 1st (Platinum) –The Seaside Bakery – Tonn Arán Solis Lough Eske Castle Hotel. 2nd (Gold) – Uisce Fishce Quay West Restaurant. 3rd (Silver): StewStack – Harvey's Point Hotel. 4th (Bronze): Foireann Caonach – Smugglers Creek.
Lord of the Wings won Best Social Media award. Best Food Story award went to StewStack of Harvey's Point.
TASTY2017 involved a strong tourism, element, as each of the food establishments that have been mentoring the teams will feature their unique TASTY 2017 dish on their own menu for the whole of the 2017 summer tourism season!
The LYIT School of Tourism in Killybegs also supported the TASTY 2017 project, where teams had a day visit to the college and opportunities to experience a real-life hospitality environment prior to visiting their participating restaurant or hotel.
Projects like Tasty 2017 are key to encouraging young food entrepreneurs coming into the Irish food trade and ensuring that the food and tourism industries here in Ireland will have a solid future.
Ms. Geraldine Diver, Principal of the Abbey Vocational School in Donegal Town, is delighted with the project. "TASTY 2017 is an invaluable hands on learning experience that could never be achieved from a business textbook. This project will facilitate learning in so many areas and the students will gain invaluable life-skills throughout the process" she said.
The voluntay Steering Committee of 'Tasty' 2017 Enda O'Rourke, Emily Brown Rush, Conor Daly, Geraldine Diver & Dr. Sean Duffy congratulated the 42 TY Students who took part and expressed their sincere thanks and gratitude to everyone involved in this project and who helped out in any way.  
The 7 Teams taking part in Tasty 2017 are:
Foireann Caonach
Smugglers Creek Inn
Food Product: Irish Whiskey & Carragheen Cheesecake with Sea Salted Butter-Scotch
Team Members: Shaun Campbell, Aine McGovern, Lisa Gallagher, Laura Taylor, Ellie Chambers, Euan Cullinan
Lord of the Wings
The Village Tavern
Food Product: Donegal Silkie Whiskey soaked Chicken Wings with a Smoked Sea Salt & Blissberry Farm Honey Glaze and a Donegal Blue Cheese Dip
Team Members: Jasmine Timony, Aoife Breslin, Aisling Meehan, Marie Harris, Patrick Harley, Dillon Thomas
Uisce Fishce
Quay West Restaurant
Food Product: Whiskey & Honey Cured Salmon on a Stout Saltine with a Cream Cheese & Seaweed Aoili
Team Members: Cian Hegarty, Siofra Mauehofe, Niamh Boyle, Ellen McGrory, Orla Breslin
A Donegal Fusion
Chandpur Indian Restaurant
Food Product: Donegal Chicken in a peanut sauce, red pepper & onion concasse, mixed spices with Donegal Honey with cream
Team Members: Victor Mitchell, Elizabeth Mackle, Kerrie McHugh, Aine McGroarty, Katie Shovlin,William Browne
StewStack
Harvey's Point Hotel, Lough Eske
Food Product: Slow cooked Beef Cheek & Donegal Stout Stew
Team Members: Eoin Gallagher, Charlotte Timony, Killian Faulkner, Abbie Boyle, Niamh Histon, Nicole Browne
The Seaside Bakery – Tonn Arán
with Solis Lough Eske Castle Hotel
Food Product: Tonn Arán – A Healthy new Seaweed Bread with Foraged Ingredients
Team Members: Karla Kelly, Ciaran McGrory, Aine McGroary, ClodaghBoylan, Mya Magee, Elaine Wright
Tirchonaill Toffee
with The Mill Park Hotel & Leisure Centre
Food Product: A Dessert Plate of Silkie Whiskey Toffee Pudding, Silke Whiskey & Sea Salt Caramel Sauce with a Local Rhubarb and Custard Parfait.
Team Members: Ella Duffy, Daniel Gallagher, Shaneen Graham, Keri O'Loughlin, Marguerita McHugh and Evan Towey
Tags: