The award-winning Kelly's Centra at Mountain Top Letterkenny have some mouth-watering deals for this Bank Holiday weekend. Whether it's a BBQ feast at home or a delicious steak meal in Kelly's American Roadside Diner – you'll be satisfied however you choose to celebrate the holiday.  
Here at Kelly's Centra, we have it all, so you can do all your shopping under the one roof. Not only do we have excellent everyday low prices on the products you want we have a great American-themed roadside diner that you should come and try also.
How about a BBQ Feast?
Now that the weather is getting hotter it's time to light up the BBQ and enjoy an outdoor feast, and Kelly's has it all.
Celebrate summer with our new range of BBQ meats prepared fresh in store every day by our butcher.
New range includes:
Mouthwatering 6oz home style burgers 4 for €5
Delicious Pulled pork burgers 6 for €5
Pork sizzlers 7 for €5
Turkey burgers 4 for €4
Quarter pounder beef burgers 6 for €5 , and many more great value quality products
PLUS GREAT OFF-LICENCE DEALS INSTORE ALL THIS WEEKEND to help with the thirst.
Sensational steak offer:
This Saturday and every Saturday customers looking for a steak deal that's cooked to their own liking can have it all day @ the award-winning roadside diner for just €10 -THATS RIGHT AN 8oz STEAK WITH ALL THE TRIMMINGS FOR JUST €10 ALL DAY SATURDAY (no start time or finish time ALL DAY MEANS ALL DAY)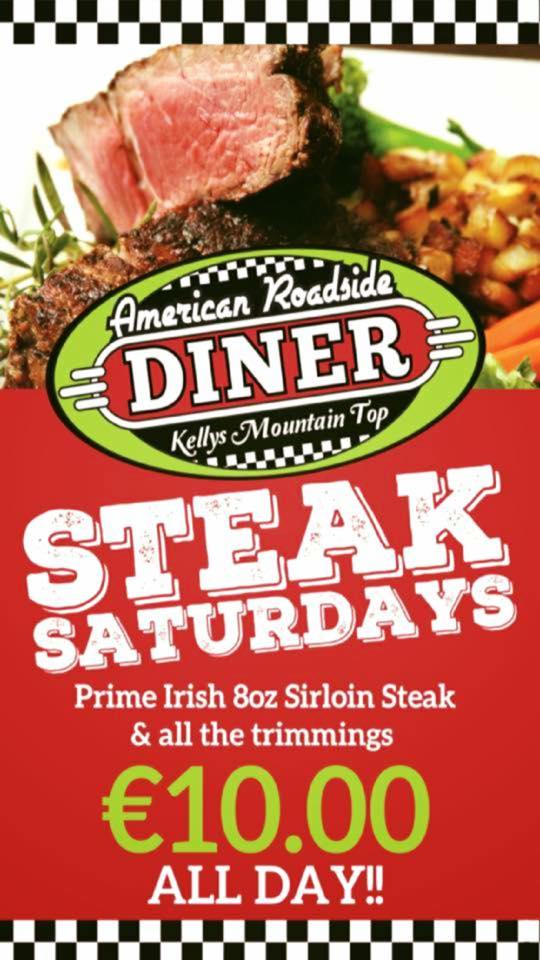 The team at Kelly's Centra Mountain Top hope you all have a great bank holiday weekend and remember: we have everything you need.
*forecourt
*atm
*diner
*off-licence
*ice cream
*deli
*papers
Visit www.facebook.com/kellys.centramountaintop on Facebook for more fantastic offers!
Tags: