The weekly 'Oíche Airneáil' will begin again in An Crannóg in Derrybeg on the 28th June and will continue through the summer months.
This has become a favourite with locals and tourists alike where they can enjoy an hour and a half of traditional music from young local musicians from 'Scoil Cheoil na Crannóige'. Visiting musicians are always welcome and there is always room for some dancing.
The craic starts every Wednesday at 8.30pm until 10. There is a small cover charge of €3 to cover for a cup of tea and children and musicians have free admission. All are welcome!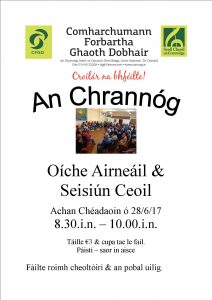 Oíche Airneáil sa Chrannóg achan Chéadaoin
Beidh Oíche Airneáil agus Seisiún Ceoil achan Chéadaoin sa Chrannóg ag toiseacht 28 Meitheamh agus ag reáchtáil i rith an tSamhraidh.
Beidh ceoltóirí as Scoil Cheoil na Crannóige ag seinm uirlisí agus ag ceol amhráin agus thiocfadh le steip damhsa a bheith ann. Tosóidh an chraic ag 8.30.i.n. agus tá  táille beag €3 le costas cupa tae a chlúdach. Níl táille ar bith ar pháistí nó ar cheoltóirí.
Beidh fáilte mhór roimh cheoltóirí agus an pobal uilig.
https://www.facebook.com/an.crannog.7
https://twitter.com/anchrannog?lang=en