A bumper boxing night of action will take place in Burt tomorrow night – all in the name of raising awareness of bullying and mental health.
The 'Brain Over Brawn' event was the brainchild of Killea man Emmet Lynch and Carrigans man Conor McDevitt.
A card including male and female bouts will be played out before a capacity attendance at An Grianán Hotel, but there are still tickets to be bought if you want to be a part of the big night.
The funds raised will be invested in the ReNew You programme, run by Aoibheann Gallen and based in Stranorlar.
Aoibheann teaches meditation to children, teens, adults, schools, school teachers, athletes, communities and youth groups and organises mindfulness, meditation and relaxation in both primary and secondary schools throughout the Northwest.
Aoibheann has been involved within the Wellness industry for over twenty years and is practicing meditation since 2000 having trained in various meditation practices including mindfulness mediation.
Children are taught meditation practices in a playful and easy to understand manner. Teens are taught meditation in an easy to understand and engaging manner.
"Bullying and mental health are big issues among young people these days and we wanted to raise awareness of a problem that is getting out of hand," Emmet Lynch said.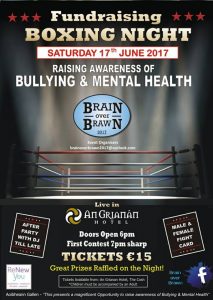 "Every town and village has been touched by suicide and this is a big part of all of that. Mental health issues and bullying are directly related a lot of the time.
"People need to be aware of the impact it has on others. We decided to run a fun event like this and we got a lot of interest from people to take part. The reaction so far has been brilliant and we're looking forward to a great night.
The event starts at 7pm with doors open from 6pm. There will be an after party with a DJ and prizes will be raffled throughout the night.
Tickets cost €15 and are available from the hotel or by contacting any of the participants or organisers. You can email brainoverbrawn2017@outlook.com or contact their Facebook page – https://www.facebook.com/brainoverbrawn2017/
Among those taking part are Damien Crossan, who was Kildrum Tigers' captain in the Donegal League last season; William Lynch, who plays for Kildrum Tigers and Naomh Colmcille; the well-known local personalities Ryan McDaid and Declan McDaid;  Irwin Tinney from Tinney's Quarries, St Johnston; An Grianán Hotel employee Oisin McNulty; Emmet's brother Rodney and sister Louise; and Ballinamallard United footballer Shane McGinty.
Donegal Daily is sponsoring Killea woman Alice Diver, well known for her comedy sketches on Facebook.
Tickets cost €15 and are available from the hotel or by contacting any of the participants or organisers. You can email brainoverbrawn2017@outlook.com or contact their Facebook page – https://www.facebook.com/brainoverbrawn2017/
Tags: