Donegal's growing reputation as a fantastic destination for food has been enhanced significantly this summer with an exciting range of food-related events as part of the Donegal Food Coast Experiences.
The Castlegrove Strawberry Festival at Castlegrove House in Letterkenny this Saturday July 1st is just one of many events planned and will include a tour of the walled garden, harvesting home grown strawberries, music, barbeque and a live cookery demonstration celebrating the strawberry.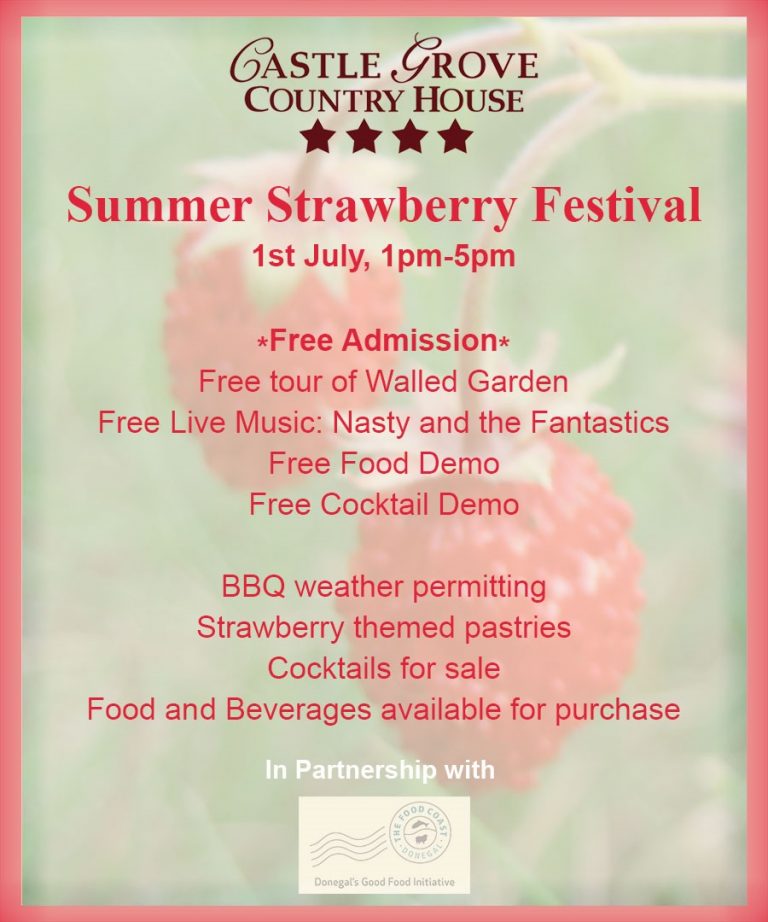 The Food Coast Experiences was brought to life earlier this year by Local Enterprise Office, Donegal through the Food Coast Initiative as another exciting new phase in the county's evolving food story.
Head of Enterprise in Donegal, Michael Tunney, explained that the Local Enterprise Office had completed a review of the Donegal Food Strategy in 2016 and a key output of this review was to develop a food series for Donegal.
"Our aim was to develop a calendar of food events that offers an experience celebrating Donegal food and its champions. When we commenced the project we had a gathering of interested food parties who heard from other regions where successful visitor experiences have been built around local food.
"That meeting really set the ball rolling and helped people here really understand how we in Donegal can collaborate to make Donegal famous for food," he said.
Mr. Tunney added that the vision of The Donegal Food Strategy is to collectively work together to make Donegal famous for food and to make the county recognised as a pioneering region for its approach to fostering and growing new start-up and existing food businesses.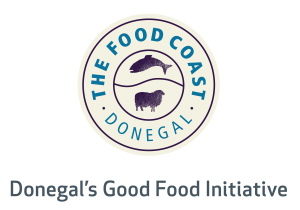 "Donegal's Good Food Initiative aims to grow, support, promote and facilitate the food and drink producers and manufacturers of the region; the retailers supplying local produce and the hospitality outlets working with locally sourced ingredients.
The success of Kieran Duey Doherty at the World Chowder Festival in Rhode Island recently, has enhanced the county's reputation globally and the diverse food events across the county this year will offer an amazing array of food options for visitors and locals alike."
When the food series for Donegal was launched earlier this year Failte Ireland's Sinead Hennessy told food industry professionals that while tourists don't necessarily come to Ireland for its food, it is a key part of their experience and they spend €2 billion on food every year with 35% of their total spend going on food.
Michael Tunney said that the Local Enterprise Office had tried to impress on Donegal's producers and food outlets that offering a wide range of food offerings will help the county secure a greater share of that tourism food spend – adding that the tourists can just as equally be locals and visitors from within the county as those from outside Donegal.
Events across Donegal this summer range from this weekend's strawberry festival to a beer and whiskey festival, guided food tours, food festivals, a Donegal Chowder cook-off and more.
"We have been delighted by the range and diversity of ideas this year and we are sure that we will build on that to make it even better next year. The stakeholders have really grasped the opportunity to add to the Donegal food story and really expand on the potential it has for all involved," Mr. Tunney concluded.
Anyone wishing to find out more about this weekend's event at CastleGrove House or wishing to book should  contact reservations@castlegrovehouse.com or call 074-9151118.
Tags: