Castle Grove warmly welcomes you to this week's blog for Donegal Daily where wanted to share an update with you on the Strawberry Festival.
On Saturday 1st July, Castle Grove hosted our first Strawberry Festival which was a great success with over 600 people in attendance. Firstly, and most important, we as a family and all the team who work at Castle Grove would like to offer a HUGE thank you to everyone who turned out to support the event and in turn participated in making the event a huge success.
We had prepared to create a brilliant family day out, regardless of the weather and we were not disappointed.
From 12.50 when the first car came down the drive until 6pm that evening, the grounds of Castle Grove, the Walled Garden and the House itself was thronged with people enjoying the carnival atmosphere, the music and the activities.
The activities included:
Access to the walled garden where they met the gardener and discussed the many specimens growing there including the Strawberry Beds, it was fun to show the kids which plants grew what fruit and veg and share tips and knowledge with the gardening aficionados in attendance.

Cookery demonstrations… Castle Grove's head chef received a full house for his cookery demonstrations which were held at 2 and 4pm. See recipes below.

Cocktail demonstrations…Castle Grove's talented mixologist wowed his audience with the Strawberry Gin Cocktail, and more.

BBQ… to add to the carnival atmosphere, a BBQ was in full swing with Gourmet Burgers, Chicken Skewers and Jumbo Sausage Dogs on sale.

The Band… Nasty and the Fantastics kept the atmosphere alive and the rhythm of the day flowing.

Strawberry themed desserts were on sale inside the house and outside in the marquee and available in boxes to go.
Castle Grove would like to sincerely thank all our media partners and friends who kept everyone involved throughout the day through FB, IG and Twitter.
For those that couldn't attend, we have included a Strawberry Dessert and Cocktail Recipe for you to create at your leisure, we hope you have fun with it.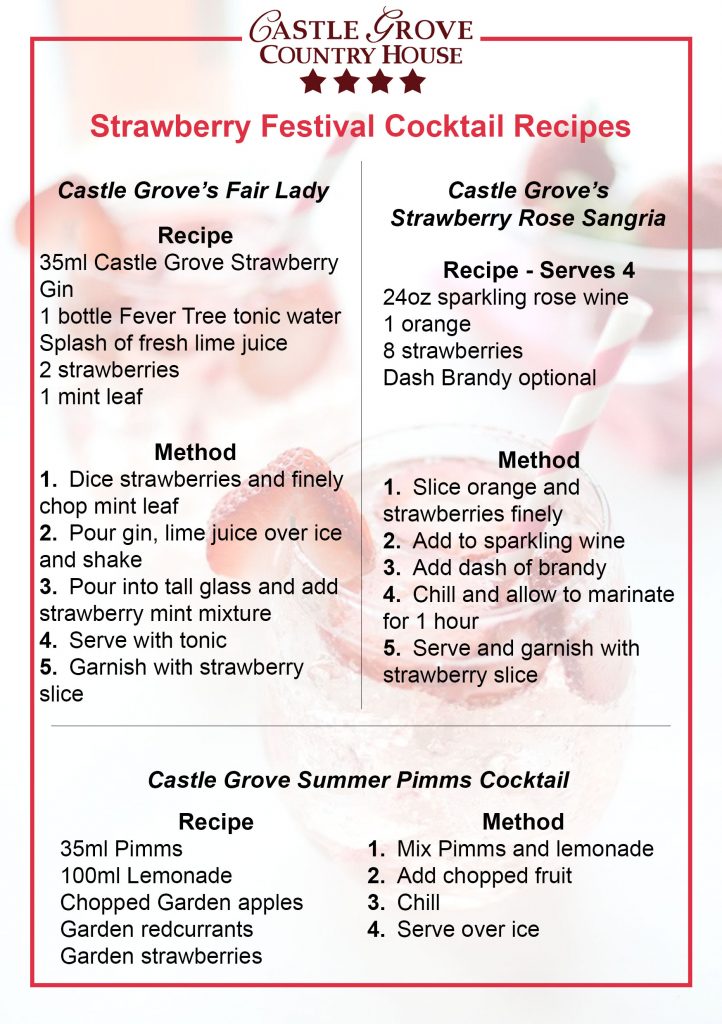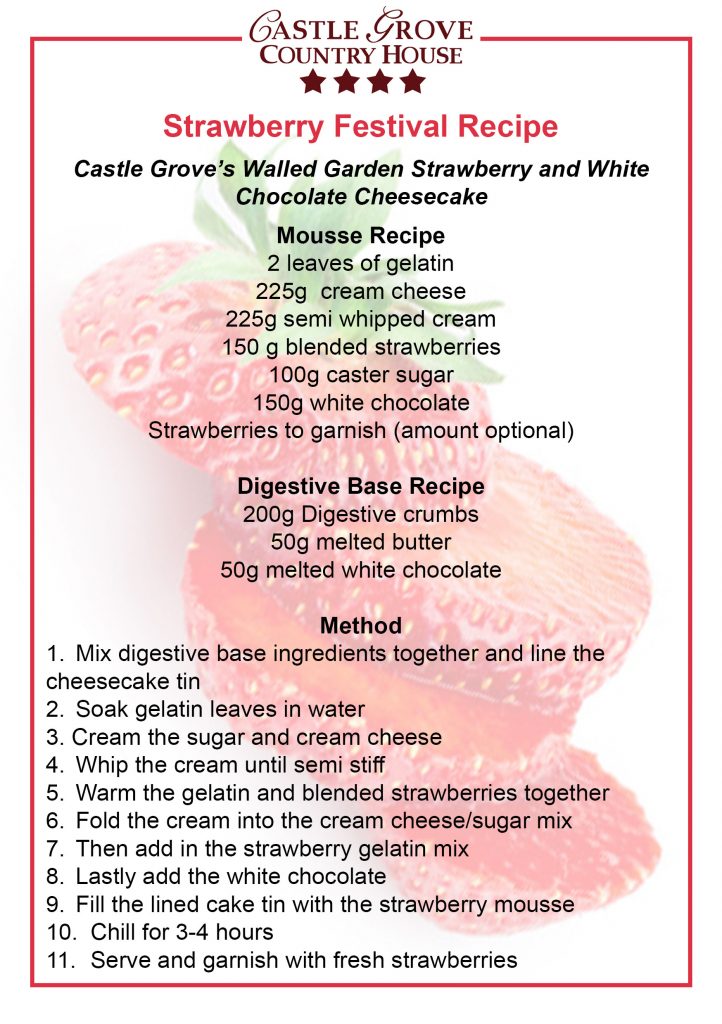 As people are already asking, what's next we are excited to be participating in The Off The Street LK Festival held on the 29th and 30th July behind the AIB Bank in Letterkenny and Taste of Donegal in Donegal Town on 25th to 27th August.
As part of the Donegal Food initiative, it is exciting to involved in all these fab events and do our bit in building Donegal's reputation for great food, along with the beautiful scenery we have here in Donegal.
So hopefully we will see you soon at The Off The Street LK Festival ….. Where will have more delicious treats available!
Tags: