The No Barriers Foundation are hosting a No Barriers Sports Day and Fun Walk in the Aura Leisure Centre in Letterkenny on 15th July 2017.
This is a fundraising and promotional event aiming to raise funds for the Positive Steps campaign which proposes to purchase a robotic eksoskeleton for the use of clients with mobility problems in Donegal to be used in the community.
True to the ethos of the No Barriers Foundation, this will be a fully inclusive event and we hope to encourage everyone irrespective of age or ability to attend on the day and we promise there will be something for everyone.
Registration will be from 1-1.45pm in the main concourse.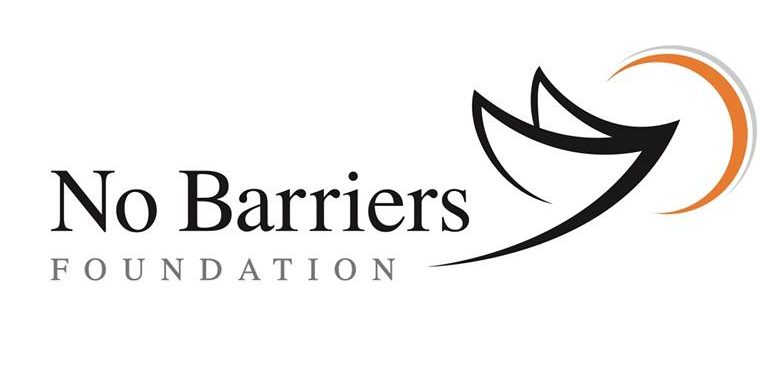 There will be an opportunity to select which activities you may want to take part in but with 2-4 sessions only of each activity and a capacity of 14 per session these slots may fill up fast so we encourage early registration.
Full assistance will be given with registration.
There will be an opportunity to purchase raffle tickets during registration for an annual membership for the Aura, which they have gratefully donated.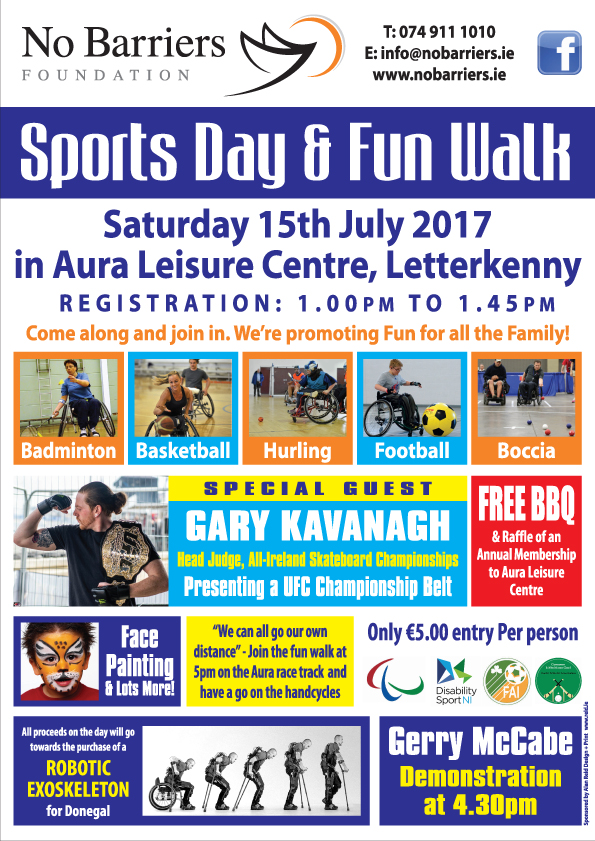 Inclusive sports sessions will be held from 2-4pm in the indoor courts. These will include wheelchair basketball, hurling, badminton, boccia and football for all. These will be 30 minute sessions and we are privileged to have qualified coaches from the GAA, FAI, Disability Sports Northern Ireland, Three Rivers badminton group and Donegal Sports Partnership, without which this event could not take place, all of which are offering their services free of charge.
We plan to have hand-cycles available on the day on the outdoors 7 lane track.
A skateboarding demonstration from Gary Kavanagh – one of the head judges of the All Ireland skateboarding championships – will run during registration in the skate-park until 3 pm. Gary also has a UFC championship belt given to him by UFC, which he has offered to take up on the day if anyone is interested in a unique photo opportunity.
The Astroturf will be open for penalty shoot-outs from 3-4pm.
There will be a presentation of certificates of participation from 4-4.30pm with hopefully a few local celebrities followed by a demonstration of the ekso-bionic eksoskeleton by Gerry McCabe who is an active user of the eksoskeleton.
The highlight of the day will be at 5pm when we have a fun walk around the track for everyone commenced by Gerry McCabe walking in his own eksoskeleton. There is no obligation to complete a full circuit of the track-distance and speed is your choice.
Compare for the day will be Adrian Harmon from AA Roadwatch.
Refreshments will be available on site including a barbeque hosted by the Aura in celebration of their 10th anniversary. Additional accessible toilet/changing facilities will be in place inclusive of a hoist and changing table. A quiet area will also be made available.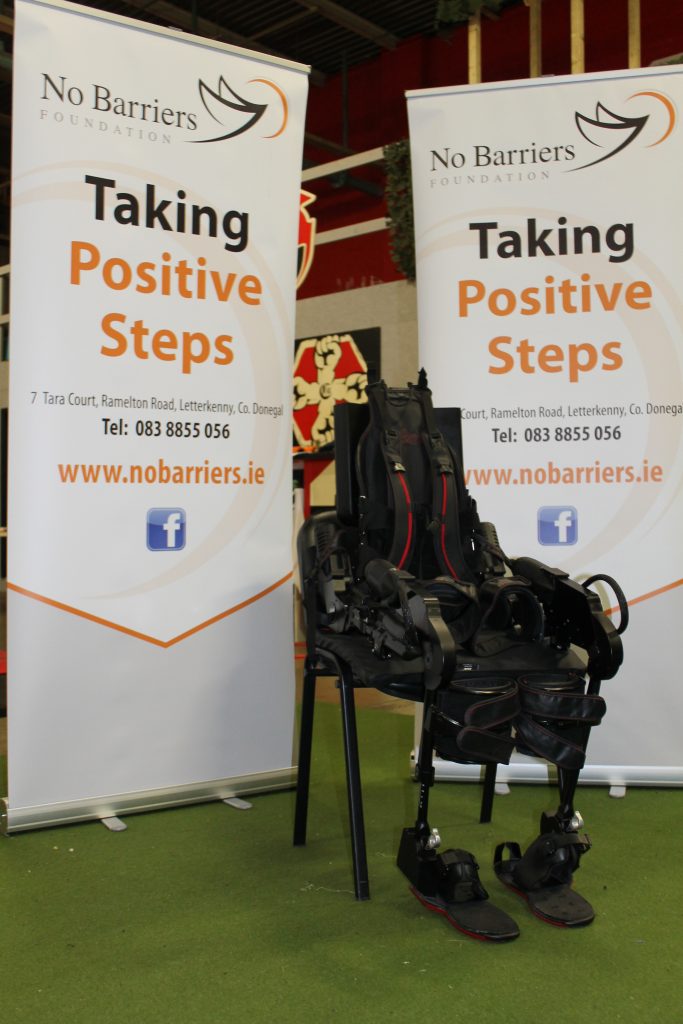 Sonia McGarvey, the Secretary of the No Barriers committee, shares her interest and involvement in the initiative:
I met Johnny Loughrey the chairperson of the No Barriers Foundation when he was working as a physio in the stroke and medical rehab unit where I work as an Occupational Therapist.
He now works with my daughter who has a spinal cord injury and is paralysed from the chest down and I have always been bowled over by his eagerness to improve the lives of others, his optimism and his can do attitude.
I am really excited about where 'No Barriers' can take us into the future but at present all our energies are going into the Positive Steps campaign.
We, like most people that acquire a disabling injury search for the cure or further recovery and want to optimise our chances at all costs.
In our case we did travel abroad to look at restorative therapies and we did make an effort to equip ourselves at home at a significant cost which thankfully at the time was covered by fundraising from the people of Donegal which we will be forever indebted.
With the Positive Steps campaign and the purchase of this eksoskeleton and its use here in Donegal it means that many others will not have to fundraise individually or go to great costs including travel and the disruption that brings to all areas of life.
This event was originally to be an inclusive fun walk only and that is why a track was chosen so as to accommodate buggys, wheelchairs and those with mobility aids. The reason that it is not a definite distance is that I feel 5k fundraisers often exclude people with a disability or those under pressure for time.
The decision was made to introduce other sport activities on the day to promote disability/inclusive sports and in the planning to research availability and therefore awareness. Donegal sports partnership and social inclusion HSE run 'come try me' events annually and this is where we got our idea and most contacts.
We hope that through this event we will have expressions of interest from people to further pursue these sports and these lists will be given to the appropriate sport development officer/coach and Therese Laverty the Disability Inclusion Officer for the Donegal Sports Partnership.
We have already been approached by Finn Valley Athletics and Friel Consultancy who with IWA, DSP and DSNI plan to introduce Northwest Para-athletics on Saturday 23rd September.
Also John Hunter and his partner in Three Rivers badminton are interested in starting wheelchair badminton.
We hope to have a rep from Paralympics Ireland available on the day too and contact details will be given of all other service providers.
We hope in the future to continue with this style of fundraising event as it really promotes social inclusion and exercise in the community – two ideals that are close to our hearts.
So hopefully you will be hearing in the future about …
No Barriers dance
No Barriers swimathon and hydrotherapy
No Barriers yoga and wellness (nutrition/mindfulness)
No Barriers equestrian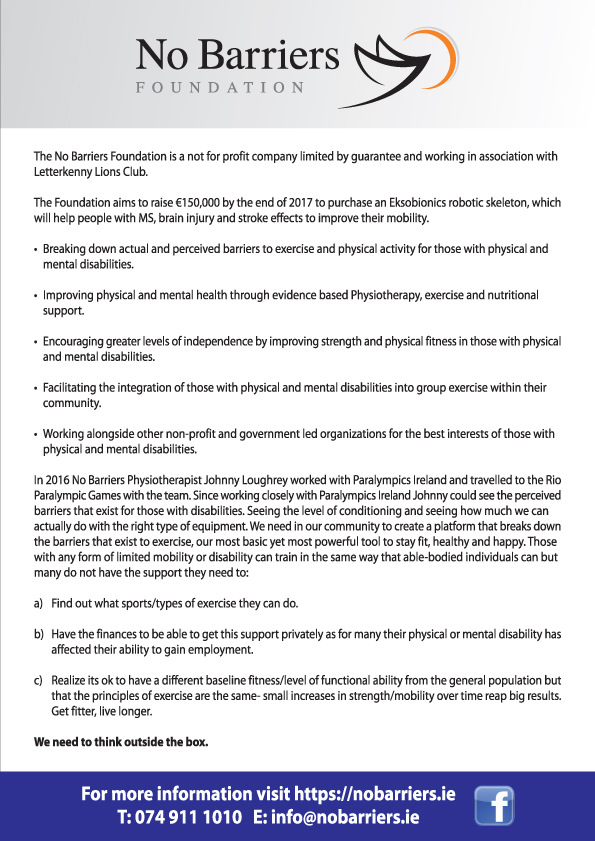 Website: www.nobarriers.ie
Facebook: No Barriers Foundation
Go fund me: No Barriers Foundation
Contact: 083 3064381
Tags: