Divers Hyundai on Canal Road, Letterkenny, are nearing the end of another successful season and are delighted to announce their 'SUMMER SALE" of Quality Used Cars is now on.
The great news is that you can save €2,000 and or MORE on a wide range of vehicles before we set about planning 181 DL 4 YOU.
Divers welcomes you to come along to their renowned premises and view the full range of quality used vehicles in stock- many of them will show savings of €2,000 or more. If you are thinking about purchasing a quality used car from a reputable dealer then now is the ideal time for you to come along.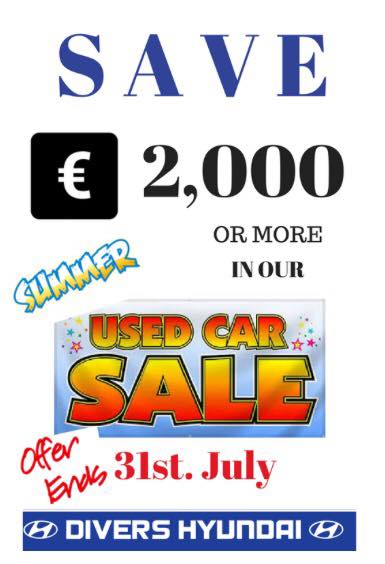 We can arrange a low rate finance package to suit each individual requirement so buying a used car has never been easier.
Our range includes many of our Hyundai brand vehicles that has been traded in by valued customers as well as a selection of other vehicles not from the Hyundai production line. The line up also includes the best- selling car in Ireland since it was launched almost two years ago, the Hyundai Tucson.
This Summer Sale will end on 31st July so call today and see for yourself just what we have to offer you and the huge discounts available.
Divers Hyundai takes this opportunity to thank you all once again for your continued support and for making the Hyundai Tucson the No.1 Best Selling Car in Ireland for almost two years.
Divers Hyundai, Canal Road, Letterkenny Tel (074) 9122600
Visit: www.diversgarage.ie
Tags: