Local volunteer Mary McGuigan celebrated her 70th birthday this year by the special historic location which she helped restore for the community.
Mary McGuigan from Kilultan is one of the volunteers who helped restore the WWII EIRE Sign and Navigational Number at the end of St John's Point. As luck would have it, she had the large number 70 at St John's Point to pose beside!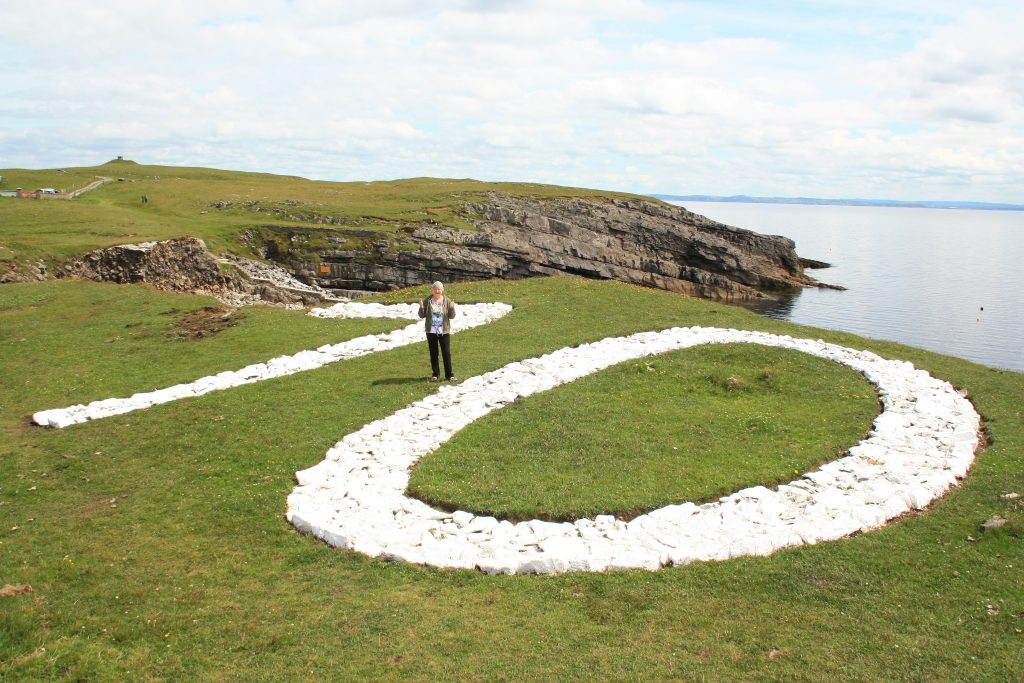 Michael Cunningham of the Dunkineely Community Ltd. shares these kind words to wish Mary a happy birthday:
We'd like to wish Mary McGuigan (originally Ni Ellison from Kilultan, St John's Point) a belated Happy 70th Birthday.
Mary is one of the many volunteers who have worked on the restoration of the WWII Eire Sign and Navigational Number at St John's Point. Being a 'Point Woman' herself, she is a mine of information about anything to do with the locality; she has taught us, in the Restoration Group, a lot about the history, culture and the people of the Point.
There were 83 large whitewashed Navigational Numbers laid out around the coast of Ireland; designed to be visible to passing aircraft. Number 1 was in county Louth going sequentially, all around the Irish coast, right up to Inishowen Head in north Donegal; for some reason, that is not clear to me, number 83 is completely out of sequence at Foileye, Feaklecally in County Kerry!
Mary is standing beside the number 70. In the build-up to D-Day, hundreds of American aircraft were crossing the Atlantic, and some of them would get lost. On looking down and seeing the EIRE Sign, they would know they were over Ireland.
When they saw the number '70', they would then refer to a map, provided to them by the Irish government, which had the location of each number on it. They'd run their finger around the coast until they came to the number 70 and they would know they were at St John's Point – it was a very simple but effective navigational aid.
We are currently in the process of painting the EIRE Sign and would welcome any help that would be offered; if you'd like to lend a hand phone Michael on 0872770408.
I just remains for me to wish Mary health, happiness and many, many happy returns.
Tags: