Donegal Daily and Donegal Woman reporter Rachel McLaughlin is doing a sponsored parachute jump for the No Barriers Foundation Positive Steps Campaign.
Here, she tells us why she signed up for the challenge and how you can help her support the community project:
Through my work, I've interviewed many brave and determined people who had taken on challenges for various charities. I have always been inspired by their motivation. Now it's my turn!
Sharon Gildea, a committee member of the No Barriers Foundation, asked our team if we wanted to do a skydive this summer and I jumped at the chance (not 12,500 ft mind you!).
Thankfully I've no fear of heights (yet), so I'm focusing all efforts on raising the profile of the remarkable No Barriers Foundation along with all the other volunteers.
This, August Bank Holiday weekend, myself and other volunteers are jumping from planes at 12,500 ft in the air, free falling 200km/hr before landing at Donegal Airport. Carrickfinn is the world's second most scenic landing, so I'm hoping to be as graceful as can be landing as a first-time jumper.
Note: All money donated will go directly to No Barriers as I am covering my own skydive costs.
What's it all for?
We are looking to raise a local charity foundation to new heights – the No Barriers Foundation, founded by Physiotherapist Johnny Loughrey.
Proceeds will go to the purchase of an Ekso Bionic Suit for Donegal. It's a truly amazing piece of equipment that enables people with severe spinal cord injuries and muscle weakness to walk.
There are countless benefits to the health of users when they are in the world class Ekso Bionic Suit. Plus, it's a huge confidence boost for people to stand upright and it's a motivational boost for many to focus on their rehabilitation.
The nearest Ekso Bionic Suits are located in Westmeath and Antrim, with none in the West or North West.
This fundraiser, run in conjunction with the Letterkenny Lions Club, aims to secure an Ekso for Donegal by the end of the year.
A €150,000 fund is required to make this a reality
A fund of €150,000 is being raised to purchase and operate the suit over the coming years for the Donegal community. The Ekso will be based in and owned by the community.
A collective effort to purchase this suit will benefit communities all across Donegal and will be available to all suitable patients.
People with complete spinal cord injury will be able to do walking exercises while Smart Assist features also provide pre walking exercises, such as balance training and squats.
The Smart Assist features also provide specialist gait training for people who have some retained function. This makes Ekso useful for addressing people's gait training requirements following incomplete spinal cord injury, stroke and those living with neurological conditions such as MS.
Breaking Down Barriers
The philosophy of No Barriers is recognising the need in our community to create a platform that breaks down the barriers that exist to exercise, our most basic yet most powerful tool to stay fit, healthy and happy.
Those with any form of limited mobility or disability can train in the same way that able-bodied individuals can, but many lack the supports they need to do so.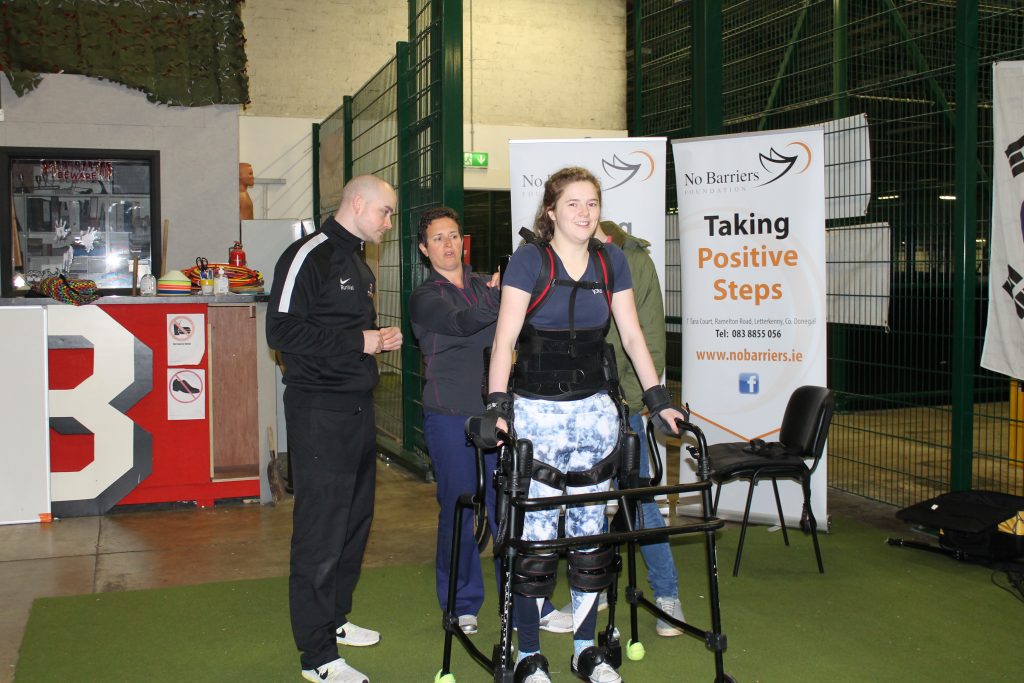 Inclusive Project
A further goal of No Barriers is to create a health centre in the northwest for people with disabilities as well as the general public, kids and the elderly. The centre will have a trained professional to help people exercise to the benefit of their individual needs.
Can you imagine a patient in a revolutionary Ekso Bionic Suit walking around while others train and practice strength exercises? This all-inclusive setting for everyone is the goal, and No Barriers hope to achieve this soon. Nowhere else in Ireland can give these opportunities, but Donegal can be the first.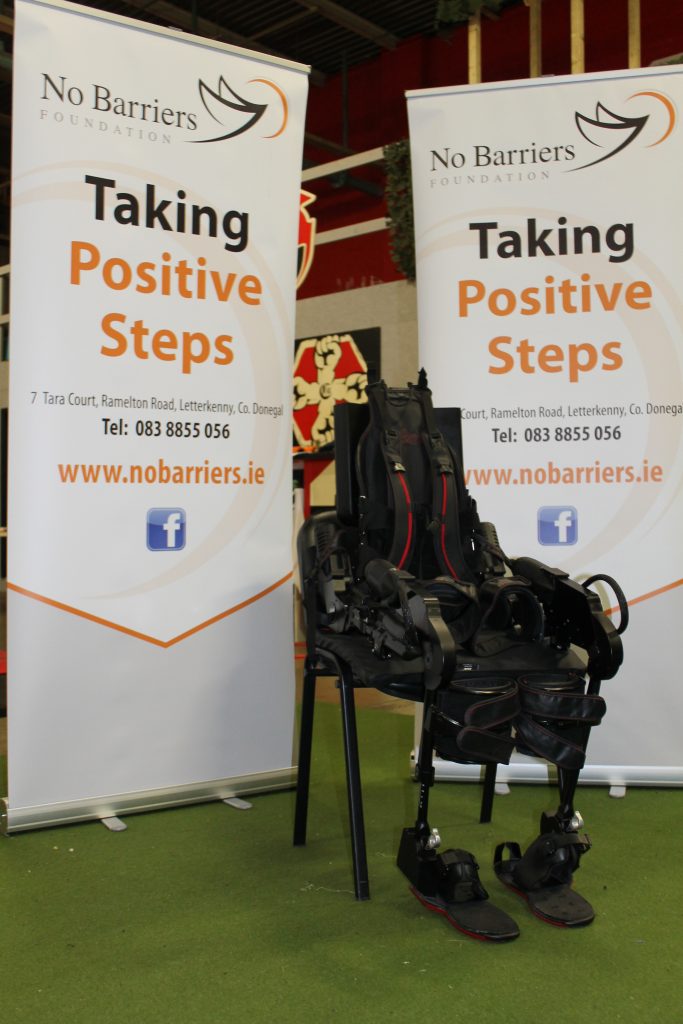 Once purchased, the objective is that the Ekso Bionic Suit will be located in various towns throughout the county on a regular basis. The locations will all have suitable wheelchair access and toilet facilities.
A specialist Neuro Physiotherapist, who is already trained in using the Ekso Bionic Suit, will be working alongside the project.
If you want to sponsor my parachute jump, please visit this page and donate. Every euro counts and is appreciated so much.
The Ekso Bionic Suit and the health centre established by No Barriers could benefit you, your family or someone you know in the future. The sooner this plan becomes a reality the better. There are 50 people taking this first leap on the day, and you are very welcome to jump into the fundraising fun!
CLICK HERE to donate: www.gofundme.com/rachelnobarriersjump
Sincere thanks to all who donate and support me before the big day – Rachel
Tags: