A local golfer, Portsalon Golf Club member Eamonn Davis, has launched a fundraising draw for the newly established 'BUMBLEance' charity in Donegal.
The top prize in the draw is a highly-sought after autographed golf bag which is covered in signatures from top celebrities, European golfers and ex-Premier League Footballers.
Eamonn had the opportunity earlier this year to purchase the golf bag eBay. "I noticed someone with the bag for sale stating that it had autographs of top sportspeople and celebrities on it.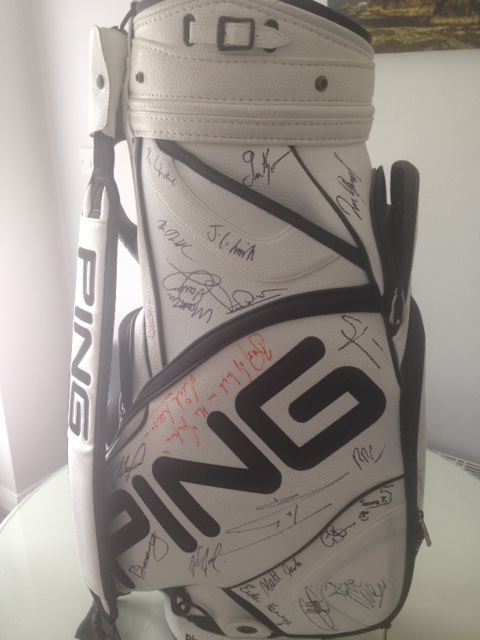 "I thought that, if I purchased it, then I could add to those autographs at the Dubai Duty Free Irish Open and sell tickets with the proceeds going to a charity, then recently I read about BUMBLEance coming to Donegal and decided that that was the ideal charity to fundraise for".
Taking the bag to the Wednesday PRO-AM in Portstewart, Eamonn dutifully spent the day collecting as many European Tour players' autographs as possible and duly succeeded with players such as : Paul Mc Ginley, Andrew [Beef] Johnston, Justin Rose, Danny Willett, Lee Westwood, Des Smyth, Andy Sullivan, Tommy Fleetwood and Jon Rahm.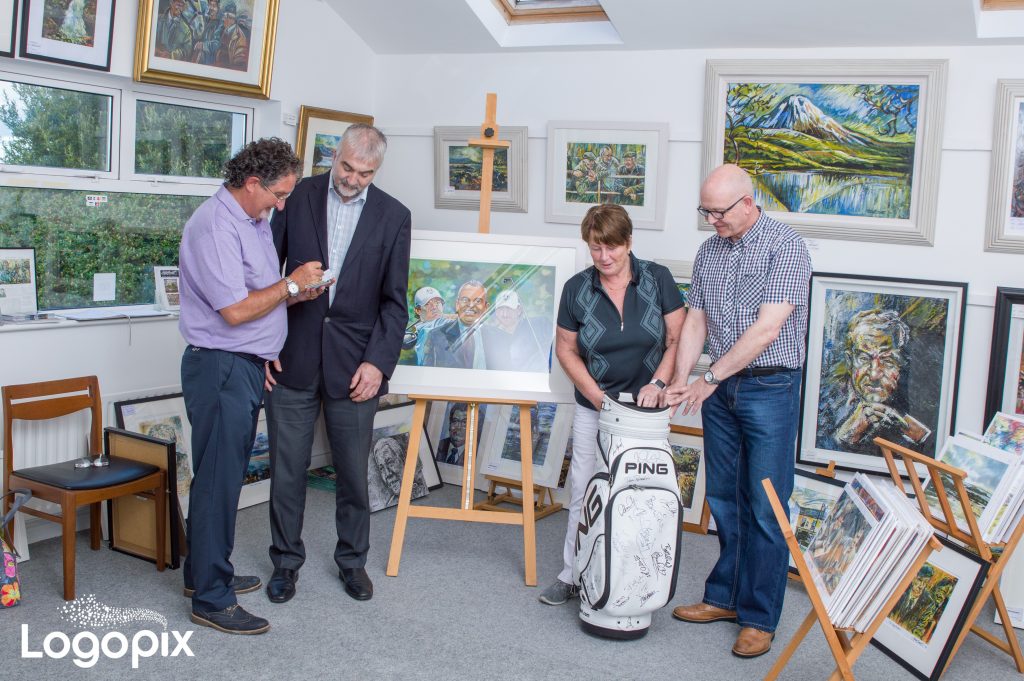 Celebrities such as Pep Guardiola, Michael O'Neill, Dermot Desmond, AP Mc Coy, Jamie Dornan, Aidan Quinn and former Taoiseach Enda Kenny all contributing to the cause and, added to the personality names already on the bag such as Sir Bobby Robson, Ian Wright, Ian 'Beefy' Botham, Gary Lineker, Matt Dawson, Eddie Jordan and celebrities from the entertainment world such as Chris Evans, Ronan Keating, Alice Cooper, Vernon Kay.
The draw will take place in early December 2017, so Eamonn states that the bag would be a fantastic 'Christmas' present!
Between now and the draw taking place, Eamonn hopes to add many other well-known autographs to the bag, especially those from Donegal. "It certainly will be a most sought after prize," he said.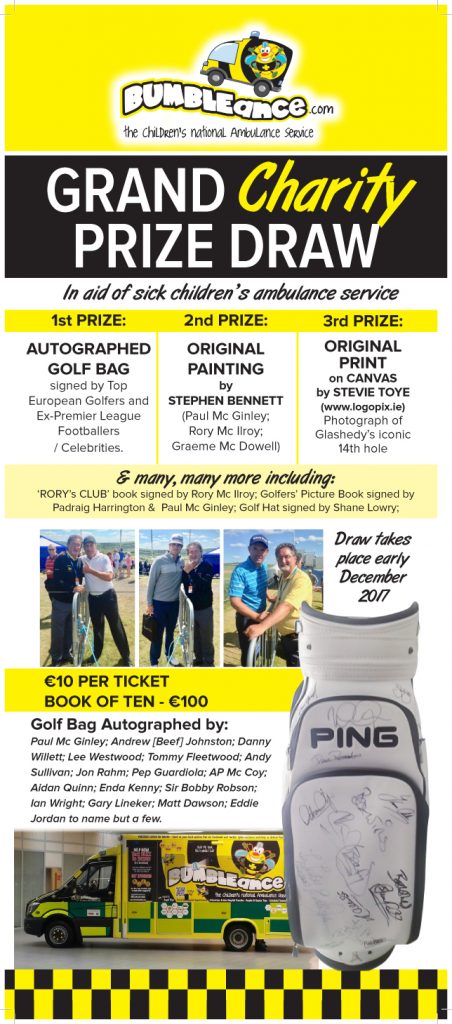 "There will be other memorabilia and prizes as well", says Eamonn, " such as a unique painting by renowned Donegal artist Stephen Bennett depicting Ryder Cup winning Captain Paul Mc Ginley and tour players Rory Mc Ilroy and Graeme Mc Dowell, an original photographic print on canvas of Glashedy's iconic 14th hole by local photographer Stevie Toye of Logopix, an autobiographical 'Rory's Club' signed by Rory Mc Ilroy, a golfers' pictorial book signed by Padraig Harrington and Paul Mc Ginley, a golf hat signed by Shane Lowry etc. etc. and many more prizes that have been offered by local golf clubs, sports shops, hotels and businesses".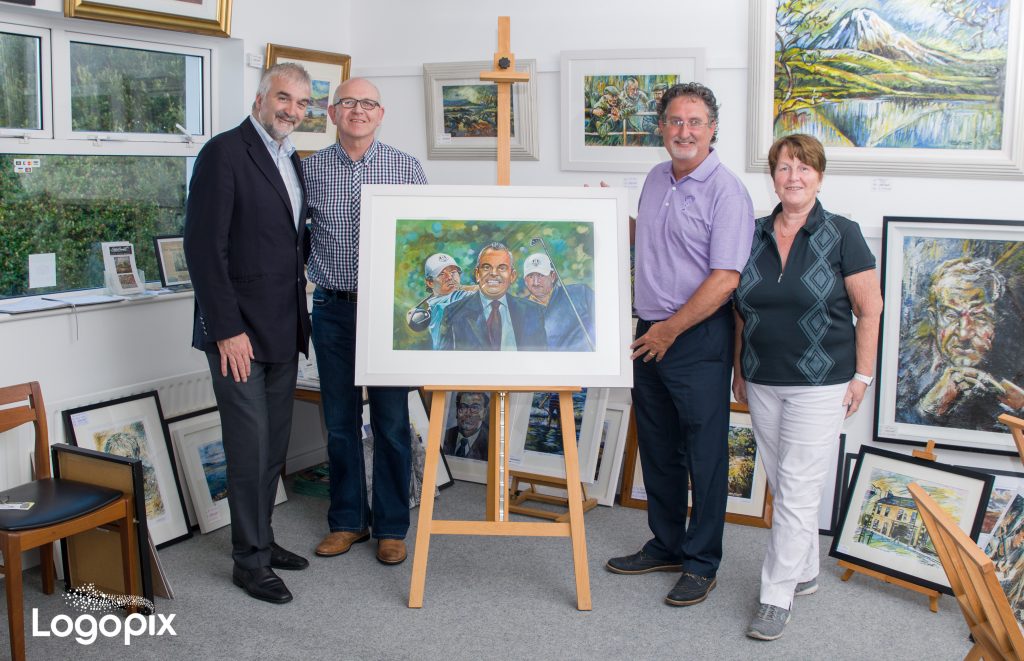 Tickets are now on sale for the draw at €10 per ticket, books of ten. Proceeds will go towards the local BUMBLEance service.
BUMBLEance is a children's national ambulance service, the world's first interactive service, which delivers safe and comfortable transportation of sick children to and from children's hospitals, treatment, respite and hospice centres.
Eamonn, an annual Lourdes pilgrim, has witnessed first hand what many sick children and their parents have to suffer.
The local Donegal/North West BUMBLEance branch was set up in November 2016 to directly support sick children throughout the region.
Tony Heffernan, Founder and CEO said: "The new Donegal and North West BUMBLEette vehicle will be the first in a series of regional BUMBLEettes to be launched in Ireland.
"Many areas in the North West of Ireland do not have major transportation links suitable for sick children who are required to travel to and from hospital on an ongoing basis, thus BUMBLEance and BUMBLEettes are the only solution for these young patients and their families."
Anyone interested in tickets can contact Eamonn on 086-8238753.
Tags: