A Country Evening of jiving and music with singing star David James will be held in Falcarragh on Thursday 3rd August.
Megan, a well-known dancing instructor, has organised a country show to fundraise for the upkeep of Aras Begley Hall in Falcarragh.
Country singer David James will be playing and the Megan Ó'Rodaigh jiving kids will be performing on the night.
The evening begins at 9pm on Thursday 3rd August 2017. Admission is €5.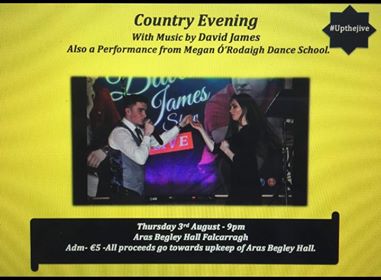 Megan Ruddy, aged 16, says she loves organising events for charity. In April this year she held a country night in memory of her auntie Winnie.
Winne McCauley was a much-loved Donegal woman who passed away before Christmas 2016. Through her life, she had a great impact on two communities in Ray, Falcarragh and Aranmore island, where she lived with her husband.
The event raised €3115.00 for Donegal Hospice, so Megan is hopeful she can host another successful night to come.
Tags: