The annual Loinneog Lúnasa Music and Cultural Festival is about to begin next week and bring a fantastic blend of music and cultural events to Gaoth Dobhair.
The artistic heritage of the area will be celebrated from August 9th  to 14th 2017 and there will be particular emphasis on the legacy of the recently refurbished and reopened Amharclann Ghaoth Dobhair.
From very humble beginnings, this festival is establishing a reputation for providing quality music and cultural events in combination with an array of family friendly and fun activities, and guided walks.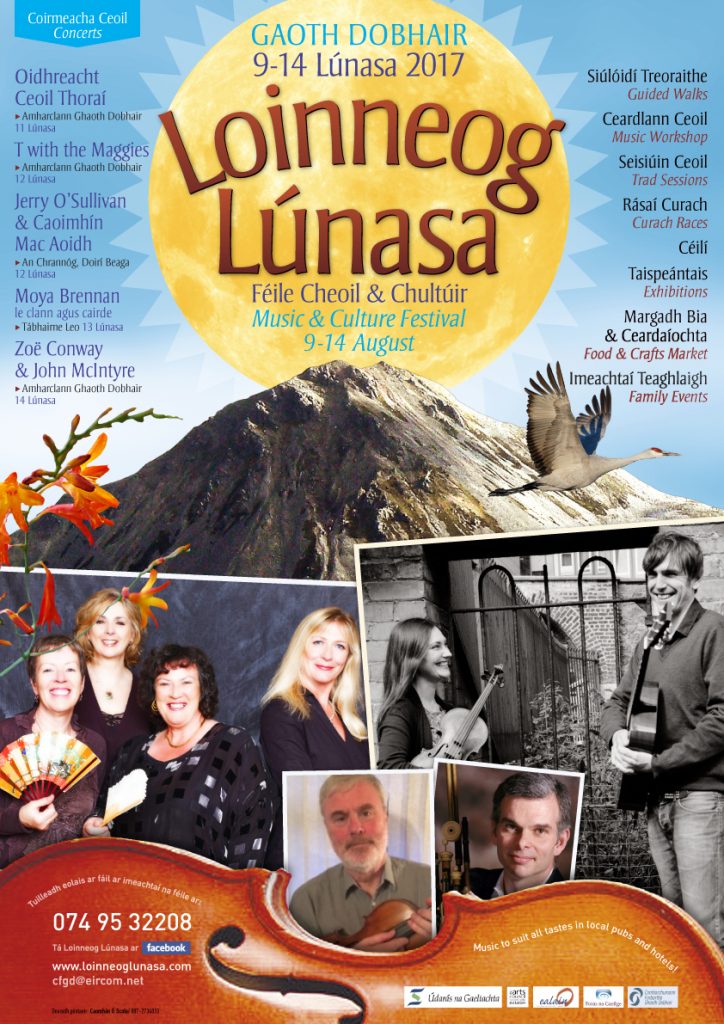 The festival will be officially opened on Thursday the 10th August in the Amharclann (at 7.30) by broadcaster, radio and TV producer and former director general of RTE Cathal Goan.
As an Irish speaker, Cathal played a leading role in the establishment of TG4 and is a regular visitor to the Gaoth Dobhair and Rannafast area.
The opening will be followed by a presentation on the "History and heritage of Aisteorí Ghaoth Dobhair and Amharclann Ghaoth Dobhair" by well known actor, historian and teacher Noel Ó Gallchóir. Music throughout Noel's presentation will be provided by Cór Óg na Crannóige conducted by Brídín Ni Bhraonainn.
A very entertaining evening is promised in the Crannog in Derrybeg on the previous night, Wednesday the 9th , where there will be an event commemorating "Oireachtas na Gaeilge 1977". This was the first year that Oireachtas na Gaeilge had been held in Gaoth Dobhair and it should prove to be a good night of entertainment and reminiscing to commemorate the 40th Anniversary of that event.
As is to be expected there is a lineup of quality concerts and performances featuring the best of local and visiting performers.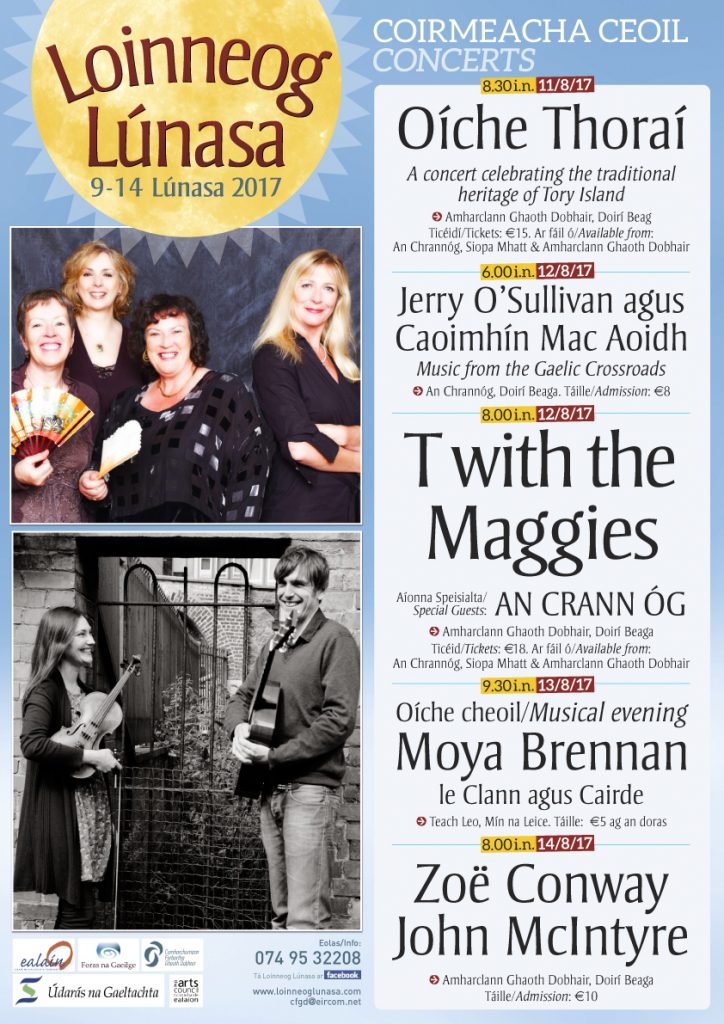 An Crann Óg will be doing their Thursday night summer residency in Teach Jack in Glassagh. Then on Friday 11th in Amharclann Ghaoth Dobhair, there will be a night of music, song and dance "Celebrating the traditional Heritage of Tory" which promises to be a great night's entertainment.
On Saturday the 12th – again in the Amahrclann – there's "T with the Maggies" – featuring Moya Brennan, Mairead Ní Mhaonaigh and Maighread & Tríona Ní Dhómhnaill . This is the first time in a long while for this "supergroup" of voices to do a full show in the area , and hearing their individual and collective voices in the wonderful acoustics of Amharclann Ghaoth Dobhair will make it an evening not to be missed.
Earlier on Saturday the 12th in An Crannog at 6.00pm, Donegal fiddle player, piper and music scholar Caoimhín Mac Aoidh, along with uileann piper Jerry O Sullivan (from New York) will perform an acoustic show,"Music from the Gaelic Crossroads"
"Oíche Cheoil le Moya Brennan, a clann agus cairde" in Leo's Tavern on Sunday night (13th) has become a regular and very welcome feature of Loinneog Lúnasa. Moya and her own family perform in the intimate space of Leo's where it all started for herself and her siblings from Clannad many years ago .
On Monday night, the 14th, there's a welcome return to Gaoth Dobhair of Zoe Conaway & John McIntyre, who were regular visitors to the much lamented Trad Trathnóna summer concerts over the years, and again their intimate performance style should fit nicely into the Amharclann Ghaoth Dobhair space .
Tickets for all the Amharclann Ghaoth Dobhair concerts can be purchased in advance from Siopa Mhatt, in Bun Beg, from Amahrclann Ghaoth Dobhair or from an Crannog. Tickets can be reserved by calling 074 9532208. Admission to all other events is at the door.
In addition to the concerts of course there's a full programme of other events to grab your attention and keep young and old interested, from guided walks, family fun days and Curragh racing to music sessions, workshops and exhibitions.
Loinneog Lúnasa is a combined community effort to celebrate the rich cultural heritage of Gaoth Dobhair and it's surroundings, and the people of Gaoth Dobhair extend a warm invitation to all to come and join them in that celebration!
Loinneog Lúnasa is organised in association with Comharchumann Forbartha Ghaoth Dobhair and is supported by Fóras na Gaeilge and Ealain na Gaeltachta
See www.loinneoglunasa,com for full program details or call 074-9532208.
Tags: