The Carrickfinn beach accessible wheelchair was launched yesterday morning at Donegal Airport.
People of varying mobilities, public representatives, and members of the public all came along to celebrate the induction of the wheelchair.
With glorious sunshine beating down and temperatures in the high teens, the group visited the beach during the launch.
Public representatives present included Donegal County Council Cathaoirleach Gerry McMonagle, Cllr Enda Bonner, and Cllr Michael Cholm Mac Giolla Easbuig.
Speaking to Donegal Daily, Cllr Mac Giolla Easbuig says he was elated at the launch.
"It was a fantastic and positive launch, it was really exciting. It's an honour to be a part of the introduction of the beach accessible wheelchair. It's a move towards equality across the board, with people of all abilities having access to the beaches."
As Donegal sits on the Wild Atlantic Way and we are fortunate to have a rugged and picturesque coastline on our doorsteps, the news that Donegal County Council has introduced their beach accessible wheelchair initiative has been welcomed with open arms.
Five-year-old Eva McCafferty from Crolly also came along to celebrate the launch. Little Eva was the first person to use the new wheelchair to access the beach, something a traditional wheelchair would have stopped her from doing.
The first time Eva used the wheelchair, a little over two weeks ago, was the first time she had been to the beach.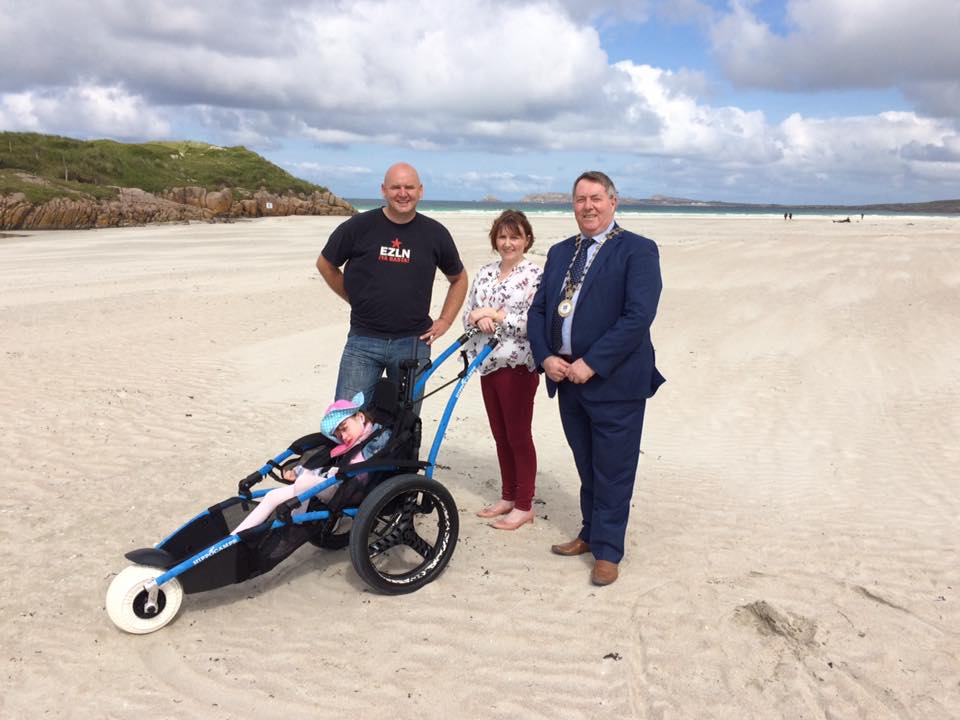 Although assistance is needed when pushing or pulling the beach wheelchair, and it cannot be operated by the person using the wheelchair, the introduction of such wheelchairs is a fantastic resource for the Donegal community.
"There are a lot of things that we take for granted", continued Cllr Mac Giolla Easbuig. "We go to the beach for a stroll, we go for a swim in the sea, but these are things that are taken for granted. It's something we need to bear in mind in everyday life – making our way through shops, restaurants, or even using footpaths. People with disabilities may see obstacles in places that others take for granted.
Donegal County Council has also provided beach accessible wheelchairs in Rathmullan and Downings to make our breathtaking beaches accessible for all, regardless of their mobility. Cllr Mac Giolla Easbuig says he is also working on securing a beach accessible wheelchair for Arranmore too.
"I'd like to thank Donegal County Council and all the staff involved. I'd like to congratulate and thank Donegal Airport's staff and management, Caislean Oir, Rapid Kayaking, Selkie Sailing, Frances Boyle from Maghery Community Centre and all who helped," he concluded.
The wheelchair will be stored at the airport, and if you'd like to use it simply get in touch with the airport on 074 9548284 with some notice regarding when you would like to book the chair.
If you would like to use the beach accessible wheelchair in Rathmullan, you can do so by emailing rathmullanwatersports@gmail.com or get in touch with Aengus on 086 8123019. If you would like to avail of the Downings beach wheelchair, give Jamie a call on 087 1808140.
We are 'shore' the new wheelchair will get a lot of use as people take advantage of the stretch in the summer evenings!
Tags: