Inishowen woke on Wednesday morning to 'a humanitarian crisis' after freak floods plunged the peninsula into a state of emergency.
It has been described as 'a miracle' that there were no fatalities as the unprecedented rainfall took a grip of Inishowen.
Five of Inishowen's main arteries had to be closed after damage to roads and bridges left areas inaccessible, families were left homeless, businesses were washed out and clubs and community grounds also bore the brunt of the devastation.
The first call to the Western Command Centre was put in at 6.50pm on Tuesday and there were 106 incidents reported to the centre.
85 firefighters from nine of Donegal's 15 brigades were deployed to Inishowen, coming from as far as Stranorlar and Glenties, to assist and the operation escalated to the preservation of life.
"39 persons were rescued from houses and vehicles," Garry Martin, Donegal County Council's Director of Finance, Director of Information Systems and Emergency Services, told an emergency meeting of the Inishowen Municipal District today, which was attended by Minister of State at the Office of Public Works, Kevin 'Boxer' Moran, Minister of State Joe McHugh, Charlie McConalogue TD and Senator Pádraig Mac Lochlainn.
One woman in Urris had a lucky escape when a car was forced through the wall of her house as she nibbled from a fruit bowl in her kitchen.
A farmer on the Muff-Iskaheen road survived when his tractor toppled into a gaping hole following the collapse of a bridge and a van driver on the Quigley's Point-Muff road was fortunate not to have been swallowed by a huge hole.
"One thing in all of this was that we didn't have a fatality," said Councillor Rena Donaghey.
"It is a miracle that we didn't. There were a few near misses. My own next door neighbour was almost drowned."
Senator Pádraig Mac Lochlainn said the situation was 'a humanitarian crisis that is beyond politics.'
Senator Mac Lochlainn said: "A section of our people are in crisis. The scale of this is unbelievable in terms of homes and families, in terms of small business, in terms of farming with the loss of silage, livestock and fencing, the impact on sporting clubs, community amenities, community centres.
"It will be impossible for Donegal County Council to shoulder this. This is beyond the budget that this Council can provide for."
In excess of 77 millimetres of rainfall was recorded in a seven-hour period at Malin Head. Even that doesn't capture the full amount as a lightening strike interrupted the recording mechanisms. In Carndonagh, over 81 millimetres was recorded.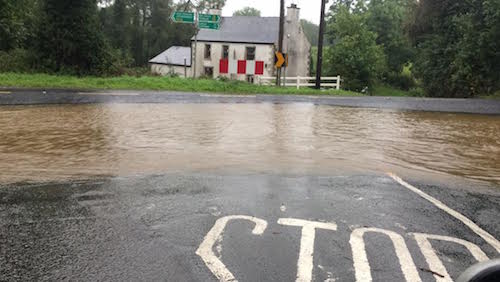 "It is clear that the level was of an unprecedented nature," Mr Martin said.
"The number of incidents reported doesn't even indicate number of incidents responded to. We had incidents where the fire service were responding and they came across another on route. There are multiple ones that aren't captured."
While there was sporadic flooding in Raphoe, properties sand-bagged in Lifford and the Fire Service was called out to incidents in Bundoran, Rossnowlagh and Donegal town, there was mayhem across Inishowen.
"People were in total shock. People were completely numb," said Councillor Bernard McGuinness.
"But we, as a Council, have to take responsibility. We do not have enough people on the ground.
"There were no people to put up cones. We hadn't enough people to put up signs."
150 houses and 50 businesses were said to be affected.
The Deputy Mayor of Inishowen, Councillor Albert Doherty said: "We were in an emergency status. it requires a multi-agency response involving Council. Government, public and private sector. We must get this peninsula and its connectivity up and running again.
"Families woke without access to their homes, the business community had to lift up from damage that occurred in their various premises. Our road infrastructure and bridges have been interrupted. We had no electricity, water or internet access. Many farmers had to look for their farming stock. Inishowen was in an emergency status. For a time, Inishowen had island status."
Donegal Creameries and SuperValu delivery lorries were unable to gain access to north Inishowen.
Councillor John Ryan outlined how he had to take measures to preserve vehicles and stock at his own business at 1 o'clock on Wednesday morning, moving six lorries, which were in danger of being swept away in the water.
"That pales into insignificance with what I saw in peoples' homes," he said.
"It is devastating to see grown people crying when they saw what happened in their own houses. It was like going into wake houses. We had sewerage being washed into houses.
"The mayhem is colossal and massive  We are talking about a very disadvantaged area. Inishowen is the most disadvantaged of all. We need help. We need serious help.People don't need to be left in the quagmire any longer."
Tags: