A national appeal has been launched by the Irish Red Cross following the floods which devastated Donegal on Tuesday night.
The Donegal Area Red Cross Centre in Muff was severely flooded, with four and a half feet of water destroying the premises, along with all of their equipment. Volunteers have salvaged what was left, and a major clean-up operation is currently underway.
Martin McKinney, IRC Area Director of Units, says that the Muff "operations centre is totally destroyed and everything is gone, over 4 and half feet of water damaged everything inside."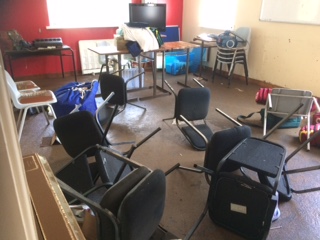 "We are ready to assist in any way we can but are restricted by the number of bridges and roads that remain impassable.
"The floods have damaged many homes and in some cases people have lost everything."
Today the Government have asked the Irish Red Cross to administer an emergency humanitarian support scheme to assist small businesses, community, voluntary and sporting bodies.
Pat Carey, Chairman of the Irish Red Cross said, "People's lives have been badly affected by these floods, the sooner life is brought back to normal, the better."
Donegal Minister Joe McHugh says; "The scheme is a humanitarian support contribution towards the costs of returning business premises to their pre-flood condition including the replacement of flooring, fixtures and fittings and damaged stock. Having witnessed first hand the damage caused to businesses in Inishowen, it is important that we in Government respond and that is what we are doing today.
"I want to thank the Red Cross for agreeing to administer the scheme and officials will be outlining details on how to apply for help shortly. I also want to thank Minister Paul Kehoe for all his efforts on introducing this scheme."
A member of the Red Cross Centre in Buncrana told Donegal Daily that today, "people are still trying to get their heads around it. The national appeal will help across the board in the area."
A scheme has already been announced for homeowners affected by the flooding, which is administrated by the community welfare teams of the Department of Social Protection.
Householders in need of assistance should call the Buncrana INTREO office at 074 9364600 or the Ballybofey INTERO office at 074 9130490.
To help people affected by the flooding, donations can be made online at www.redcross.ie/donate or by call calling the charity on 1850 50 70 70.
Tags: