Rossan College Education Centre was established in Letterkenny in 1990 and is now the lead private provider of further education and training opportunities in the Northwest.
The centre is registered and quality assured to offer recognised qualifications on the National Framework of Qualifications (NFQ) in the fields of:
 Training & Development
 Business Studies & Accountancy
 Early Childhood Care & Education
 Healthcare Support & Health Service Skills
 ICT and Digital Technology Skills
Anyone who is interested in developing new skills or career progression is encouraged to come and discuss their education and training needs with a member of staff who will offer guidance and advice to help them achieve their goals.
Rossan College Quality Assurance: A commitment to providing 'excellence in adult education and training'.
 Excellent teachers, subject experts, teaching methods and assessment practices.
 A friendly and supportive learning environment which embraces diversity, builds student
confidence and supports each individual towards achieving their own personal education goals.
An education and training service which addresses the current and future needs of businesses
and social economy enterprises in the Northwest.
Open access to education and training which will be of genuine benefit to their careers and
lives.
Leaving & Junior Certificate:
Rossan College provides After-School Tuition Classes to complement the work being done in school.
Each week, small groups of students come together for tuition and support from experienced
exam-teachers.
Easter Revision: We have put together a team of committed, specialist revision teachers who
come together during the Easter break to deliver a highly regarded Easter Revision Course here
in Donegal. As parents, teachers and students recognise the marked difference the revision
week can make to exam performance, the Easter Revision Course attracts students from all
schools within the county and beyond.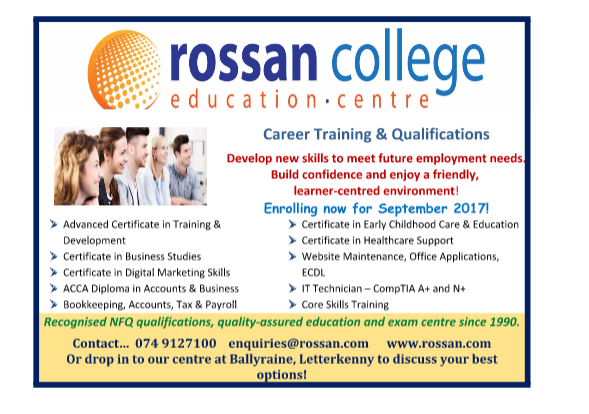 Tags: