Excitement is building for the inaugural Diecast and Model Show coming to Letterkenny next month.
The event will see working models of miniature tractors, cars, lorries and other machinery running through parts of the Radisson Blu Hotel on Sunday the 8th of October 2017.
Farm model enthusiasts are all welcome to admire the top-quality displays in operation.
Traders from all over Ireland, and as far away as Cork, are coming to Donegal for the show.
All proceeds after expenses will be donated to the NCBI, Ireland's national sight loss agency. Admission for adults is €5, children under 14 go free.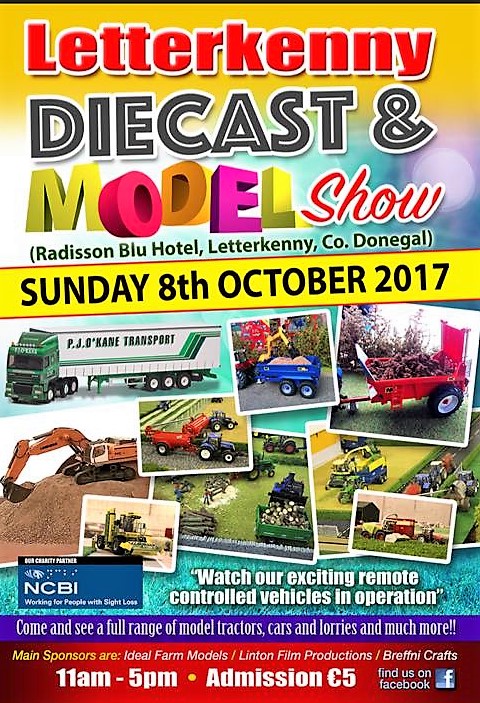 Co-organiser Raymond Holmes of Ideal Farm Models told Donegal Daily that there are already huge levels of interest in the event.
"This will not only be for children, adults especially are reliving their childhood again and seeing the models they used to have or have always wanted.
"Maybe they are farmers who have a real model in the yard and want a smaller version. There will be something for everyone," he said.
Raymond said there is a large catchment area in Donegal where people have an interest in diecast models.
"This is something that will attract a big crowd," he said, adding that craftspeople are welcome to get in touch to inquire about setting up stalls.
The event is sponsored by Ideal Farm Models, Linton Film Productions and Breffni Crafts.
For updates follow the Facebook page: https://www.facebook.com/Letterkenny-Diecast-and-Model-Show…
Tags: