During the week I have been putting up calorie comparison pictures on my Rushe Fitness page.
When it comes to fat loss you must put yourself into a calorie deficit. There is no if, ands or buts about it.
It doesn't matter what system or diet plan you follow. If you want to lose fat, you must be in a calorie deficit.
The problem that people find when trying to do this is twofold. Either they find that they are not eating enough, or they can't have the food they like. This is a double-edged sword that will determine either success or failure.
Good nutrition programs should help to properly control energy balance in the body. They should prevent excessive swings in either direction; either too much or too little; but it should also provide nutrient density.
Nutrient density is the ratio of nutrients (vitamins, minerals, fibre etc.) relative to the total calorie content of the food.
A food with high nutrient density contains a high amount of key nutrients (protein, iron, zinc, B vitamins etc.) per 100cals of food.
Foods with a higher nutrient density are brightly coloured vegetables, brightly coloured fruits, high fibre, unprocessed grains and lean meats.
These foods also have a lower calorie density per 100cals. These foods are great for people who are trying to lose fat. You can eat more of them during a meal and not take in a huge number of calories, so overall calorie intake is easier to control.
They provide longer periods of satiation after meals, meaning you will feel fuller for longer. They are difficult to over eat also due to their satiation effects. They have more essential nutrients per volume of foods than foods with a higher calorie, lower
nutrient density. You are giving your body everything it needs, but also doing everything you can to help with your fat
loss goals.
The problem that people have, as I alluded to above, is they feel that they are missing out on the foods they love.
These foods can be added into any weight loss plan, but you must be careful with them.
The reason for this is that most of these foods have a hugely calorie dense. What this means is that these foods have a huge number of calories per 100g.
Foods with a high-calorie density would be cookies, crackers, butter, bacon etc. It takes very little of these foods to give you a huge number of calories and as most people come from eating huge amounts of these foods, it is very hard for them to display restraint and apply moderation when presented with them.
The best combination of foods when it comes to fat loss should be a good mix of foods that are both high in nutrient density and are low in calorie density.
This combination means that you get to eat more in volume of food each meal and gives your body all the essential vitamins and minerals it needs to help with your goals. This doesn't mean that you must avoid the foods that you like completely.
You should realise that, if you need a certain number of calories per day for fat loss to continue. Your portion sizes of these foods will probably have to be lower than you are used to. You must weigh up the odds of whether you will be satisfied eating less of what you like occasionally, and more of what you need.
Alan Aragon has a table that he uses for his Flexible Dieting model.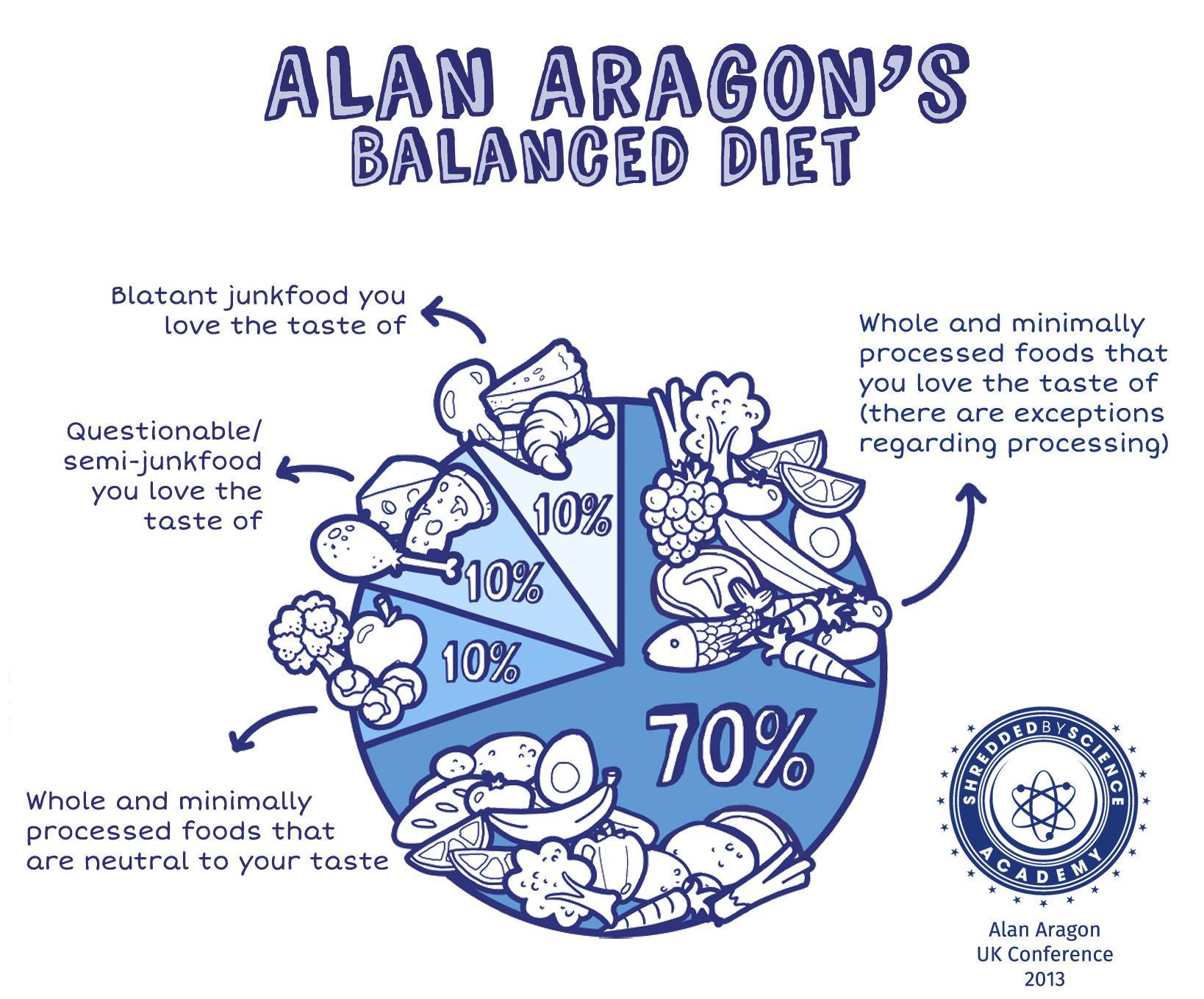 It states that a good flexible diet plan should be 70% whole, minimally processed, nutrient dense foods that you love the taste of. 10% should be whole, minimally processed nutrient dense foods that are neutral to your taste. 10% can be semi-junk foods, that aren't completely devoid of nutrition. 10% can be blatant junk food.
The percentages are based on total calories for the day, so the 10% of 'junk' isn't much. If you are eating 1800 calories per day, the 10% is 180 calories. The rest of your diet should be wholefoods. This is the model that I am using myself now and it is working quite well for me.
However, I know my calorie intake and I am tracking my calorie and my macronutrients (protein, carbs and fat).
If you are coming from a background of having 70% of your diet being blatant junk foods, start by adding in a good nutrient dense low-calorie meal each day and then add another every 2 weeks until it becomes a habit and you can maintain it.
Once you have this in place, you and your body will be in a better place regarding both your health and your fat loss goals.
#TrainSmart
If you have any question on this article or for getting a tailored program to help you reach your
goals, please contact me through the link below.
https://www.facebook.com/pages/Rushe-Fitness/120518884715118
Or on my website,
http://www.rushefitness.ie/
* Emmet is the owner and operator of Rushe Fitness
Tags: