ADAM MOORE FROM Letterkenny skippered Fraser Valley Gaels from Vancouver in Canada to the Intermediate title at the  North Americans Championships last weekend, which were held in San Francisco.
Moore lined out for Letterkenny Gaels in his time, with his family from Ashlawn in the Cathedral Town, while Richie Clarke from Naomh Colmcille and a native of Newtowncunningham is also a club member, but was absent through injury.
In their semi-final on Saturday last, Fraser Valley Gaels were up against our rival Vancouver club, the Vancouver Harps. This was a battle and played in 37c degree heat but Moore's team managed to pull away and win by a scoreline of 2-18 to 1-9.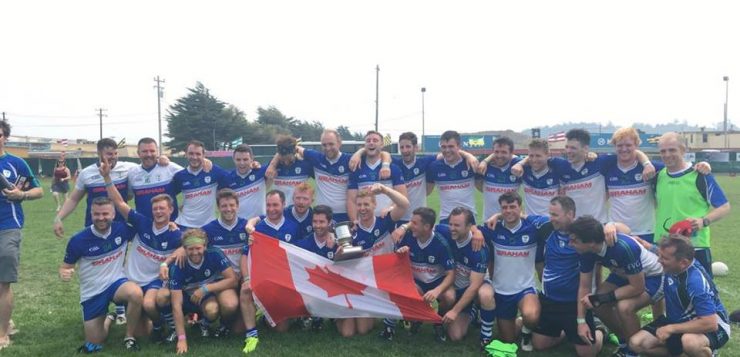 In the final on Sunday, Fraser Valley Gaels met Padraig Pearse's from Chicago. This was a tighter affair and the Canadian team struggled at the start before finding their our stride and brought the game to extra time after being three points down with eight minutes to go. In extra time, Fraser Valley Gaels dug deep and won on a scoreline of 0-12 to 0-8.
One of Fraser Valley Gaels coaches Eoin McCloskey, who used to be Derry goalkeeper, flew over from Ireland for the weekend after he had just recently moved his family home for good six weeks previously.
Fraser Valley Gaels had four cousins, the Foleys, playing together. They are all from Meath and Westmeath and only got the chance to play with each other in North America, as none of them are brothers. Padraig Brown joined the team this year – he was a Limerick stalwart for years and made a huge impact too.
"I was lucky enough to captain these lads and was easily one of my proudest days in the GAA," Moore told Donegal Sport Hub/Donegal Daily.
Tags: