Lifford/Strabane AC's Riverine 10K took place this morning, with over 140 participants taking part.
First home was Gavin Corey with a time of 33 minutes and 27 seconds, followed by David McMenamin in 34 minutes, 1 second.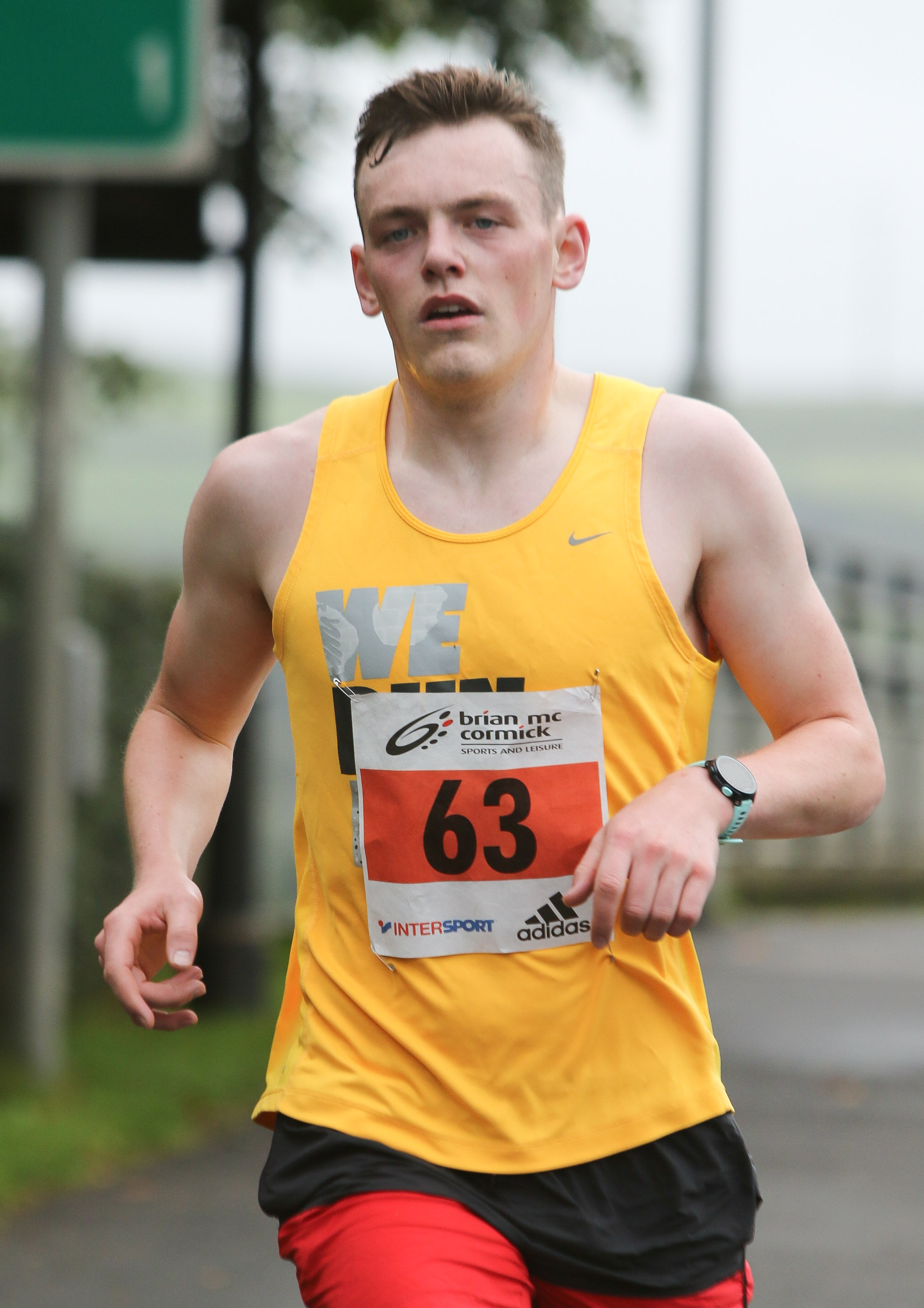 The first woman to cross the finish like was Lifford Strabane AC's Claire McGuigan in 38 minutes, 58 seconds, followed by Leoni Mullen in 41 minutes 56 seconds.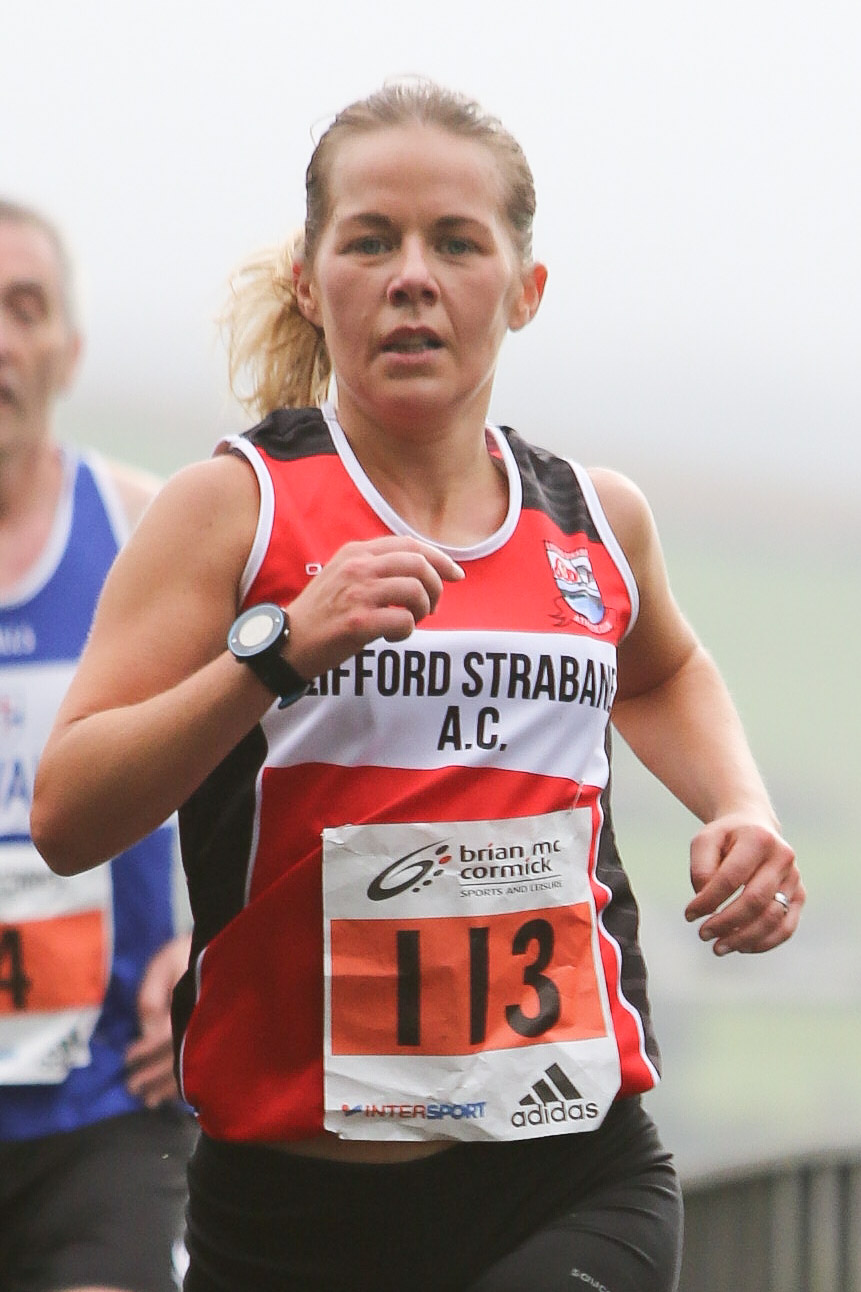 A spokesperson for the event says: "Thanks to everyone who took part this morning and to all the various clubs for their support. Thanks also to Community Rescue, Strabane, PSNI and all our own club stewards for helping to marshall the course safely and without incident.
"Thanks also to everyone who brought and served refreshments.
"A good morning for running and plenty of fast times so well done everyone."
Photography by North West Newspix
Full results:
1 Gavin Corey Acorns AC 63 33:27 33:27 3:21/K M
2 David McMenamin Inishowen AC 80 34:01 34:01 3:24/K M
3 Matthew McLaughlin Foyle Valley AC 31 34:35 34:35 3:28/K M
4 Karol Doherty 5 35:34 35:34 3:33/K M
5 Brandon McGrinder Lifford Strabane AC 120 35:47 35:47 3:35/K M
6 Paddy Ryan Milford AC 116 35:49 35:49 3:35/K M
7 Pius McIntyre Foyle Valley AC 123 35:52 35:52 3:35/K M
8 Conor McDevitt Foyle Valley AC 108 36:18 36:18 3:38/K M
9 Karl Kelly Inishowen AC 78 36:59 36:59 3:42/K M
10 Kenny Melaugh Lifford Strabane AC 91 36:59 36:59 3:42/K M
11 Barry Timlin Inishowen AC 77 37:05 37:05 3:43/K M
12 Martin McLucas Inishowen AC 32 37:34 37:34 3:45/K M
13 Bill Duncan Lifford Strabane AC 59 37:38 37:38 3:46/K M
14 Dara Furey City of Derry Spartans 9 38:06 38:06 3:49/K M
15 Peter McMenamin Finn Valley AC 52 38:50 38:50 3:53/K M
16 Claire McGuigan Lifford Strabane AC 113 38:58 38:58 3:54/K F
17 Damien Murray Enniskillen RC 93 39:02 39:02 3:54/K M
18 Mark Connolly Finn Valley AC 4 39:08 39:09 3:55/K M
19 Michael Duncan Lifford Strabane AC 50 39:41 39:42 3:58/K M
20 Gary McFadden Foyle Valley AC 109 40:29 40:29 4:03/K M
21 Dara Sweeney Carmen Runners 92 40:38 40:39 4:04/K M
22 Conor McLaughlin Lifford Strabane AC 30 40:44 40:44 4:04/K M
23 John Daly 24/7 Triathlon Club 145 40:48 40:50 4:05/K M
24 Liam Tinney 24/7 Triathlon Club 70 41:11 41:11 4:07/K M
25 Chris Duffy Aghyaran Athletic 130 41:26 41:27 4:09/K M
26 Geoff Sproule Lifford Strabane AC 75 41:30 41:31 4:09/K M
27 Garvin Boyce Finn Valley AC 124 41:46 41:46 4:11/K M
28 Leoni Mullen Finn Valley AC 89 41:56 41:56 4:12/K F
29 Garret McCarron 53 42:25 42:29 4:15/K M
30 Jess Moorehead Lifford Strabane AC 79 42:47 42:48 4:17/K F
31 Michael Chambers 136 43:11 43:12 4:19/K M
32 Martin Dunleavy Foyle Valley AC 81 43:13 43:15 4:19/K M
33 Martin Kelly Lifford Strabane AC 19 43:14 43:16 4:19/K M
34 Natasha Kelly 24/7 Triathlon Club 58 43:16 43:16 4:20/K F
35 Adrian Devine Castlefinn Running 132 43:17 43:20 4:20/K M
36 Ita Kelly Finn Valley AC 18 43:51 43:51 4:23/K F
37 Noreen Bonner Finn Valley AC 64 44:02 44:03 4:24/K F
38 Christopher Cuskelly Lifford Strabane AC 105 44:11 44:12 4:25/K M
39 John Wauchope Melvin WJR 111 44:15 44:19 4:26/K M
40 Charlie Dooher Melvin WJR 140 44:15 44:19 4:26/K M
41 Donna Furey Tír Chónaill AC 66 44:49 44:49 4:29/K F
42 Stephen Kelly Lifford Strabane AC 118 44:52 44:54 4:29/K M
43 Oliver Barrett Lifford Strabane AC 1 44:52 44:55 4:29/K M
44 Damien McGinley Melvin WJR 27 45:18 45:21 4:32/K M
45 Hugh Allan Raphoe Road Runners 67 45:23 45:27 4:32/K M
46 John McElwaine Lifford Strabane AC 151 45:47 45:50 4:35/K M
47 Hugh Patton Lifford Strabane AC 36 45:47 45:53 4:35/K M
48 Veronika McGillian Lifford Strabane AC 26 45:59 46:05 4:36/K F
49 Ivor Russell Knockmany Runners 104 46:11 46:14 4:37/K M
50 Aiden O'Neill 35 46:14 46:19 4:37/K M
51 Robbie Harper Caislean na Deirge 143 46:29 46:31 4:39/K M
52 Catherine Moran Foyle Valley AC 55 46:44 46:46 4:40/K F
53 Elaine McGoldrick Castlefinn Running 90 46:53 46:56 4:41/K F
54 Ramona Gallagher Finn Valley AC 69 47:02 47:04 4:42/K F
55 Brendan Patton Finn Valley Fit 4 Life 142 47:03 47:06 4:42/K M
56 Angus Hunter 147 47:12 47:13 4:43/K M
57 Carmel Hoynes Lifford Strabane AC 106 47:35 47:40 4:46/K F
58 Eoghan Gleeson Run For Fun Letterkenny 146 47:36 47:41 4:46/K M
59 Noel McBride 99 47:52 47:57 4:47/K M
60 Michael Crawford 44 48:05 48:13 4:49/K M
61 Eugene McCollum Melvin WJR 141 48:10 48:14 4:49/K M
62 Emmet Scott Convoy AC 38 48:10 48:21 4:49/K M
63 Kieran Martin Enniskillen RC 56 48:22 48:27 4:50/K M
64 Harvey Mullen Lifford Strabane AC 135 48:30 48:31 4:51/K M
65 Nat Doherty Milford AC 57 48:45 48:53 4:53/K M
66 Decky Duffy Melvin WJR 139 48:58 49:03 4:54/K M
67 Jackie Harvey Tír Chónaill AC 65 49:05 49:05 4:55/K F
Place Name Team Bib No Chip Time Gun Time Total Pace Gender
68 Christopher Hasson Bolt Running Club 60 49:05 49:07 4:55/K M
69 Pearce Canning An Baile Nua 127 49:27 49:30 4:57/K M
70 Joanne Campbell Finn Valley AC 68 49:31 49:35 4:57/K F
71 Don Smith Convoy AC 39 49:27 49:36 4:57/K M
72 Declan Gill 96 49:43 49:44 4:58/K M
73 Barry Creagh 62 49:45 49:51 4:59/K M
74 Michael Friel 8 49:53 49:57 4:59/K M
75 Ursula Coyle Lifford Strabane AC 103 49:53 50:00 4:59/K F
76 Tommy Doherty Drumoghill Running Club 137 49:58 50:06 5:00/K M
77 Joyce McKittrick Lifford Strabane AC 94 50:01 50:06 5:00/K F
78 Michael Roulstone Lifford Strabane AC 61 50:00 50:07 5:00/K M
79 Martin McGinley Melvin WJR 43 50:04 50:08 5:00/K M
80 Pat Brady 24/7 Triathlon Club 74 50:36 50:37 5:04/K M
81 Dan Donnelly Bolt Running Club 7 50:50 50:59 5:05/K M
82 Gerard Porter Melvin WJR 138 50:58 51:02 5:06/K M
83 Paul Griffin Lifford Strabane AC 88 51:10 51:15 5:07/K M
84 Paul Gallagher 10 51:16 51:22 5:08/K M
85 Emma Lawrence Castlefinn Running 87 51:20 51:24 5:08/K F
86 Jonathan Sproule 129 51:24 51:27 5:08/K M
87 John Craig Lifford Strabane AC 133 51:29 51:36 5:09/K M
88 JJ Murphy Finn Valley Fit 4 Life 144 51:34 51:37 5:09/K M
89 Andrea Porter Lifford Strabane AC 122 51:34 51:40 5:09/K F
90 Sarah Doherty Convoy AC 134 51:44 51:53 5:10/K F
91 Michael Jordan Convoy AC 17 51:43 51:54 5:10/K M
92 Maddy McCurdy Lifford Strabane AC 101 51:55 52:02 5:12/K F
93 Catherine Quigley Lifford Strabane AC 85 51:56 52:03 5:12/K F
94 Gloria Donaghey Finn Valley AC 126 52:03 52:05 5:12/K F
95 Patrick Gibson Lifford Strabane AC 49 52:15 52:16 5:14/K M
96 Sabrina McGhee Castlefinn Running 25 52:24 52:29 5:14/K F
97 Marcella McBride Castlefinn Running 86 52:29 52:34 5:15/K F
98 Linda Macbeth Raphoe Road Runners 21 52:32 52:34 5:15/K F
99 Tanya Hall Convoy AC 11 52:32 52:40 5:15/K F
100 Eugene McGinley Raphoe Road Runners 47 53:00 53:05 5:18/K M
101 Owen J Coyle Rosses AC 71 53:06 53:07 5:19/K M
102 Mark McCurdy Lifford Strabane AC 100 53:43 53:44 5:22/K M
103 Sinéad Thornton Milford AC 40 53:56 54:03 5:24/K F
104 Jessica Roberts Melvin WJR 73 54:02 54:09 5:24/K F
105 Sarah Gibson Lifford Strabane AC 48 54:20 54:22 5:26/K F
106 Paddy Mullen Melvin WJR 125 54:34 54:44 5:27/K M
107 Odhrán Hoynes Lifford Strabane AC 107 54:44 54:49 5:28/K M
108 Vicky Patterson Melvin WJR 112 54:47 54:51 5:29/K F
109 Yvonne Wauchope Melvin WJR 110 54:47 54:54 5:29/K F
110 Chris McCay Melvin WJR 23 54:51 54:58 5:29/K M
111 Kathy McBeth Melvin WJR 148 55:16 55:24 5:32/K F
112 Linda Cronin Letterkenny Park Run 128 55:33 55:40 5:33/K F
113 Tara McKinney Bolt Running Club 28 55:42 55:50 5:34/K F
114 Rosemary Parkinson Convoy AC 131 55:46 55:56 5:35/K F
115 Michael Millar 149 56:42 56:44 5:40/K M
116 Amanda Heaney Melvin WJR 51 56:44 56:48 5:40/K F
117 Enda McNulty Lifford Strabane AC 46 57:08 57:14 5:43/K M
118 Orla McNulty Lifford Strabane AC 45 57:08 57:14 5:43/K F
119 Adam Donaghey Melvin WJR 114 57:29 57:35 5:45/K M
120 Mark Donaghey Melvin WJR 115 57:29 57:36 5:45/K M
121 Ciara McCallion Melvin WJR 22 57:41 57:48 5:46/K F
122 Shaun O'Donnell Swanlings 121 57:42 57:49 5:46/K M
123 Emma McGarty 119 57:44 57:49 5:46/K F
124 Donal Cairns Melvin WJR 76 59:04 59:14 5:54/K M
125 Orla McElwee Melvin WJR 72 59:19 59:29 5:56/K F
126 Sharon Maxwell Melvin WJR 82 59:25 59:35 5:57/K F
127 Michelle Morris Melvin WJR 84 59:25 59:35 5:57/K F
128 Catherine Dillon Lifford Strabane AC 95 1:00:09 1:00:17 6:01/K F
129 Mickey McCurdy Lifford Strabane AC 102 1:00:12 1:00:20 6:01/K M
130 Michelle Donaghy Inishowen AC 6 1:00:20 1:00:25 6:02/K F
131 Linda McDaid Inishowen AC 24 1:00:21 1:00:25 6:02/K F
132 Katelyn Stevenson Lifford Strabane AC 150 1:01:00 1:01:05 6:06/K F
133 Martrice Hasson Bolt Running Club 14 1:01:26 1:01:33 6:09/K F
134 Terri Kennedy Bolt Running Club 20 1:01:26 1:01:34 6:09/K F
135 Caroline Casey Bolt Running Club 2 1:01:26 1:01:34 6:09/K F
136 Patricia McLaughlin Melvin WJR 83 1:02:13 1:02:23 6:13/K F
137 Colleen McLaren Bolt Running Club 29 1:03:38 1:03:47 6:22/K F
138 Lisa Quinn Bolt Running Club 37 1:03:38 1:03:47 6:22/K F
139 Linda White Bolt Running Club 41 1:03:39 1:03:47 6:22/K F
140 Teresa Kirk Glenelly Runners Lifford Strabane AC 97 1:04:10 1:04:16 6:25/K F
Place Name Team Bib No Chip Time Gun Time Total Pace Gender
141 Terri Moran Rise 54 1:04:20 1:04:28 6:26/K F
142 Anne Hutton Bolt Running Club 15 1:05:10 1:05:18 6:31/K F
143 Margaret McGarvey Glenelly Runners Lifford Strabane AC 98 1:06:40 1:06:46 6:40/K F
Tags: