The National Office for Suicide Prevention's Annual Report for 2016 has shown that the rate of suicide in Donegal is increasing slightly.
Last year there were 399 deaths by suicide, 318 of which were men.
Although this was a decrease from the 451 deaths in 2015, and the 486 deaths in 2014 – the figures for Donegal show a slight increase.

Men are four times more likely to die by suicide than women, and in Donegal men were also more likely to self-harm.
The highest suicide rate is among those aged 45-54. This trend is the case since 2010. In 2016, the self-harm rate remains 10% higher than the pre-recession rate in 2007.
Donegal
Pieta House North West officially opens today, having helped over 100 people since its establishment in May.
They have also announced longer opening hours. Currently they are open Monday-Friday, from 9am to 5pm, however from October 2nd the centre will be open until 9pm on Mondays and Wednesdays.
Moreover, Connecting for Life Donegal are hosting their second annual conference next week, which will specifically address the way in which men can be helped.
The conference, next Friday, will include a speech from Anne Sheridan, Mental Health Promotion/Suicide Resource Officer HSE, and a presentation of research on engaging with young men in Donegal by Oona McCardell, NUI, Maynooth.
Awareness
The report also outlined the benefits of increasing suicide awareness.
An evaluation of the #littlethings campaign found that after viewing the ads: 35% of respondents did something to look after their mental health, and 17% talked to a G.P. about how they were feeling.
More than 6,500 individuals completed safeTALK training and 2,500 completed the ASIST training.
Suicide prevention training continues to be part of the programme for trainee Gardaí in the Garda College, Templemore. By 2021 it is anticipated that one-third of the force will have completed safeTALK and ASIST training.
If you have been affected by any of the topics raised in this article please do not hesitate to reach out to the following:
• Contact your local GP. If it's late in the evening or night-time, contact NowDOC at 1850 400 911
• Go to the Emergency Department, Letterkenny General Hospital
• Contact emergency services by calling 999 or 112
• Call the Samaritans, the FREE 24-hour listening service, to talk to someone now about what's on your mind. Call 116 123.
• Contact Pieta House on 1800 247 247.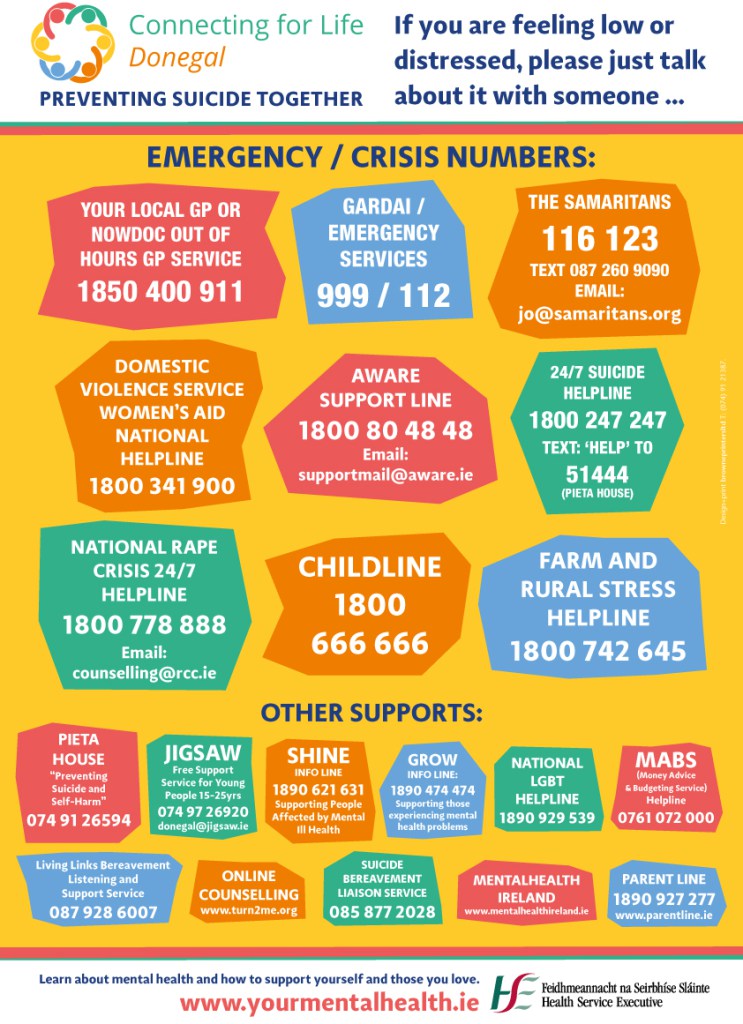 Tags: