In this week's column from Castle Grove Country House Hotel Letterkenny, the team look back on their successful wine pairing evening and look ahead to seasonal delights to come:
A little taste of France in Donegal: Here at Castle Grove we're still riding high on the success of our Bordeaux Wine Pairing evening which took place in the house on Saturday past.
A very sincere thank you or indeed 'merci' goes out to everyone who was there on the night to pay homage to the very finest wines of the infamous Bordeaux region while enjoying Castle Grove's own award winning food.
The evening got off to a pop with a glass of sparkling crémant on arrival to each guest who was then free to explore the house and get into the spirit of Bordeaux.
The dining room was dressed in all its splendour for the evening and it was those little finishing touches that our guests felt created the atmosphere that set the night apart.
Flawless Service and Excellent Food
They had been promised seven courses of expertly chosen dishes on the evening, and Chef Brady exceeded himself by producing eight dishes to a filled dining room. All courses were created with locally sourced organic produce – a fact that was not lost on our guests who hailed their dining experience as absolutely excellent. 
Guest Sommelier Paul Flynn was full of praise for the flawless service delivered by the staff on the evening as well as those in attendance for their enthusiastic participation in the event. In fact, such was the success of the evening that Castle Grove is already cooking up future evenings – keep an eye on our Facebook page for details.
Autumnal Delights
Delighted with the success of the wine pairing evening, Chef Brady is looking ahead to autumn and creating a menu that is in keeping with the colours and flavours of the season.
"Keeping warm is important as the days get colder" says the chef "food is a great place to start".
As he creates his October menu, Paul is keeping his focus on hearty, root vegetables all of which are organically grown here in our own walled garden. The much loved symbol of the season, the pumpkin will be making a delicious reappearance. There will also be a turn towards more gamey meats like venison.
"The venison was so well received by our recent guests. It'll be interesting to create new ways to enjoy it".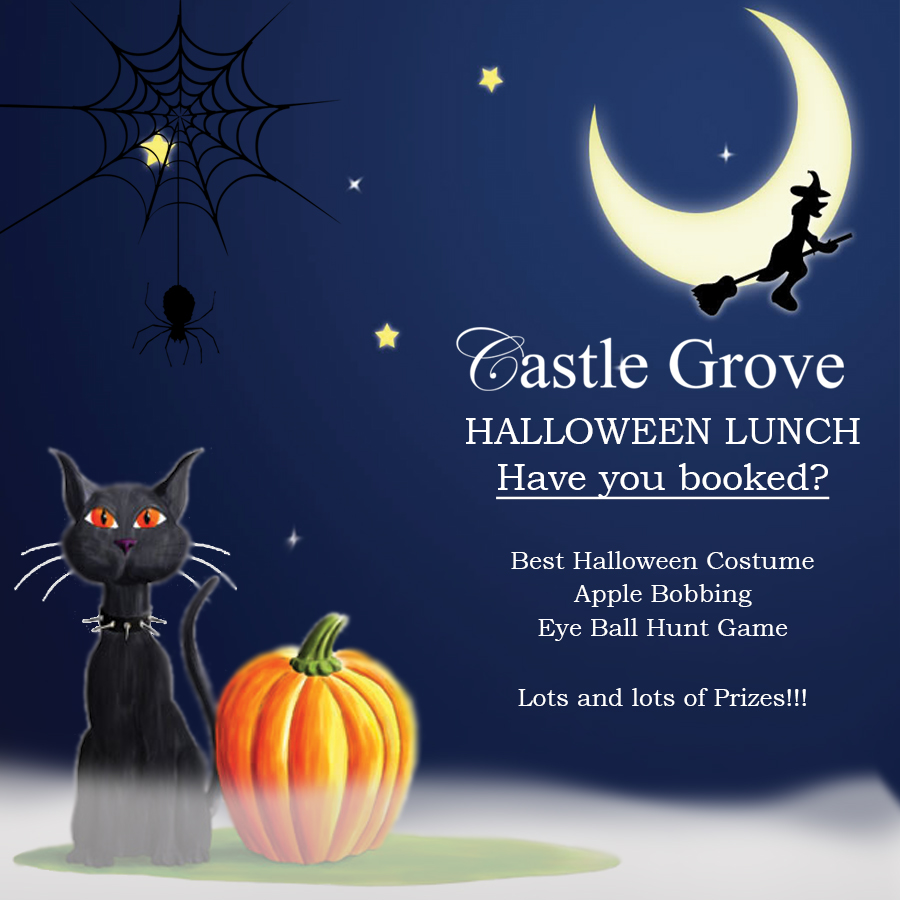 Halloween Family Fun Day – October 29th
Not forgetting that the scariest day in the calendar is fast approaching, we've decided to get in the SPIRIT of things and have a celebration. October 29th will be a day for the whole family with lots of activities for the kids including pumpkin carving and trick or treating in the gardens. There will also be an exclusive lunch menu for the day served in our spooktacular dining room. Fancy dress while not compulsorily is actively encouraged!
For bookings in our Halloween Event or indeed any other bookings please contact us on 0749151118, DM on Facebook and Instagram or Email Irene.sweeney@castlegrove.com
Tags: