The name Neil Donaghy has been synonymous with Safe Pass training and health and safety in general for almost 20 years in Donegal.
The second generation of Donaghy has brought new ideas and services to the business and has ensured that the Donaghy name stays at the forefront of health and safety in the north-west of Ireland.
But where did it all start? And where is it headed?
Neil Donaghy
Originally from Co. Derry, Neil's path to construction health and safety saw him learn his trade from some of Ireland's largest builders at the time, as a Foreman with McNamara Construction and subsequently a safety officer for P. Elliot and sons, Neil was involved in the delivery of some of Ireland's most recognisable buildings.
When approached to deliver a pilot one-day health and safety course by CIF and FAS, Neil grasped the opportunity and so Donaghy Safety Training was born. Since 1999 Neil and his wife Deirdre have provided unmatched service to the construction industry in the
Since 1999 Neil and his wife Deirdre have provided unmatched service to the construction industry in the north-west and further afield.
"The late 90's and early 2000's was an exciting and challenging time for construction in Ireland. The pace of construction had begun to rapidly increase and health and safety became real issues for contractors large and small. We wanted to make the same level of health and safety advice available to everyone and at a cost that everyone could afford," he said.
Darren Donaghy
The mantel is now passing to the younger generations and Neil's son has added his considerable experience to the business.
With a background in construction and hands-on experience on site as a Civil Engineer, Darren brings a depth of real construction knowledge that few health and safety advisors can offer.
"Being able to relate to the problems that operatives have on site is our biggest advantage," says Darren. "We always try to ensure that our solutions for clients are cost-effective and project sensitive – there is no bottomless pit of money in 99% of construction businesses" he adds.
Darren is usually found where he is happiest – on site, ensuring that operatives are safe and that the environment they work in ensures they return home safely. His hands-on construction experience means that he understands the processes on site and can offer real-world advice and solutions to on-site problems.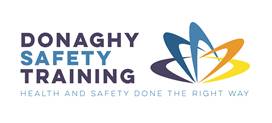 Donaghy Safety Training Limited has been involved in the delivery of key infrastructure projects, commercial developments and renewable energy projects ensuring timely and safe delivery on every project.
"We engage with our clients early in the process and help them plan works to avoid costly delays and unforeseen outlays surrounding health and safety," Darren explains. "If the client isn't making money, neither are we and that arrangement just doesn't work for either side"
The Donaghys are ably supported by a strong team of employees and associates. The nine-strong team now serves the entire island of Ireland, Scotland and the greater United Kingdom.
The family-run business is the biggest provider of health and safety training in the north-west and takes pride in its ability to provide a total one-stop health and safety shop.
From Safe Pass to Plant Training and from Method Statements to Machinery Certification, Donaghy Safety Training does it all.
"We owe our continued success to our team, they provide the service that our clients have come to expect and that's what makes us so popular with clients old and new," says Neil.
And Darren agrees: "Our success is based on our people but also on having great clients to work with every day. We wouldn't be the success we are without the loyal clients who support us."
Tags: