Three teenagers from County Donegal took centre stage in Belgium last week as New Zealand marked the centenary of the death of Ramelton-born Dave Gallaher, famed first captain of the All Blacks rugby team.
Rory MacGinty (16) from Letterkenny, Charlie Worth (16) from Church Hill and Jack Speer (14) from Newtowncunningham attended a special ceremony at Gallaher's final resting place in the Nine Elms Cemetery.
They recited the names and stories of soldiers from New Zealand and other countries who lost their lives in the First World War one hundred years earlier.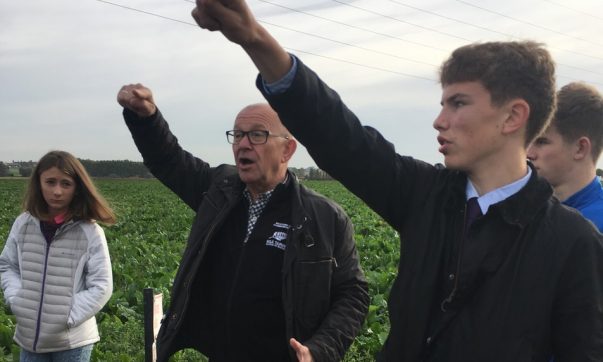 Four-time Irish fiddle champion Tracey McRory from Dunree performed an original score written in memory of Gallaher titled From Donegal to Passchendaele at the Donegal man's graveside.
Letterkenny Rugby Club President Jeremy Worth also read aloud his poem Gallaher, a composition which the All Blacks have previously placed on their jerseys in memory of their founding captain.
Gallaher was injured after sustaining a wound to his head early on the morning of October 4 as Kiwi troops launched an attack on German defences on Gravenstafel Spur.  Evacuated to a medical station in Poperinge, he died later that same day and was buried nearby.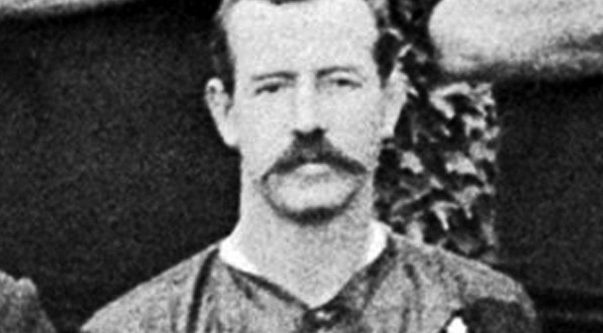 Dubbed the Battle of Broodseinde, Gallaher was part of an advance which cost 2,000 New Zealand lives over the course of 3rd Battle of Ypres, an estimated two per cent of their entire national population.
The death of Gallaher, who became a national hero after leading the first All Black team on a successful tour of Europe in 1905, caused particular grief.  His side were dubbed the 'Originals' in honour of their sporting achievements and helped make rugby the national sport of New Zealand.
Over the following century, successive All Blacks teams visited his grave in Belgium to pay tribute to their founding father. In 2005, at the invitation of Letterkenny Rugby Club, the All Blacks made a first ever trip to County Donegal to visit the place of his birth. The club had named their pitches Dave Gallaher Park in honour of the local man, who emigrated to a new life along with his family as a young boy.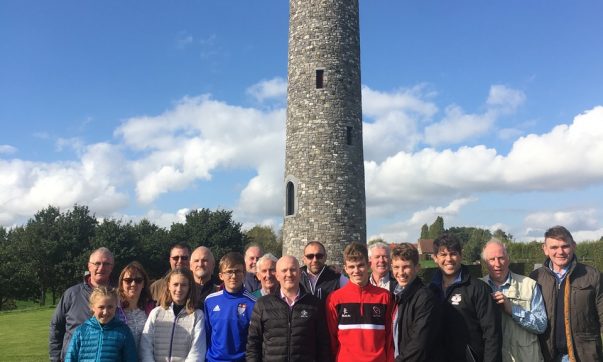 Last week, in the company of renowned local battlefield guide Freddy Declerk, a group from Letterkenny Rugby Club made a first visit to the very spot where the Donegal man is believed to have fallen. Their pilgrimage to Belgium occurred one hundred years to the day – indeed it may well have been to the hour – after Gallaher sustained the injury that would end his life. He left a wife and young daughter behind. In all, thirteen All Blacks lost their lives in World War.
Jeremy Worth, who organised the Letterkenny Rugby Club trip that saw almost 20 Donegal people visit Flanders, said that it had been an emotional trip for everyone involved, both young and old.
He added: "A century on, we followed the journey Dave took on that fateful day. Starting out in the morning up on to the small height which he climbed to encounter the German line and then, in the care of the medical teams, travelling back to the spot where he would die and be laid to rest.
"The mud, death and horror of a century ago are now peaceful fields of cereal and potatoes. A hundred years may have passed but it was evident New Zealand has not forgotten this Donegal man who made their country his new home."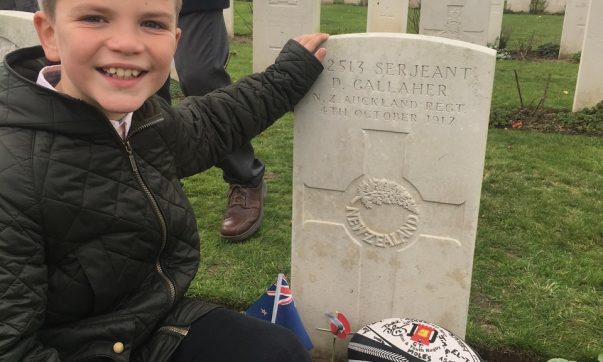 Jeremy paid tribute to Captain Shaun Fogarty, outgoing New Zealand Defence Attaché to France and Belgium, who invited Letterkenny Rugby Club and others with an interest in Dave Gallaher from County Donegal to be part of the ceremony.
The visitors included Drew and Christine Corry from Ramelton, who live in the same house in Ramelton in which Dave Gallaher was born.
In his address at the event, the New Zealand Ambassador to Belgium, His Excellency Gregory Andrews, thanked those visitors from Donegal for travelling the long distance to be part of the ceremony. He added that the bonds of friendship forged between Ireland and New Zealand in recent years were an enduring legacy of the sacrifice made by Dave Gallaher and all who lost their lives in the conflict.
The rugby club's tour of the battlefield took in the grave of Manorcunningham man, Henry Gallaugher before visiting the Irish Peace Tower. This war memorial was erected to the soldiers of the island of Ireland who died, were wounded or are missing from World War I, during Ireland's involvement in the conflict.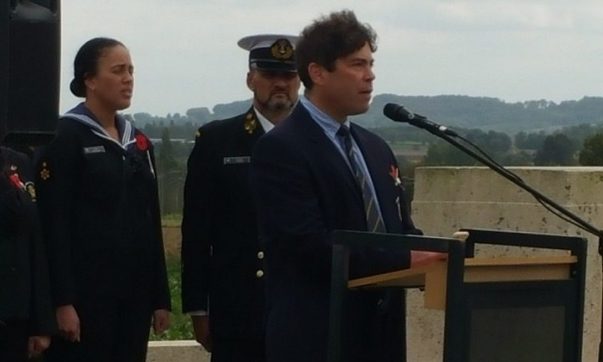 The tower memorial is close to the site of the June 1917 battle for the Messines Ridge where regiments from the 36th Ulster, 10th and 16th Irish regiments fought and died side-by-side and County Donegal features strongly in its story.  The creation of the tower involved collaboration between former Donegal TD Paddy Harte from Raphoe and Glen Barr from Derry. A plaque on display at the site quotes Donegal author Patrick MacGill, who fought in the war with the London Irish Rifles:
"I wish the sea were not so wide that parts me from my love,

I wish that things men do below were known to God above.

I wish that I were back again in the Glens of Donegal;

They'll call me coward if I return, but a hero if I fall."
Tags: