The Donegal Masters pushed reigning All-Ireland Champions Mayo to their limits but just fell short by just 2 points when the referee blew the final whistle after extra time. 
Donegal 0-13 Mayo 2-9
Val Murray's charges recovered well from a slow start which saw them trailing their opponents by 3 points after Mayo's first goal of the game on 13 minutes.
Michael "Sticky" Ward had opened the scoring for Donegal after 3 minutes with John Haran being the provider and again from play on 18 minutes. Mayo were quite wasteful in the opening 10 minutes which saw them drop a free short and miss 2 efforts in a row.
Another Mayo point from a free was soon followed up with points from David McShane and a fine effort far out from Sticky Ward but Mayo would not score for the remaining 15 minutes of the first half. It was now Donegal's time to be inefficient with the ball and 4 efforts went off-target which brought the wides total for the first half to 7 for Donegal and 4 for Mayo.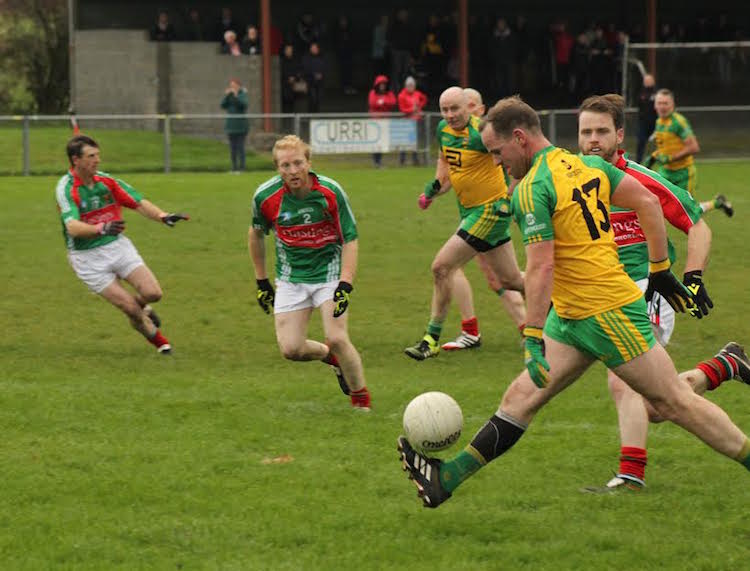 There was a missed opportunity for a goal in the opening half when Benny Cassidy was crowded out and couldn't find Michael Sticky Ward, who was free and had space to cause danger. Benny was fouled and Donegal did get a point from Ward. Both teams went in tied level.
Paul McGonagle's free taking came to Donegal's aid in the second half as Donegal took the lead for the first time. Mayo responded 2 minutes later with a point from play and through a goal on 6 minutes and Donegal were now 3 points behind once more.
Mayo's 3 point lead would be battered relentlessly as Donegal upped their offensive potency. 22 minutes would pass between Mayo's second goal and their second point of the half to bring the game to extra time.
Martin Gillespie was called into action in the Donegal nets and denied another goal opportunity for the Mayo side with their follow up effort going wide. A trio of Paul McGonagle points (2 frees, 1 from play) all within 5 minutes inched Donegal a point ahead once more but Mayo got that point with 2 minutes to go to force the game to extra time.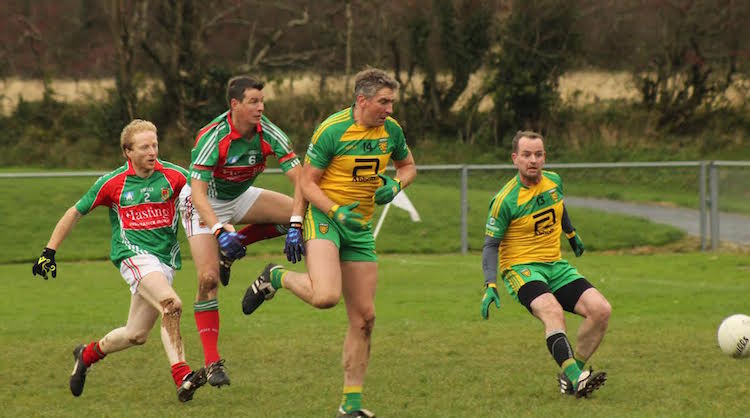 Paul McGonagle and Sticky Ward pointed Donegal ahead by 2 points in extra time but Mayo hit 3 points with 3 minutes to go. Donegal gave it their all in the second half of injury time but 2 points from Mayo saw them come out winners on the day by 2 points.
Donegal: Martin Gillespie; Charlie Doherty, Kevin McGettigan, John A McMullan; Adrian McColgan, Packie McGrath, Michael McShane; David McShane (0-1), John Haran; Paul McGonagle (0-5, 4f), Gerard McGrenra; Stephen McGonagle; Michael Sticky Ward (0-6, 3f), Brian McLaughin, Benny Cassidy (0-1)
Rolling subs: Charlie Gallagher, Charlie Bonner, Paul Gallagher, Paul McGlynn, Dermot McColgan, Stephen Walls, Sean Boyce, Daniel Branley, Maurice McBride, Stephen Moss, Seamus McGinty, Seamus Furey, Ross Brady, Martin McShane, Ross Steed, Charlie McGinty, Liam Breen
Tags: