A special memorial mass will be held in Donegal on Saturday, 18 November 2017 to mark World Day of Remembrance for Road Traffic Victims. 
An evening ceremony will take place at 6.15pm in St. Patrick's Church, Ballyshannon to remember those who have died or were seriously injured on our roads.
A candle will be lit and brought to the Altar for each victim. Anyone who would like to have a candle lit for a relative or friend is asked to give their name to any of the priests or to the Parish Office  071 98 51295.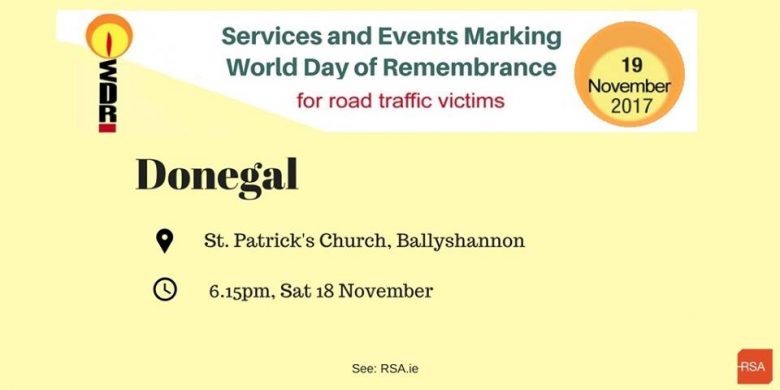 The mass will also pray for families, friends and communities who continue to live with grief every day after losing loved ones in road traffic crashes.
The Day of Remembrance for Road Traffic Victims was created as a means to give recognition to victims of road traffic crashes and the plight of their loved ones who must cope with the emotional and practical consequences of these events.
Observation of this day provides an opportunity to draw the public's attention to road traffic crashes, their consequences and costs, and the measures which can be taken to prevent them. The day also provides an opportunity to remind governments and society of their responsibility to make roads safer.
This year the RSA will be joining forces with members of An Garda Síochána, Local County Councils, Emergency Services and victim support groups to mark the day and remember those who have died on our roads at services which will be held across the country.
The RSA have a Facebook event page where loved ones who died or who were injured on our roads can be remembered. See this here.
Tags: