Over €2 million in Sports Capital grants has been allocated to clubs and organisations across Donegal, it has been confirmed.
This evening, the awards that have been approved by the Minister for Transport and Sports were confirmed.
In total 71 different organisations within County Donegal benefit from the allocation.
The biggest award on the list is €99,500 to the Naomh Padraig GAA club in Lifford for the development of a sand carpet playing pitch and training pitch.
Choiste Forbartha an Fháil Charraigh have been awarded €97,500 for a synthetic floodlit astro turdf playing pitch; Aodh Ruadh GAA club get €96,000 for a replacement playing surface; Letterkenny Community Centre and Letterkenny Rovers each get €89,500 for developments; Glengad FC's are to develop an all-weather training pitch and floodlights and get €86,000 Burt GAA club have been given €85,000 for training pitch drainage; the Donegal League's development at Ballyare has been allocated €83,500 for the redevelopment of the pitch and installation of fioodlights; Cloughaneely GAA club get €76,000 for their pitch development.
The funding has been welcomed by Donegal TDs and Councillors.
County councillors praised clubs and organisations across the county who contribute so much to life here.
Cllr Martin Harley praised Government Chief Whip Minister Joe McHugh and Minister for Sport Brendan Griffin for providing more funding to grassroots sports clubs because of the enormous benefits these groups bring to the communities they serve.
"All the clubs being funded today by the Government deserve enormous credit for the work they do in their communities including GAA, soccer, boxing, rowing, cricket, community groups, swimming and multi-sports facilities," said Cllr Martin Harley.
"I am delighted with this massive allocation. Each application was graded and funding allocated accordingly. I know clubs in the Finn Valley areas are over the moon with their allocations."
Cllr Jimmy Kavanagh said: "These clubs across the county contribute so much to healthier communities.
"They operate in what I would call the illness prevention sector; they contribute so much not just to the physical health of people young and old, but also to the mental wellbeing of our people too.
"It makes sense therefore for Sports clubs to be part of the health sector, to be acknowledged for the work they do and for Government to spend more money supporting that work. It makes sense – morally and financially.
"Prevention is better than cure and as a country we owe a huge debt of gratitude to our sporting organisations and this large allocation to Donegal today recognises that."
And Cllr Bernard McGuinness said: "I know in this age of technology, sports clubs now also have to compete with online gaming, gadgets and SnapChat. Getting young People involved in sport is key to the future of our country and our Government we will do more to help. We have to.
"We have to do all we can to help young people engage in sport for longer and to take that healthy lifestyle into adulthood. On behalf of the people of Inishowen I want to thank Minister McHugh for this splendid allocation this evening to the peninsula. It's great news."
Minister McHugh paid tribute to Minister Brendan Griffin: "As a government we are there to help and support sports organisations. Grassroots sports represent an incredible movement and I cannot imagine an Ireland without it.
"It would be a much poorer country without the heartbeat of our parishes. I want to commend all sporting organisations for what they do every day for our society and assure them all that Government is committed to supporting that work."
Minister McHugh went on: "I have been out around the county and spoken to many of the clubs behind brilliant initiatives in their communities.
"They deserve the funding they get. I have also met Minister Griffin and discussed the possibility of a scheme for those clubs who were invalid this time around."
Deputy Pat The Cope Gallagher added: "I am aware there are many other communities which are disappointed that did not receive funding from this round of funding from sports capital.
"The grants today will be of huge benefit for the voluntary groups, clubs and community organisations which have been approved funding today.
" I wish to compliment the organisations which were successful in securing the funding for their organisation and wider communities.
"Application such as these approved today involve a great deal of work and effort on the part of the organisations and their voluntary members."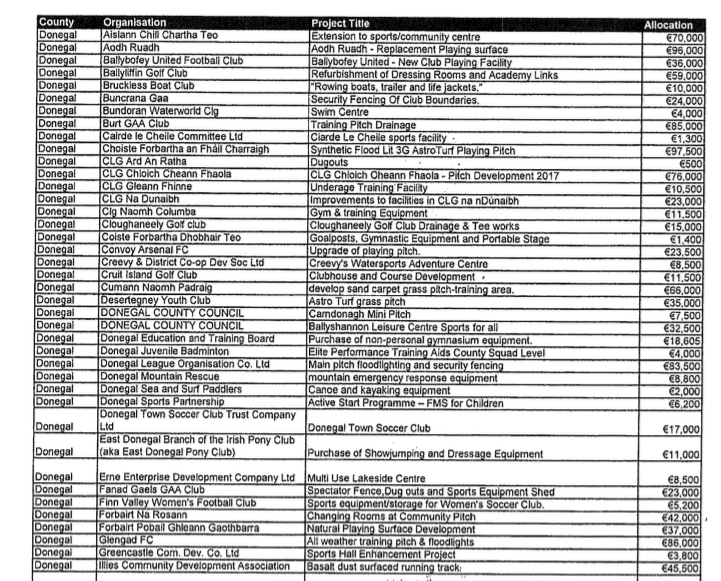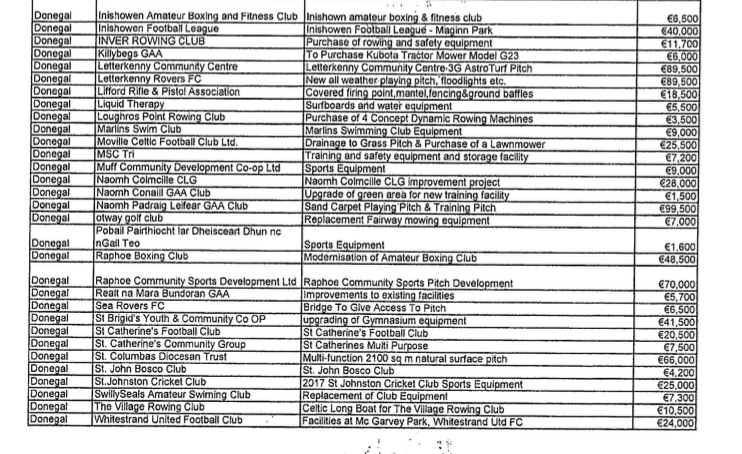 Tags: