Jadotville heroes were honoured today at a special ceremony in Athlone, receiving medals inscribed with 'cosaint chalma' and 'misneach', meaning "valiant defence" and "courage".
Defence Minister Paul Kehoe presented An Bonn Jadotville to the men, 56 years after the Seige.
Some of the men have since passed away or are living overseas, with their family members attending the ceremony on their behalf.
Delighted to be invited to officially open Mick Mc Carth House, for Post 9, Irish United Nations Veterans Association in #Athlone. A welcoming place for veterans to meet and chat. Well done to all involved. pic.twitter.com/3zHEPcdmmk

— Paul Kehoe T.D (@campaign4kehoe) December 2, 2017
Last year, the soldiers were honored by Defence Minister Paul Kehoe, as September 2016 marks the 55th anniversary of the Seige. The Minister presented a Unit Citation to the men in recognition of their bravery and heroism. A copy of the Citation was presented to each member or next-of-kin of the Unit.
This is the first time a Unit Citation has been awarded within the Defence Forces.
An honour to award the first An Bonn Jadotville to the heroic men of A company, 35th Infantry Battalion in #Athlone. Government recognition of their brave and courageous actions at the Siege of Jadotville. pic.twitter.com/aEEuMNUeze

— Paul Kehoe T.D (@campaign4kehoe) December 2, 2017
The history behind the medal
The early 1960s was an unstable period for the region as in 1960 Katanga split off from Patrice Lumumba's Congolese government, establishing their own under Moise Tshombe.
The Seige of Jadotville happened in 1961 during the United Nations intervention in the conflict when a group of Irish soldiers were attacked by Tshombe's troops while at mass.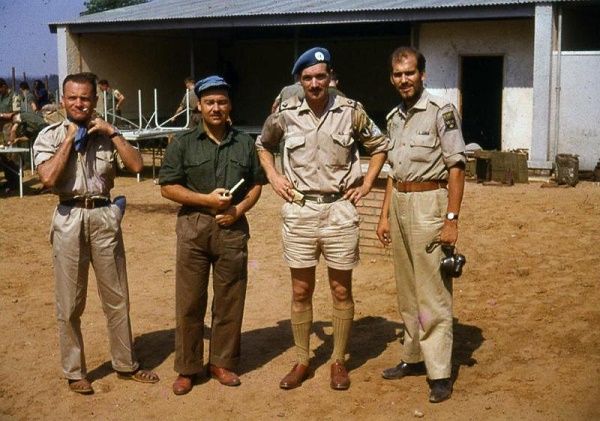 A total of 158 Irish soldiers were deployed to Central Africa, 11 of whom were from Donegal; James Gormley, Harry Hegarty, Michael McDermott, the late William George Duffy, the late James Harper, the late Patrick Gildea, Leo Boland, the late Patrick Nicell, the late Seamus O'Kane, the late Sean Kerr, and Robert Bradley.
The Irish soldiers were scantily armed, yet managed to resist the assault for six days, before being forced to surrender after ammunition and other supplies depleted.
Thanks to the quick-thinking of Comdt. Pat Quinlan, he made his soldiers dig trenches – keeping them out of harm's way.
Not one of Comdt. Quinlan's men perished.
The soldiers were held as Prisoners of War for a month, however none were harmed.
This was the last instance that Irish and Swedish troops were involved in hostile action for the United Nations Operation in the Congo.
Hollywood adaption
In 2016, 'The Seige of Jadotville' was released to rave reviews, with the title role being played by Jamie Dornan.
Laghey native Kevin Brodbin wrote the script based on the book by Declan Power, titled 'The Siege at Jadotville: The Irish Army's Forgotten Battle'.
Tags: