The Environmental Protection Agency has started to remove thousands of tonnes of waste at an illegal site outside Letterkenny.
Trucks, backed up by JCB diggers, worked all day today removing the waste at the Ferry's Refuse site at Rossbracken near Manorcunningham.
The site is operated by businessman Jim Ferry who is wanted by Gardai.
Ferry was jailed by the High Court on August 22nd last but when he was called to be sentenced, he had fled the court.
He has not been seen since but is believed to be living between Donegal and Tyrone.
It followed a court order for him to clean up the site in April last which he did not conform with.
In November, 2016, inspectors from the EPA visited the site at Rossbracken and estimated there had been up to 36,000 tonnes of waste illegally dumped at the site.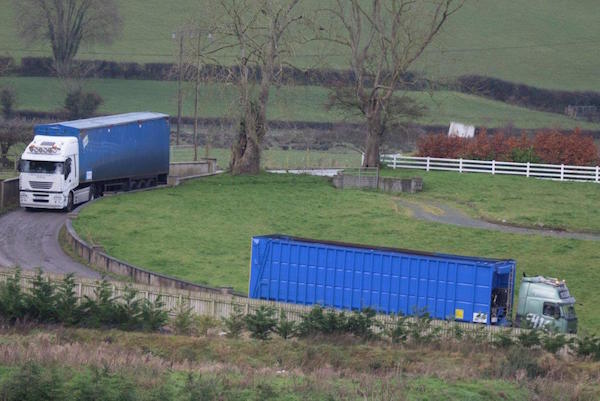 A report into the dumping estimated that it would cost up to €5.8M to remove the waste from the 12 acre site.
Ferry has recently contacted Donegal County Council via emails complaining about what he calls illegal operations being carried out by another waste operator.
Donegal County Council are yet to make a comment on the waste removal operation.
Tags: