The Department of Business Studies at Letterkenny Institute of Technology is currently taking applications for the Master of Business (Executive) in Innovation and Leadership programme starting February 2018. This proven leadership programme is targeted at Senior Managers in the private sector supporting them in their role as innovators and change champions.
Annette Houston, Managing Director of FM Services Group, says the MBS was one of the best things she did for her career and her company.
The Letterkenny businesswoman took up the leadership role at FM Services Group in 2007. Her parents founded the facilities management company in 1994 and she had worked in the business from the beginning.
Annette decided to study the Master of Business at LYIT from 2012 – 2014 to attune her leadership style. She now considers the course as a vital element of the company's expansion today.
"Going into the MBS we had some enormous challenges to overcome, one of the biggest was to shift my mindset and leadership style to allow growth of the organisation. At that time we employed under 40 people. Today we employ just under 120 across all our divisions and are expanding every month," Annette told Donegal Daily.
Annette attributes the company's growth to the teamwork and constant cycles of learning and development. She has built up her own skills over the years and has many qualifications – including a certificate in Electronic Engineering, a Managing and Mentoring Diploma and the MBS – all from LYIT.
"It's the best investment you could possibly make in yourself and your career," Annette says of the Executive MBS.
The flexible structure of the part-time MBS was ideal for Annette, in a way that she could also run her busy business.
One challenge Annette had to overcome was returning to academia after a number of years out of education. The Recognition of Prior Learning (RPL) team at LYIT helped her build up a portfolio of her employment experience and succeed in getting accepted to the course.
Once studying began, she discovered that she had much to learn from various avenues.
"The biggest learning for me was that there are many ways to achieve the same result – depending on the resources you have available to you. I have learned that as a leader you are not always right and that you will always achieve more with your team's support.
"And I have learned a lot about myself – about how and why we manage and lead the way we do and how to adapt my leadership style to suit the situations and people involved.
"The learning from your peers on this program should not be underestimated either. The people you begin this journey with will become firm friends and they have a wealth of knowledge across a wide range of industries for you to draw inspiration from. Some of my best learning came from our group action learning sessions," Annette said.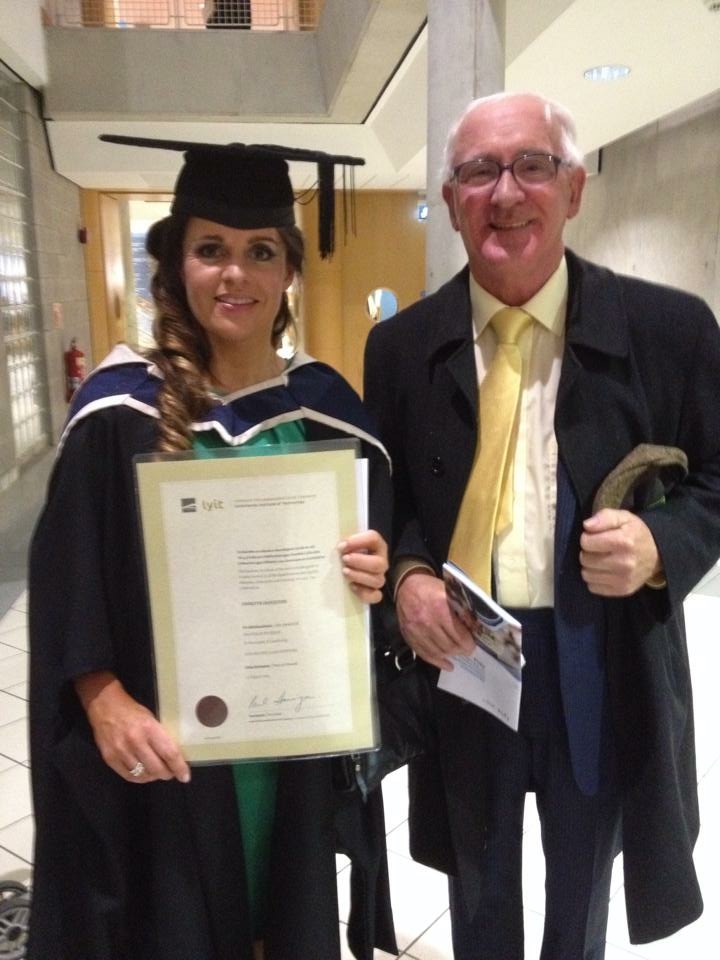 Annette also speaks highly of the staff at LYIT: "The calibre of faculty, guest lecturers and industry experts is outstanding. You will be exposed to some of the best and brightest minds available and I have no doubt that you will love every module. Your learning from peers is also invaluable."
As a businesswoman who applied what she learned to improve her skills and motivate her staff to achieve success, Annette couldn't recommend the Masters course highly enough:
"Our business would not have made the significant progress it has done over the last few years without drastically rethinking and restructuring how we operated.
"Whether you are self employed or working for a company, the MBS is without any doubt one of the best things you will ever do for your career".
If you wish to apply to the Master of Business (Executive) in Innovation & Leadership, visit https://www.lyit.ie/full-timecourses/businessstudies/lyblinom/ for further information.
Contact Patricia Doherty Head of Department of Business Studies, Letterkenny Institute of Technology by:
Tags: