Donegal Sinn Féin has today announced the publication of 'Tackling the Trolley Crisis', a four-page document discussing the ways in which the overcrowding at Letterkenny University Hospital can be dealt with.
The document outlines four key areas of concern; capacity through opening beds, recruitment and retention of staff, adequate step down facilities and home care packages, and proper primary and community care. Sinn Féin feels that if they can be addressed, then they will have made "huge inroads" towards ameliorating the trolley crisis.
Deputy Pearse Doherty and Senator Pádraig MacLochalainn are at the fore of this party's new public information initiative in Donegal. The initiative in Donegal is part of a wider public information campaign by Sinn Féin across the State on the trolley crisis, wit information leaflets to be distributed to thousands of homes across the country.
This initiative follows their publication of the document "The Need To Invest In Letterkenny University Hospital" last year, that laid out the "funding discrimination" the hospital has faced over many years and the need for change.
Speaking today, Senator MacLochlainn said: "On the second day of 2018, there were 677 patients left on trolleys – the highest ever recorded number of patients on trolleys in the state. Throughout the whole of 2017 there was a record 98,981 patients left to spend one night or more on a trolley in our hospitals, representing the worst ever recorded number.
"And Letterkenny University Hospital was no different, where in fact overcrowding is now a constant and almost daily phenomenon.
"The INMO Trolley Watch data revealed that there were 4,889 patients on trolleys at the hospital last year – the highest ever annual numbers since INMO records began.
"These numbers are truly shocking and they are the result of years of Government cuts and recruitment embargoes.
"Not only are these numbers a damning indictment of Government, but they also represent a damning indictment of the 'confidence and supply' deal between Fianna Fáil and Fine Gael.
"Last year, Deputy Pearse Doherty and I published a report, 'The Need to Invest In Letterkenny University Hospital', in which we clearly demonstrated the neglect of our major county hospital and the funding discrimination ongoing for years.
"And the crisis in Donegal's health service extends well beyond the confines of Letterkenny University Hospital. One in eight of our people across Donegal, almost 20,000 men, women and children, are on hospital waiting lists.
"This systematic neglect also extends to our community hospitals from Carndonagh to Ballyshannon with one in three nurses and one in four beds cut from that primary care system, piling even more pressure on Letterkenny University Hospital.
"This is why my colleague Deputy Doherty and I are today announcing our party's public information initiative on the overcrowding crisis at the hospital in which we outline how a Sinn Féin Government would take the necessary action to tackle overcrowding head on.
"We also what to facilitate a wider public discussion on what has become one of the single most important issues facing our society –the crisis in our health service.
"This crisis has not come about by accident. It is the inevitable outworking of Government policy and Government failure,"he says.
Senator MacLochlainn says that they are seeking a "better and fairer way" towards "truly universal" public health care.
Also commenting during today's launch, Deputy Doherty said: "Only in recent days, we were listening to reports in the media that Letterkenny hospital was the most overcrowded in the state with 43 patients awaiting admission.
"These are not just statistics; behind each of these figures is a human being. They are grandparents, mothers, fathers, brothers, sisters, sons, and daughters. And yet, they are not being treated with the dignity they deserve due to the pressures in our A&Es and In-Patient wards.
"Clearly, this crisis has been out of control for some time now and a coherent and targeted policy is needed to stabilise the situation in the short term.
"While the implementation of the Sláinte care report is now needed to tackle the issues and re-orientate the health service towards a single-tier service in the longer term, the issues concerning recruitment and retention of staff, reopening closed beds, adequate step down facilities, and proper primary and community care need to be addressed without delay.
"This major initiative we are announcing today is just one part of a major public information campaign which my party are rolling out across this State. We are outlining the steps which Sinn Féin would take to deal effectively with the crisis, including measures aimed at increasing capacity, reducing patient numbers in acute care, and thus reducing pressures at A&E.
"Over the coming days and weeks, Sinn Féin members and representatives in Donegal will be out and about, delivering these public information leaflets and visiting local communities in an effort to engage with as many people as possible and to hear their views and concerns in relation to the worsening crisis in our health service."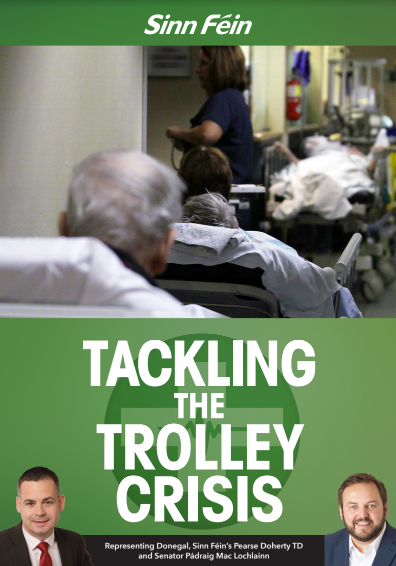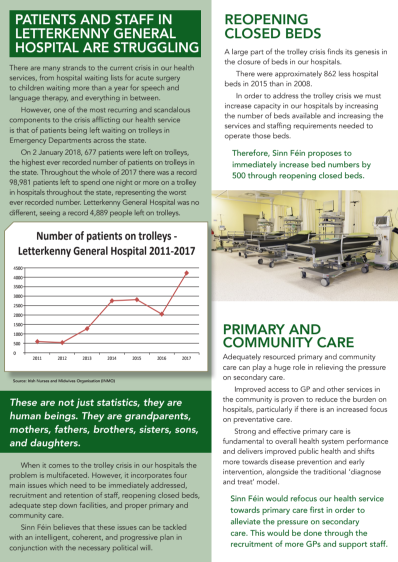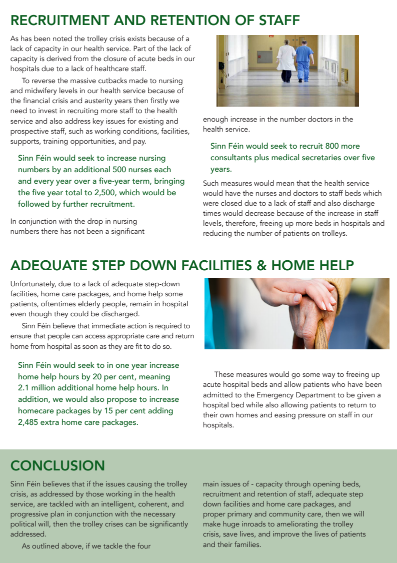 Tags: